In the mid-Victorian period, a Birmingham gun-making workshop could in one moment be building a gun destined for a respected London firm, and in the next be building a similar gun that would carry an ironmonger's or general merchant's name.
All guns were made to a pre-determined level of quality, and then it was a matter of engraving whatever name and address the client specified in the order. Finished guns with a general merchant's name might be just as good as those with, say, a town or city gunmaker's name. The difference would be that a gunmaker would have a reputation to uphold and would be available to fix and maintain their guns, while a merchant was just in the business of selling.
How does a hardware or general-goods merchant get into the gun business?

Clement Cotterill was a merchant at No. 1, Old Square, Birmingham. He started in business as a leather seller in Edgbaston St., and by 1780 he was established as a hardware merchant and manufacturer. He founded the firm of Cotterill & Francis, a partnership that lasted ten years. In 1795 Cotterill entered into another partnership with Thomas Ketland of Philadelphia, "for the collection of hardwares, buttons, buckles, and all other articles manufactured in this and the neighbouring towns, and exported to the United States of North America and elsewhere."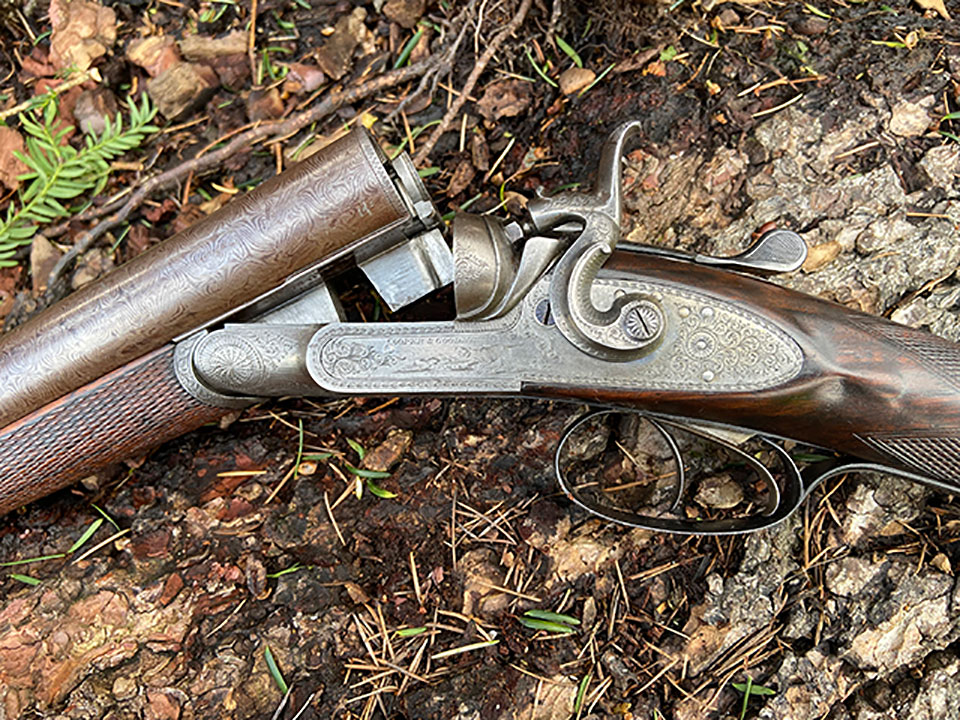 Cotterill's sons William and Thomas joined the business, first trading as Ketland, Cotterill, & Son (until 1802), then as Clement Cotterill & Sons (until 1806). In 1825, following his daughter Mary's marriage to Joshua Scholefield, the Member of Parliament for Birmingham, the firm traded as Scholefield & Sons.


At an unknown date, John Dent Goodman became a partner in the business, and in 1861-1862 Scholefield Sons & Goodman operated from Liverpool. In Birmingham, the firm of Scholefield, Goodman and Son, merchants, worked from 5 Minories, and in 1877-1878 the business moved to 135 Edmund Street.
At some point, the firm expanded to 31, Great St. Helens, London. The original Scholefield business may have traded in guns as part of their hardware business, but the involvement of Goodman firmly linked the company to the gun trade. Goodman was the Chairman of the Birmingham Small-Arms Trade Association, formed in 1854 by Goodman, John Field Swinburn, Isaac Hollis, Thomas Turner, Joseph Bourne, Thomas Wilson, John Rock Cooper, William Tranter, Charles Playfair, Benjamin and Henry Woodward, and others.

In 1861 the association members decided to establish the Birmingham Small Arms and Metal Company Ltd. (B.S.A.) to produce arms by machinery and thereby compete with the government operations at Enfield.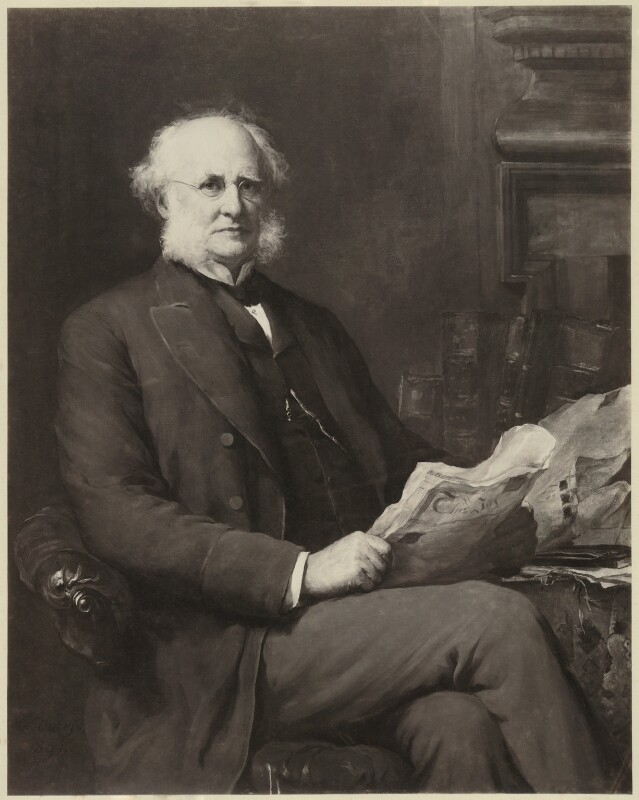 Goodman was elected Chairman of the Board of B.S.A. in 1863, a position he held until 1900. Goodman was personally involved in all the trade contracts with the U.S. government over provisions of arms in the period of the American Civil War. Scholefield, Goodman and Son was one of the companies involved in shipping Enfield-pattern guns; Goodman also secured the contract to convert 100,000 Pattern 1853 Enfield rifles using the Snider action.
Goodman was also in partnership with Joseph Rock Cooper & Co. of pepperbox pistol fame.

In 1856 Goodman became Chairman of the Birmingham Proof House, then in 1867, Abingdon Works was formed, a manufacturing partnership located in Shadwell Street to supply the trade with ready-made guns and gun parts.
The Abington Works partners were Goodman, Thomas Bentley, William Bourne, Charles Cooper, Charles Pryse, Richard Redman, Joseph Smith, Charles Playfair, Joseph Wilson, John Field Swinburn and Fred and Henry Woodward. But, despite Goodman's widespread involvement in the gun trade and being a partner in several companies that made and sold guns, his name rarely appeared on them.


Here is a game gun retailed by Scholefield, Goodman & Sons, a 12-bore double-bite screw grip rotary under-lever pin-fire sporting gun of typical form. It has no serial number, and I estimate it was made in the late 1860s. The 29 13/16" damascus barrels have Birmingham proofs, and the top rib is signed "Scholefield London" (the "London" reference might be false advertising, but at some point, the company did have a London address).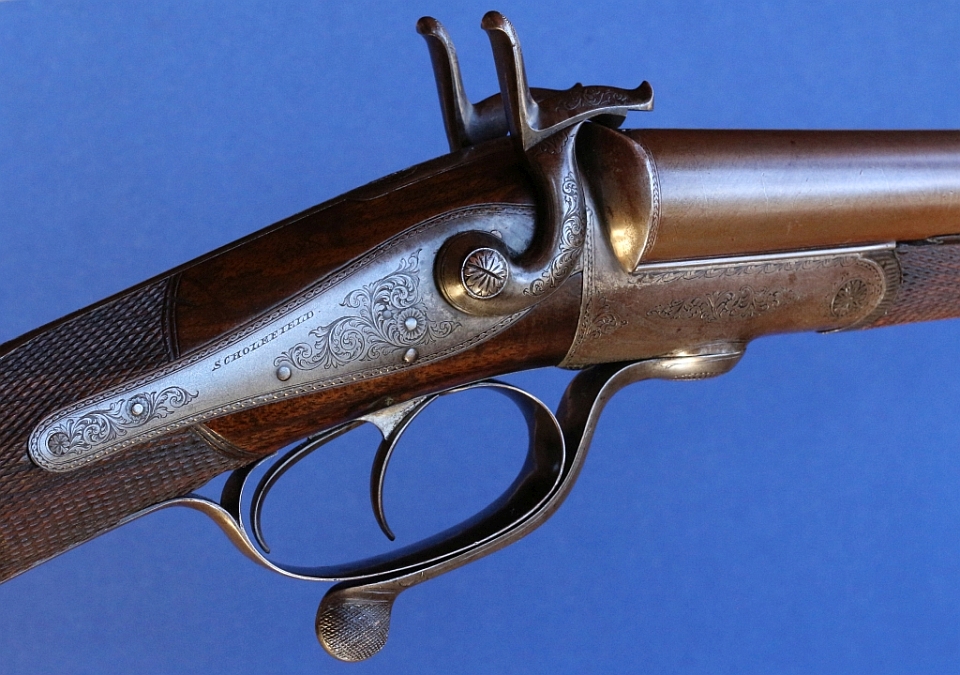 There is a gun/barrel maker's mark "J.W.," which I believe is the mark of Joseph Wilson of 67 1/2 Great Charles Street, Birmingham, one of the Abington Works partners. Wilson may have supplied sporting guns to Scholefield, Goodman & Sons directly or through Abington Works. The gun has an elongated top strap, thin percussion fences, back-action locks signed "Scholefield," and about 30% coverage of foliate scroll engraving. It is a medium-quality sporting gun produced by the Birmingham trade, but it was nevertheless built with care by craftsmen.
The gun weighs 7 lb 2 oz.

Scholefield, Goodman & Sons supplied Scholefield-marked rifles to the Newfoundland sealing trade, many of which were single-shot Field's Patent side-lever in .450 calibre. Goodman visited Newfoundland several times, perhaps seeking new business opportunities.
A few Scholefield-marked shotguns are known, but this is the only pin-fire game gun so marked that I have come across. The Newfoundland trade connection might help explain how a Scholefield-marked gun ended up in Canada.
NOTES: I wish to acknowledge the Internet Gun Club for graciously allowing information from their extensive historical database.


Stephen Nash


Portrait by Henry Dixon & Son, after Walter William Ouless, albumen print, (1890) © National Portrait Gallery, London
Published by Vintage Guns Ltd on (modified )