I am a gun dealer. It is a mixed blessing. I handle, buy, use and store a lot of beautiful vintage guns, many that I would like to own and keep. But I have bills that need paying with depressing regularity and that means I have to sell them in order to live.
Had I kept all the 'special' guns I let slip through my fingers, I would have a superb collection but I'd be living under a bridge, eating from a can.
In order to justify keeping something, not only does it have to be special, it has to be cheap!
I often advocate ignoring 'names' and buying guns based on quality and feel. However, I do have an irrational soft-spot for the hammer guns of Stephen Grant. His hammerless guns excite me less. Give me a Purdey any day; for me, nothing surpasses a really top-notch example of Beesley's action built when the Audley Street firm was at the top of its game, which means any time between 1900 and 1939.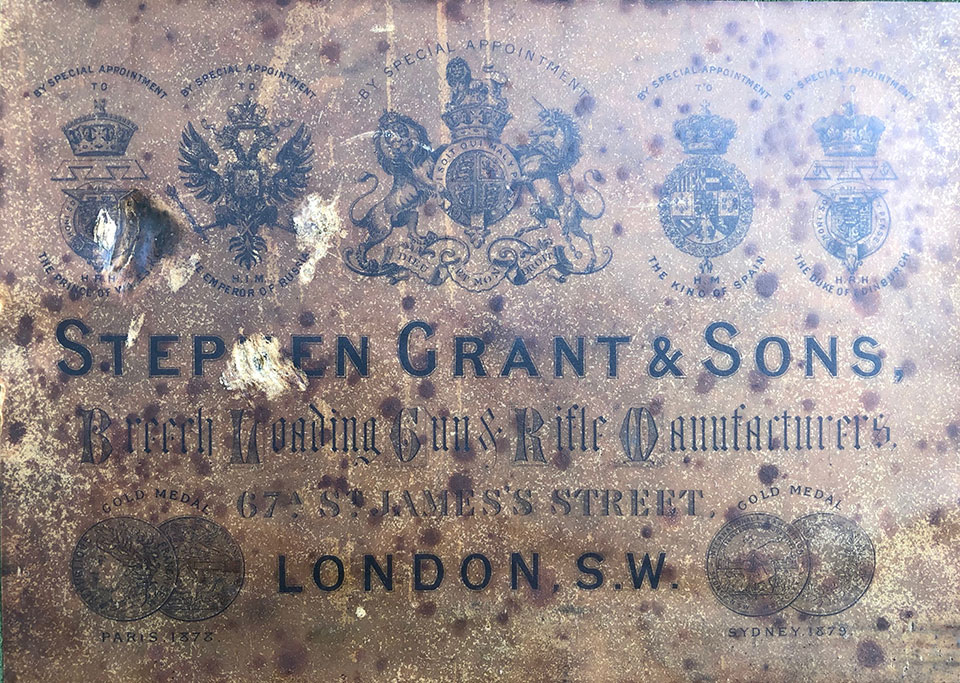 Getting back to hammer guns (my real passion) and Stephen Grant, (an Irishman plying his trade in London), the guns he built in the 1870s, '80s and '90s just have something about them. Veteran vintage gun dealer Petter Pedder told me two decades ago "you never see a bad Stephen Grant" and I never have.
Most guns bearing Stephen Grant's name were built in the London workshops of two 'makers to the trade' at the time: Edwin Charles Hodges and John Robertson. Hodges built guns for all the 'best' names in the trade and Robertson went on to own Boss & Co. Stephen Grant was Managing Director of Boss for a time, so the inter-woven nature of the Victorian gun trade is plain to see; just in these three individuals.
Hodges built guns for all the 'best' names in the trade and Robertson went on to own Boss & Co.
I briefly ran Atkin Grant & Lang, while heading-up a purchase-bid for the firm, (which is a story for another day) and, while that was ultimately unsuccessful, I have retained an appreciation of the guns and an affection for the company.
All this has led me to harbour a hard-to-resist inclination to own and use Stephen Grant guns. To date, I have managed not to sell three, though scores have passed through my hands. The key to selling things is to deal in what you love - your enthusiasm will be genuine and catching. I'm a very poor salesman but I'm fortunate in having clients who appreciate what I appreciate and want to buy the things I find.
Of the Stephen Grant variants I have gathered into my own little corner of the gun room, one is a side-lever, one is a top-lever and one is an under-lever. To illustrate that you don't have to spend a fortune to get hold of guns with potential, I paid £500 for the first, £200 for the second and £1,400 for the third. They all required (or require) a fair amount of restoration but they all showed enough potential to be rescued.
1885 16-bore, side-lever with Purdey bolting.
I bought this privately, following a 'phone call. It had a broken mainspring and the barrels were battered but with the right men on the job, it has come together nicely.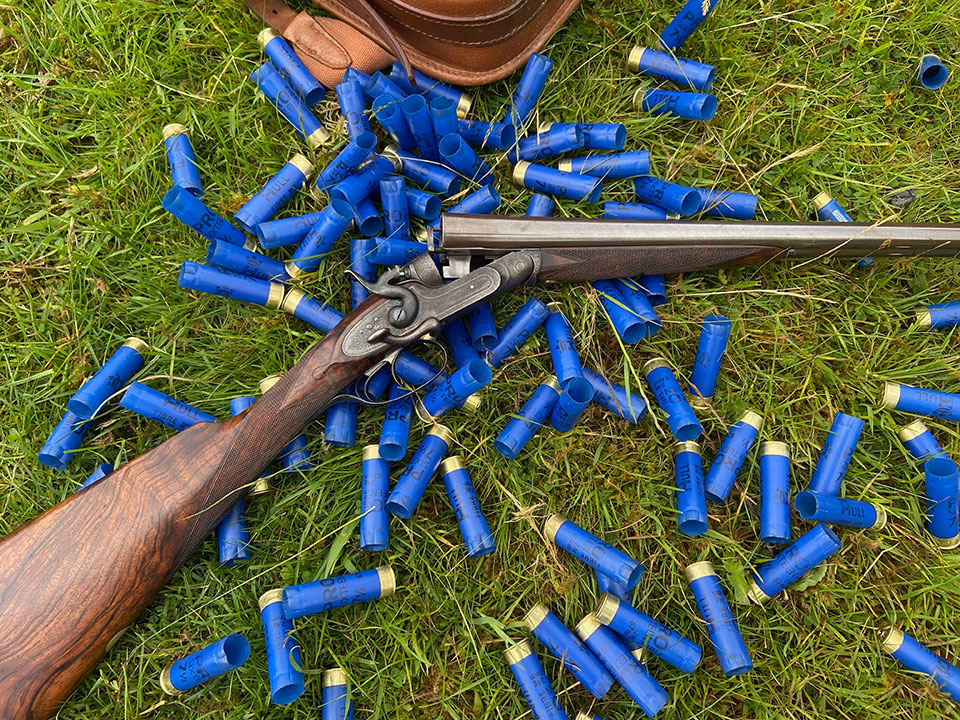 1883 12-bore, top-lever with Purdey bolting.
It arrived with broken hammer spurs and rough barrels but the gun has not been used hard and will respond well to restoration.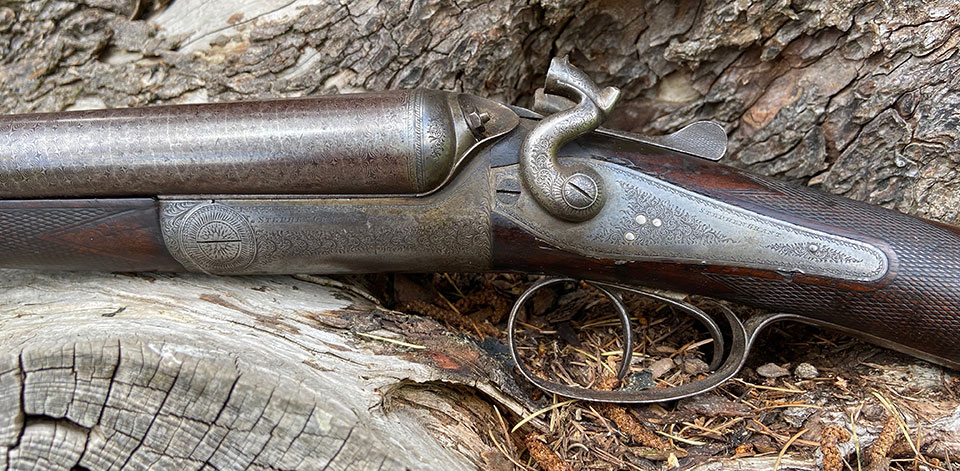 1878 12-bore, rotary under-lever with Jones screw-grip bolting.
Bought in a local auction for more than I should have paid, the barrels are very rough but it will clean-up.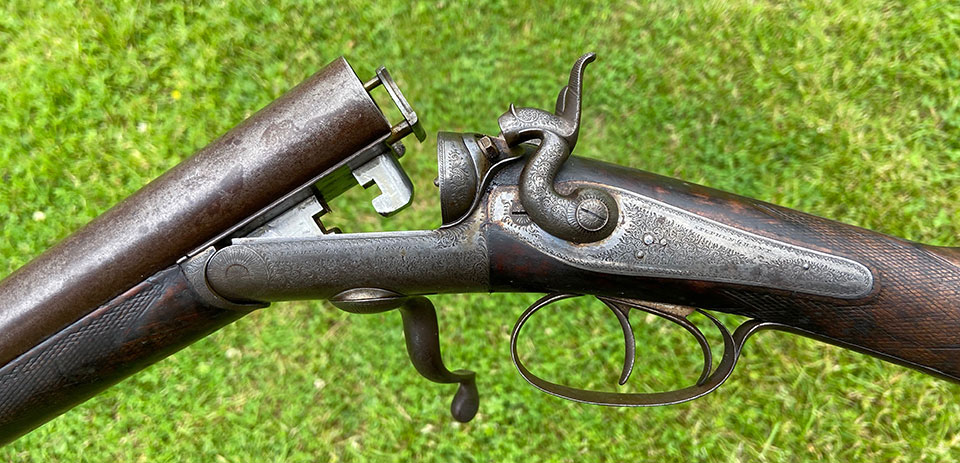 All these guns had in common the facts that, though they were neglected and had issues, they had not done much shooting (and had not seen much gun-smithing either). Therefore, they retained a good deal of original finish on the metal parts and the mechanisms were not badly worn.
Collecting Grant hammer guns may seem like a small niche without a great deal of variation but you might be surprised. Note my two snap action guns are secured using just a Purdey under-bolt to hold the barrels to the action face. The more common means is to have the Hodges patent triple-locking system, often engraved 'Grant's Patent'. I do actually have one of these but it will never shoot again.
Collecting Grant hammer guns may seem like a small niche without a great deal of variation...
Then we have rarities. I restored a Grant hammer pigeon gun for a friend a few years ago. That was superb, except some American gunsmith had ruined the barrels by lapping them out of true.
Another friend owns a 28-bore hammer ejector; the only one Grant ever made. Whatever you collect, there is always something to complete the collection on which you will never get your hands. My other problem is holding on to guns I like. Inevitably someone else likes them too and I get nudged into letting them go.
I am currently trying to do a deal with an overseas gentleman for a 16-bore, Grant hammer-gun with Jones rotary under-lever, Whitworth steel barrels and ejectors! It is one of a pair made for Archduke Franz Ferdinand of Austria. A super-rare gun and one with great provenance. If I get it, you'll hear about it!
Published by Vintage Guns Ltd on