Today's small calibre rifles are mostly considered tools rather than sporting arms. The most desirable characteristics are accuracy, low-maintenance, ability to take abuse and cheapness.
It was not always so. The Victorian and Edwardian rook & rabbit rifle is often a thing of beauty, as well conceived and carefully made as any sporting gun or rifle of the day.
Many of those we encounter are very similar. The famous Holland & Holland type of rounded boxlock with a top-lever is familiar to most people. However, from time to time a different shape catches the eye and something special arrives. Today, we are going to look at just such a rifle.
Our subject falls nicely into that very useful part of the current firearms legislation; Section 58, which covers 'antiques and curios'. You can own it without a licence, as long as you don't intend to use it. If kept this way, you don't even have to lock it in safe or vault, it can hang on the wall in all its glory.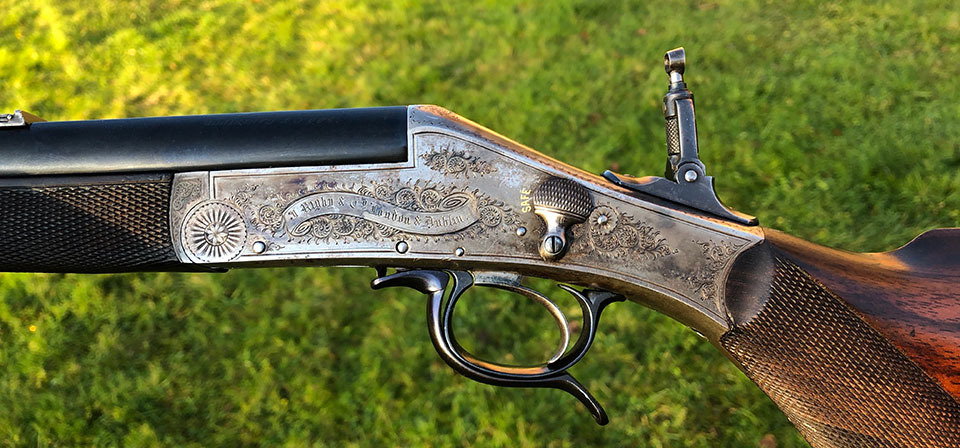 That, surely, is the appeal of Section 58 rook rifles to many people; they are superb quality and you can actually enjoy them without the security worries that come with a collection of Section 1 or Section 2 firearms.
While Holland & Holland 'Royal' and 'Ross' models are common, rook rifles by Rigby are not. The example featured here is in .300 C.F. and bears serial number 10057 on the barrel only. The frame and forend are stamped '11'. It was not unusual for rook rifles to have a distinct numbering system outside the normal chronology of a gunmaker. This is because they were usually supplied by specialist makers to order, rather than being built, or part-built, in-house.
While Holland & Holland 'Royal' and 'Ross' models are common, rook rifles by Rigby are not.
The profile of the rifle is distinctive. The action is six inches from knuckle to rearmost edge, at the hand. The metal of the back end of the action slopes into the hand, actually forming a third of its length, from whence it morphs into a wider pistol grip with steel grip-cap. The colour case hardened action is tastefully and neatly engraved with small scrolls and a banner declaring 'J. Rigby & Co. London & Dublin'. Rigby opened his London premises in 1865, eventually closing his Dublin shop and moving to London full-time.
The left side of the action has a fan-shaped safety slide, cross hatched neatly for grip, which is actually very smooth and easy to push forward into the 'live' position.The word 'SAFE' , inlaid in gold, is covered when you do so.
On the back slope of the action, there is a peep sight, adjustable for height, which can be pushed forward to lie flat, or pulled back to stand erect, when needed. When not in use, the front blade can be aligned with the 'V' - notched rear leaf-sights, of which there are two, engraved '50' and '100' yards.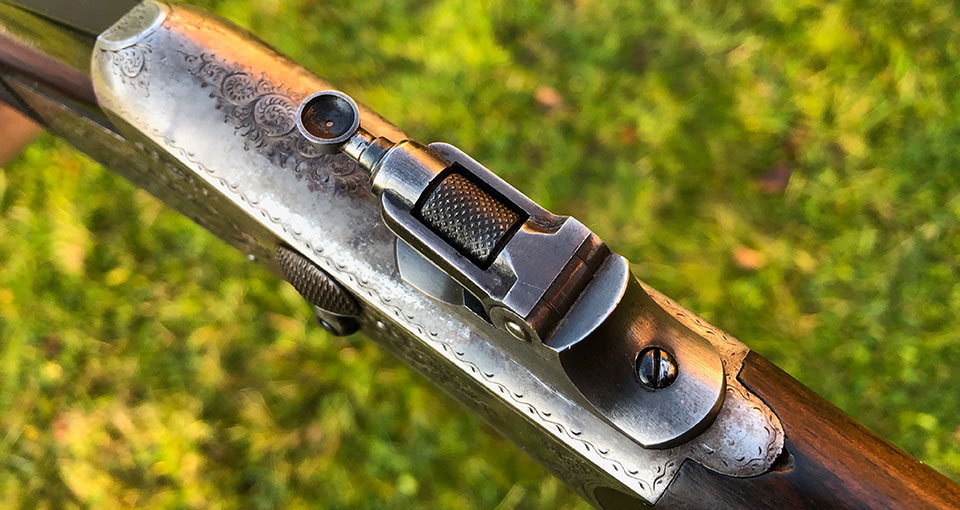 The forend is chequered and of snap-on type, without a visible catch of any kind. The nicely figured stock ends with a plain, blued, steel butt plate with a distinct swelling at 'bump'.
The 26 1/2" black, steel barrel is flat topped, with a stippled, anti-glare finish. Operation is by snap under-lever. This slides back a single bolt, recessed into the breech face, which engages with a single bite in the lump. Ejection is non-selective.
The likely load for this rifle appears to be .300 Rook, which is an 80 grain lead bullet propelled by a charge of 10 drams of black powder or 4 1/2 grains of smokeless powder. As the name implies, it was designed as a relatively short range rifle for dispatching vermin around the farm or estate.
The likely load for this rifle appears to be .300 Rook, which is an 80 grain lead bullet propelled by a charge of 10 drams of black powder
.300 ammunition was still available from Eley in 1928, sold in boxes of fifty but, like all the other small calibre rifle rounds of its type, it eventually succumbed to the pressure put on it by the .22 Long Rifle cartridge, which was cheaper, quieter, cleaner and effective to 200 yards in skilled hands.
A very similar rifle to this Rigby, also by Rigby, was auctioned in 1984 at Christies. I have seen very similar rifles by Purdey, Bland and Scott, to name but three.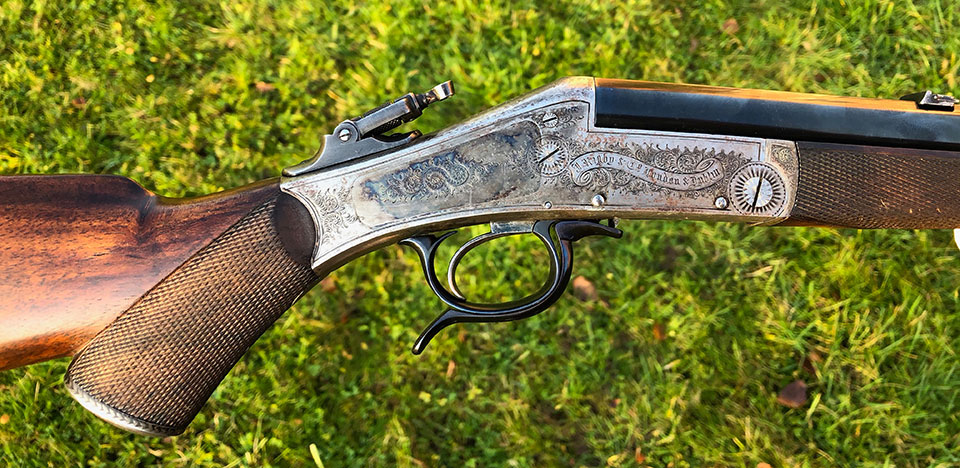 Colin Greenwood identified the maker of these rifles a Samuel Allport of Birmingham. Allport started at 3, Weaman Row and moved to 50, Whitall Street. He became Proof Master of the Birmingham Proof House in 1892. Allport sold his business at auction in 1893, having no heir (his son died aged seventeen) and he, himself, died in 1899, aged seventy six.
Like Ellis Bros, Allport clearly made rook rifles for the trade at large, including prestigious London makers like Purdey, Boss and Rigby. Any inspection of these little rifles attests to the superb quality Allport, like many other Birmingham makers, could, and did, produce when required.
Though his beautiful rifles remain admired and collected, few gun enthusiasts today consider the name Allport when running a mental list of their favourite rifle-makers. His name adorns few guns and rifles but Samuel Allport left a legacy of beautiful work for which his old customers continue to take the credit. Such is the fate of a gunmaker to the trade.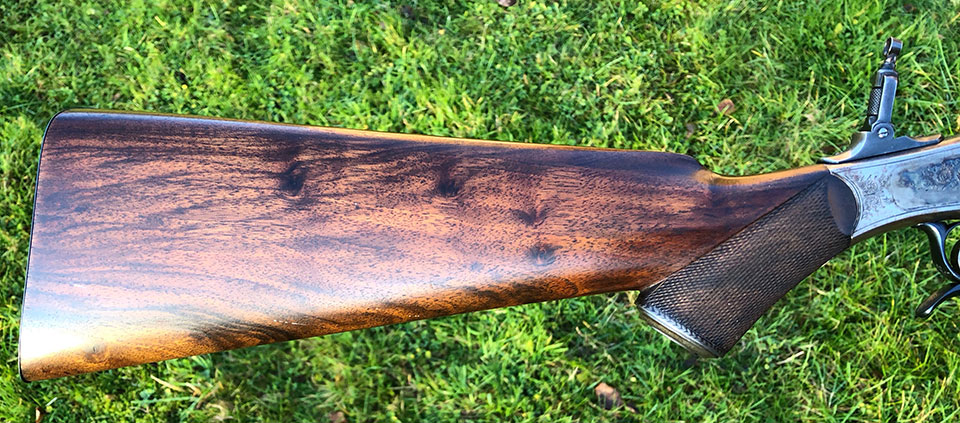 Published by Vintage Guns Ltd on (modified )