My heart really went out to all the gamekeepers who have worked so hard for us during a very difficult season when the latest lockdown was announced on 6th January, bringing driven shooting to a premature finish and even denying them their 'keeper's day, the highlight of the low-ground 'keepering year.
We owe them an enormous debt of gratitude for the way they adapted to and coped with the endless tiers, lockdowns, bubbles, confusion and uncertainty, to provide us with some wonderful sport - albeit under circumstances that were not quite what we have been used to. I for one, have treasured the few days I managed this season and have been made more than ever aware of the need not to take anything for granted.
The resilience of the shooting community in meeting the challenges of Covid19, reflect the strength and enthusiasm for our sport and emphasises how crucial it is to rural society, the countryside and the mental health of all those involved in the industry.
If ever confirmation of the growing support for recreational shooting was needed, one need look no further than the continuing success of HOLTS auctions of Fine Modern and Antique Guns. Since moving their auctions from London to the sale rooms and viewing gallery at Sandringham in March 2020, right at the start of the pandemic, the quarterly two-day auctions followed by their sealed bid auction a few weeks later, have been phenomenally successful, with bidders quite happy to take part remotely, despite being locked down at home, or constrained by the various tiers.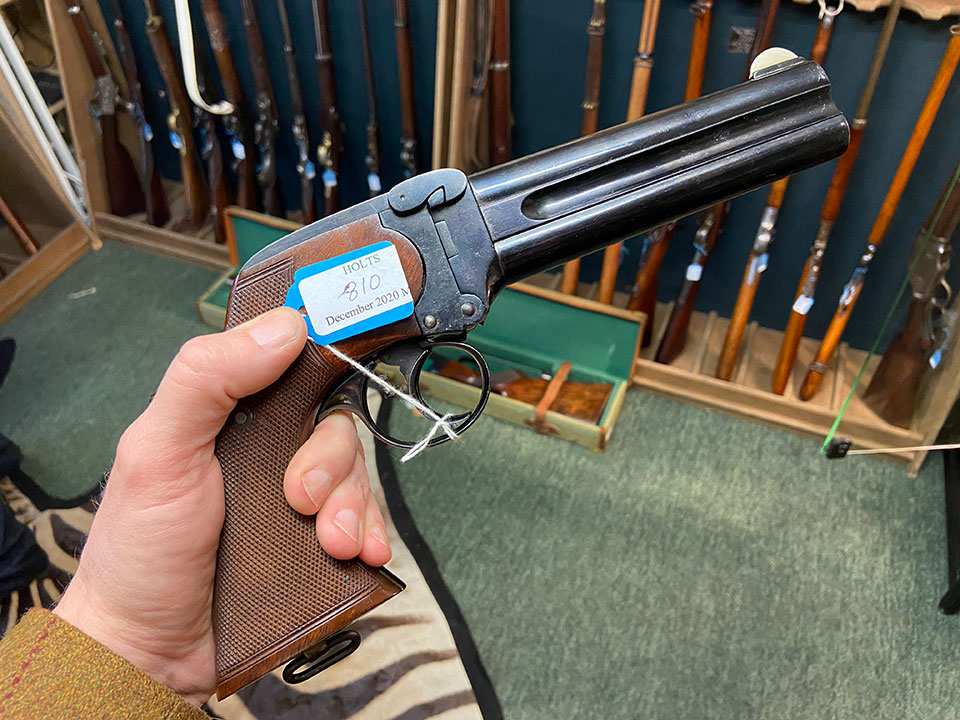 The two day sale on the 7th and 8th December 2020 was made up of 797 Lots and made a total hammer price of £1,170,975. Among the flintlock arms Lots to sell well on the first day, were a fine 21-bore flintlock double-barrelled sporting gun, made by the London gunmaker, Griffin and Tow, circa 1780, valued at £3,000 - £5,000, which sold for £9,500 and Lot 410 a 18-bore double sporting gun by Tirebuck of London, circa 1815, with the same valuation, which sold for £11,000.
Both of these were among a number of flintlocks being auctioned, which were originally part of a collection belonging to W. Keith Neal, author, collector and enthusiast who amassed what is considered to be one of the greatest private collections of antique firearms ever assembled. Another Lot to sell well was Lot 450 a magnificent pair of silver and gilt decorated double-barrelled holster pistols, made by the Royal Armouries, St.Etienne, circa 1775 and reputably a gift to the King of Sweden from Louis XVI, which sold for £11,000.
Included in the obsolete firearm Lots, was a .577 Charles Lancaster of Bond Street patent over and under, oval bored howdah pistol, circa 1892, which sold for £8,000, well above the estimate of £2,500 - £3,500. Lancaster howdah pistols always attract interest; under Section 5 firearms, a four barrelled howdah pistol chambered from.476 to take a 2 inch .410 cartridge, with an estimate of £1,200 -£1,500 sold for £5,000.
Best London shotguns in good condition always attract a lot of interest...
Ten superb rifles by the Austrian maker, Schiering, were among the sporting rifle section to exceed expectations, but the gun which the topped the two-day sale was Lot 1266 a magnificent 7x57R Holland Royal "Model De Luxe" sidelock ejector double rifle, engraved by Phillipe Grifnee, considered to be one of the world's finest engravers and famous for his expertly rendered, deep relief engravings, which sold for £52,000. Best London shotguns in good condition always attract a lot of interest and among the pairs and trios offered, were a lightly used pair of lightweight Purdey 12-bore sidelock ejectors, which sold for £24,000.
A fine pair of Holland and Holland 12-bore "Royal De Luxe" self-opening, hand-detachable, sidelock ejectors, profusely engraved with bold, scrolling, foliate motifs on a finely-matted background and with game scenes of partridge, pheasant and duck in their naturalistic habitats by the noted Holland engraver Ken Preater, with each vignette signed K.P, which sold for £35,000; and a pair of 16-bore Holland Royals, which sold for £30,000.
The Lot that exceeded all expectations and demonstrates that provenance is all, was Lot 1553 a 28-bore, bar-in-wood, top-lever, hammer gun made by James Purdey in 1882 for the wonderfully eccentric socialite, Lady Meux, which had an estimate of £3000 to £5000 and sold for £15,500.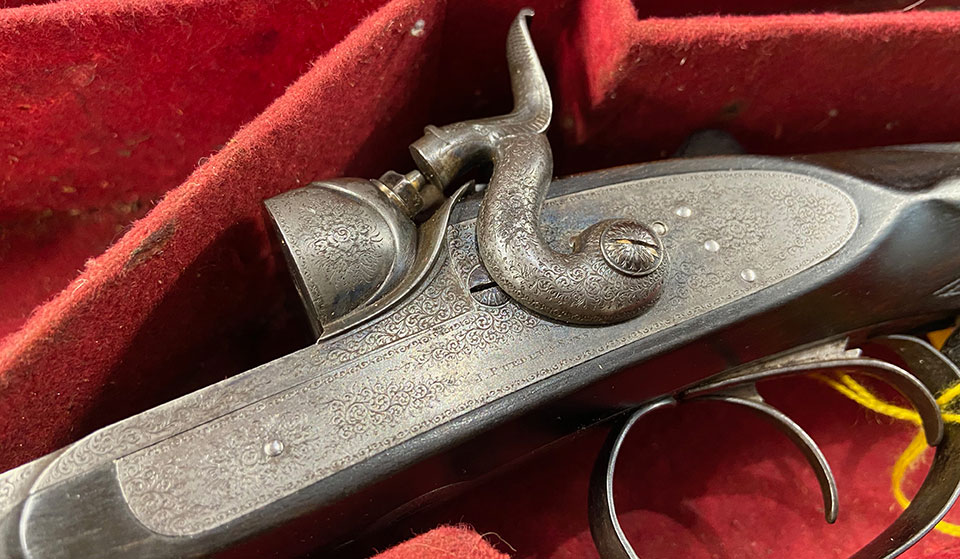 Probably the Lot of most interest to Holts, were the pair of 16-bore Holland Royals. As a rule of thumb, the high-end bids are generally pre-auction commission bids or telephone bids on the day. 2,769 people registered to bid online and these bids tend to be more modest, with an average value of around £1,250, however the £30,000 for the 16-bore Hollands was a record from an online bidder and indicates that customers are becoming more confident with closed door, "live online" bidding.
68 percent of bidders in the last auction were new to Holt's.
The Sealed Bid auction on the 8th. January comprised 3,359 Lots and was HOLTS largest ever auction in terms of Lot quantity, reaching a total hammer price of £401,245. The success of these auctions not only demonstrates the continuing support for field sports - 68 percent of bidders in the last auction were new to HOLTS - they have an enormously beneficial impact across the industry.
Few guns bought through an auction do not require a little bit of fettling of one sort or another - an alteration to the stock at the very least, but depending on age, a bit of lapping, or tightening, or maybe be even re-blacking - and all of this provides extremely welcome business to gunsmiths up and down the country. Things may be pretty grim at the moment, but there are blue skies ahead and we shall all meet again under better circumstances.
Published by Vintage Guns Ltd on