The end of August leads in to the first sale major of the season. Gavin Gardiner, whose usual venue this time of year is Gleneagles Hotel in Scotland, has decided to run his auction from Pulborough at a slightly later date, with 6th September replacing the August bank holiday weekend.
With new best pairs of side by side guns from the top London makers now costing in excess of £300,000, the auctions can show just what good deals are available to those fortunate enough to be shopping in that higher price bracket. A virtually unused pair of Holland & Holland 'Royal' 12-bores stood with an estimate of £20,000-£30,000 and a 1993 pair of Purdey 12-bores followed with a £50,000-£60,000 tag.
For some perspective on the long-term value retention of these guns, the Purdeys would have cost £28,750 each, plus extra for the case and accessories, plus probably 10% for them being a pair. So, the current top estimate is not far off what they originally cost. The Holland & Hollands would have cost £550 each in 1960, plus 10% for them being a pair, plus case and accessories.
Allowing that the commission and tax additions to these prices will add about 30%, if they sell at these figures, they still represent very good savings. This underlines the added value buyers attribute to the experience of ordering and being part of the building process of a pair of new bespoke guns.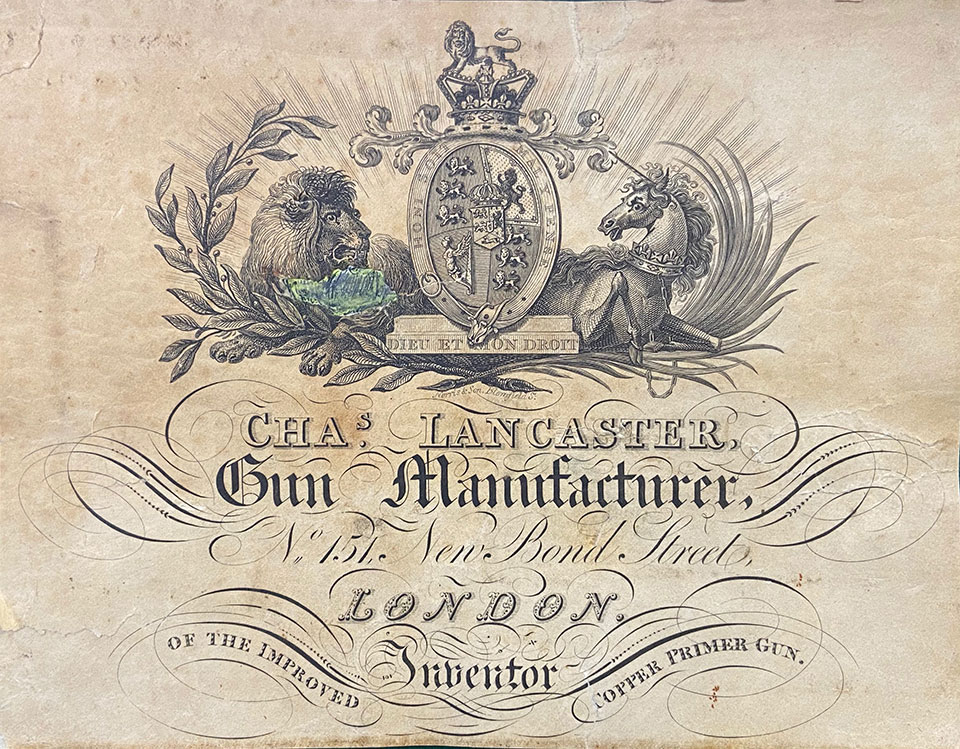 There were other interesting lots, including a T.T. Proctor bolt-action in .308, which had conventional mounts rather than Proctor's speciality fixed ones and a Schmitt & Bender 'scope. Built in 2001, it was typically priced at £800 - £1,200, great value for a rifle that would have cost around £7,000 when made. Custom rifles by more mainstream gunmakers seem to reliably sell for around £7,000-£9,000, which is where Gavin placed a .375 by William Evans; made in 2009 and little used.
For the collector, the prize lot was a pair of Charles Lancaster 14-bore percussion guns built for Queen Victoria's husband, Prince Albert in 1850, as a gift from the Queen. The guns remain in very good order and were valued at £30,0000 - £40,000, including the original case.
I know the newly acquired Charles Lancaster firm has been buying good examples of the firm's historic guns and rifles. These would be a fantastic show-case of their work but the investment required is quite a challenge, I would imagine.
Of the odd guns that often appear in auctions because their specification confuses the general buyer there was a lovely quality 16-bore sidelock ejector by Arthur Turner. 16-bores are enjoying something of a resurgence in popularity of late but this one weighed 7lbs 4oz and had 27" barrels and 3" chambers.
That is a very odd configuration and the price estimate of £5,000-£7,000 looked a challenge. However, perhaps someone out there is looking for exactly this and can't find it anywhere. If so, an auction is a good way of finding that buyer.
Holt's
Holt's began building their on-line catalogue not long after concluding their last sale. Happily free from the COVID scare that scuppered their Game fair presence, the Norfolk auctioneers are building a good inventory for their next sale, which is due to start on 20th September.
The cover girl (if I'm still allowed to assume her gender) for the catalogue is a beautiful Purdey pigeon gun made in 1894 with 32" Whitworth steel barrels and 3" chambers, weighing 8lbs. The gun has beautifully carved fences and retains a remarkable amount of original finish. Surely this is everyone's idea of the ultimate ZZ competition gun?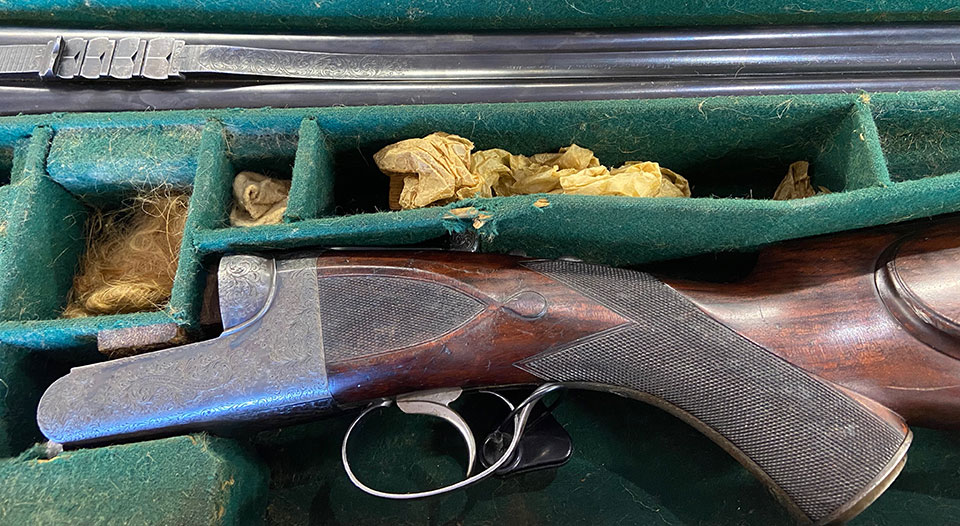 Bidding is expected to start at £25,000. Pigeon guns are one area of the market selling well at present, so this might attract some buyers. It deserves to.
Elsewhere in the catalogue, I noticed a lovely Hartmann & Weiss 7mm-08 stalking rifle. Built on a double square bridge Kurz Mauser action, with two good 'scopes included and built to the very best quality, it is estimated at £7,000-£9,000 but attracts an additional £20% VAT on the hammer price in addition to the 30% that Holt's fees and taxes add to the bid.
There is little to choose between a 7mm.08 and a 7x57 in performance terms and this would be a super rifle to have for all your stalking. I hate to think what a new build version of this would cost, but it would be in excess of £30,000.
Around the Country
Rydale auctioneers had a very good selection of cased percussion guns in their sale on August 26th, including guns by Manton and Purdey. Wilson55 Auctioneers in Nantwich have a cased Purdey 12-bore hammer gun estimated at £2,000-£3,000 in the September 9th sale. They also had a pair of Forsyth 'scent-bottle- locks from the Keith Neil collection, estimated at £3,000-£4,000. In fact, this auctioneer has a very large selection of older muzzle-loaders and rifles of various kinds in the sale.
Sadly from a social point of view, auction viewings are no longer a regular meeting point for those in the trade who used to converge on London for a drink and a chat and a look over the guns every three months. With Gavin Gardiner in Sussex and Holt's in Norfolk and more and more trade taking place remotely, for most of us, those days are mere memories.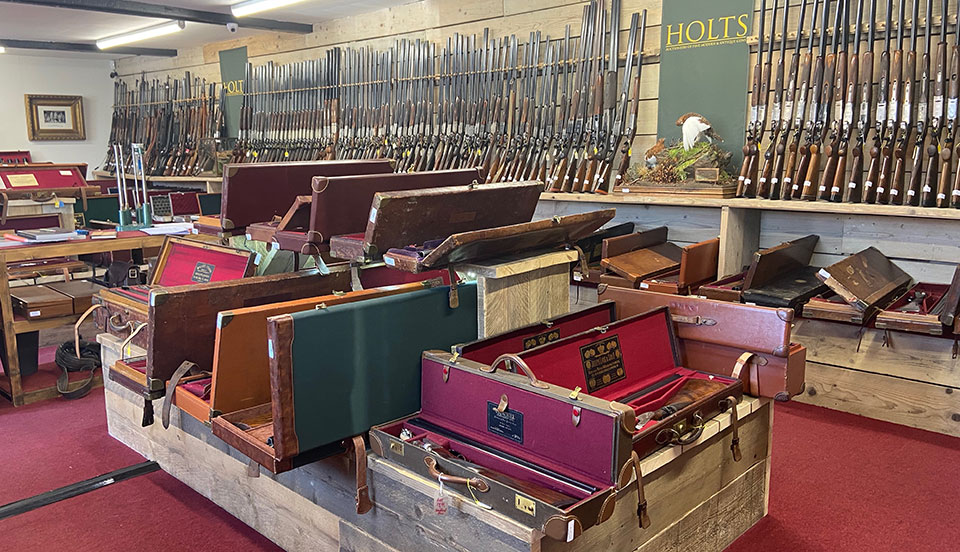 Really, the Game Fair is now the sole opportunity we have to gather en-masse, so it was a relief to see it survive the pandemic and I'd encourage gunmakers and gun dealers to support it next year and make it a real success.
It may be smaller but it felt more focussed and more like an event for the insider than it once did. There were even some sporting events arranged by the traveling community to entertain the late evening outside bar customers, which was thoughtful.
One other factor that may create some knee-jerk reaction was the recent shooting in Plymouth. The gun trade is hit by the effects of an event like this every decade or so. While the issue seems to have been with the police rather than the legislation, that has not protected us in the past, so we need to be aware of the impact of these negative event as they often get legislative follow-up which is against our interests.
There does, however, appear to be some movement on restrictions for deactivated firearms, with the 2016 European legislation now of questionable enforceability. I'm investigating this now and hope to report fully on it next month.
Published by Vintage Guns Ltd on (modified )