There is no doubt that the 12-bore, two-inch cartridge case has many adherents among sportsmen who find that this length of case with its reduced shot charge is quite adequate for the conditions under which they carry on their shooting. For instance, in driven game shooting, and where walked up game in the early part of the season presents fairly short range shots, also rabbit shooting, etc. The sportsmen who cling to their 12-bores have found the two inch cased 12-bore cartridge with its reduced shot load to be a very satisfactory combination.
Those who are desirous to get the maximum success out of these shorter cases will be pleased to learn that our British ammunition firm, I.C.I., are continually making experiments to ascertain the best combinations of powder charge and shot load for those who demand these shorter cases. For some years I.C.I. have been supplying a 12-bore two inch cartridge loaded into a 5-16 unlined quality case and the load used has been 26 grains of Smokeless Diamond and 7/8 oz. of shot.
Recently, after a considerable amount of experimental work with heavier powder charges, good results have been obtained with a load of 28 grains of Empire powder and 7/8 oz. of shot in a 5/8" deep brass or deep shell quality case. The 5/8" deep shell case has the advantage of allowing slightly more variation in loads as compared with the 5-16 unlined case. Tests with the new deep shell cased cartridge gave even and well-distributed patterns with good average ballistics.
This latest issue with its load of 28 grains of Empire powder and J oz. of shot will be obtainable for the coming season as an alternative to the cartridge with the original loading of 26 grains of Smokeless Diamond ' and 7/8 oz. of shot.
Henry Sharp.
First published in Shooting Times, 1st April 1939.

The two-inch 12-bore cartridge was introduced by Charles Lancaster as the 'Pygmie' in the 1890s (Trademark 220842). There was a good deal of controversy about the new cartridge, which was originally used in 2 1/2" chambered guns. Some commentators argued the shorter cartridge was liable to cause 'balling' of the shot. This was disputed buy H.A.A. Thorn on behalf of Charles Lancaster and by others, including editor of The Field, Mr Teasdale-Buckell.
However, Teasdale-Buckell later fell-out with thorn over the latter's refusal to send cartridges for independent testing. Many gun makers held faith with the two-inch cartridge, even Purdey, and other rivals to Lancaster, in London. These were built with special two-inch chambers and intended to fire one ounce of shot. The guns were typically lighweight 12-bores weighing just over 6lbs. Today, Eley continues to supply owners of two-inch chamberd guns with suitable ammunition.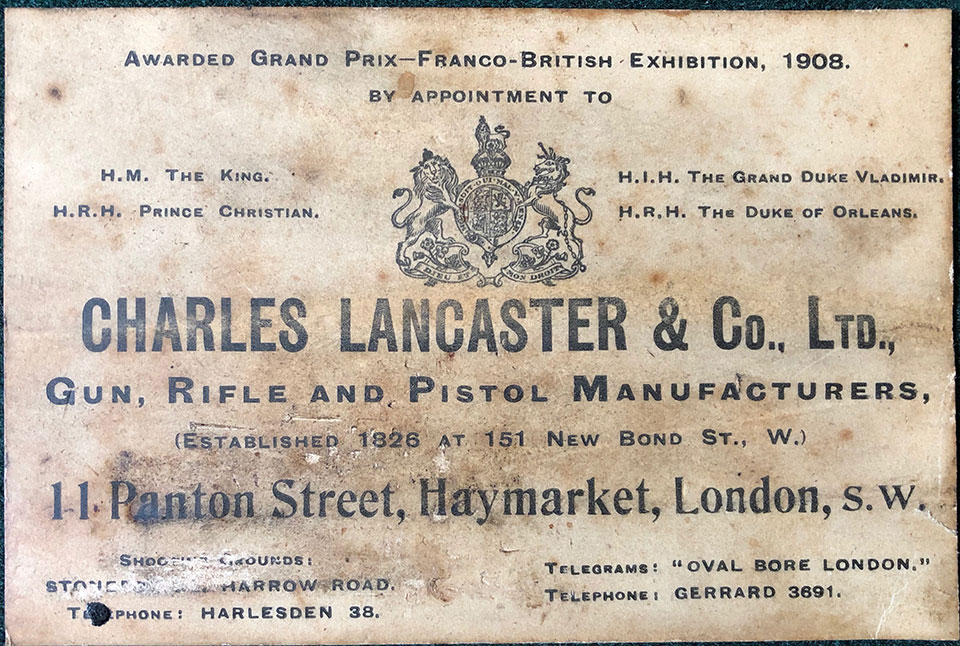 Published by Vintage Guns Ltd on (modified )