Many industries have suffered catastrophic damage during the turbulent Summer of COVID-19. However, it seems, auctions are weathering the unsettled period better than most.
Gavin Gardiner recorded strong sales figures on 2nd September. His virus-safe new viewing and bidding procedures appear to have been well organised and those wishing to visit the Pulborough HQ and look at their shortlist of interesting lots were able to do so. Bidding was carried out remotely, with telephone bidding, internet bidding and commission bid forms all options for placing bids on items before or during the sale.
I put £700 on a T.T. Proctor .22 custom rifle only to see it go for £50 more: illustrating one disadvantage of not being in the room. I may have gone a bid or two higher on the day, had I been seated in front of the gavel.
Despite the difficulty of travelling and collecting for the sales because of restrictions on travel and a reluctance of some people to meet strangers while vulnerable to infection, Gavin's catalogue was about the same size as usual, with 185 lots offered. among his successes was a pair of 1980 Purdey's, which made £37,500, as did a pair of 1928 Boss side-locks.
A 1992 pair of 12-bores by Symes & Wright made £31,500 and a pair of 20-bore over & under guns by the recently closed Mayfair gunmaker, William & Son, sold above estimate at £30,000. Some of Gavin's lots were sold to raise money for the Gunmakers' Charitable Trust, including a 1923 Purdey, which made £17,500.
Overall, Gavin's sale netted successful bids for 80% of the lots offered on the day and can be claimed as a success amid the gloom of the pandemic.
Holt's had similarly pleasing results, with very good prices being achieved and a high sale percentage in their September auction, held again at Wolferton.
Like Gavin, Nick Holt had arranged effective virus-safe viewing and bidding strategies to keep customers safe and they worked. Telephone, internet and e-mailed bids all worked as options and sales from all over the world came in, with buyers keen to pick up guns where value was apparent. Recently made London side-locks by Manton and Asprey sold strongly to American buyers, making a fraction of build cost.
It was not just guns and rifles that sold well. A Rowland Ward tiger skin with a low estimate of £1,500 made £5,200 and a Harrods Gladstone bag made £500 from a low estimate of £300.
Sporting guns seemed in demand regardless of ear and type. It was not just London side-locks that sold well. A flintlock goose gun by Henry Nock made £9,500 and a Durs Egg 20-bore flintlock rifle, once in the Keith Neil collection beat a reserve of £1,500 to sell for £5,400.
I have always loved black powder express rifles and you can still buy a very good one for £5,000, just as you could fifteen years ago. Holt's sold a beautiful example in .577 by Purdey. A hammer rifle, built in 1886, it remained in very good condition and for quality, I don't think these rifles are equalled by anything built at the time or since. Another good example, in .450 (3 1/4") BPE by Holland & Holland sold for £3,500. A mint Wilkinson howdah pistol made £13,000, which is very good money. Fifteen years ago it would have made £3,500, perhaps less.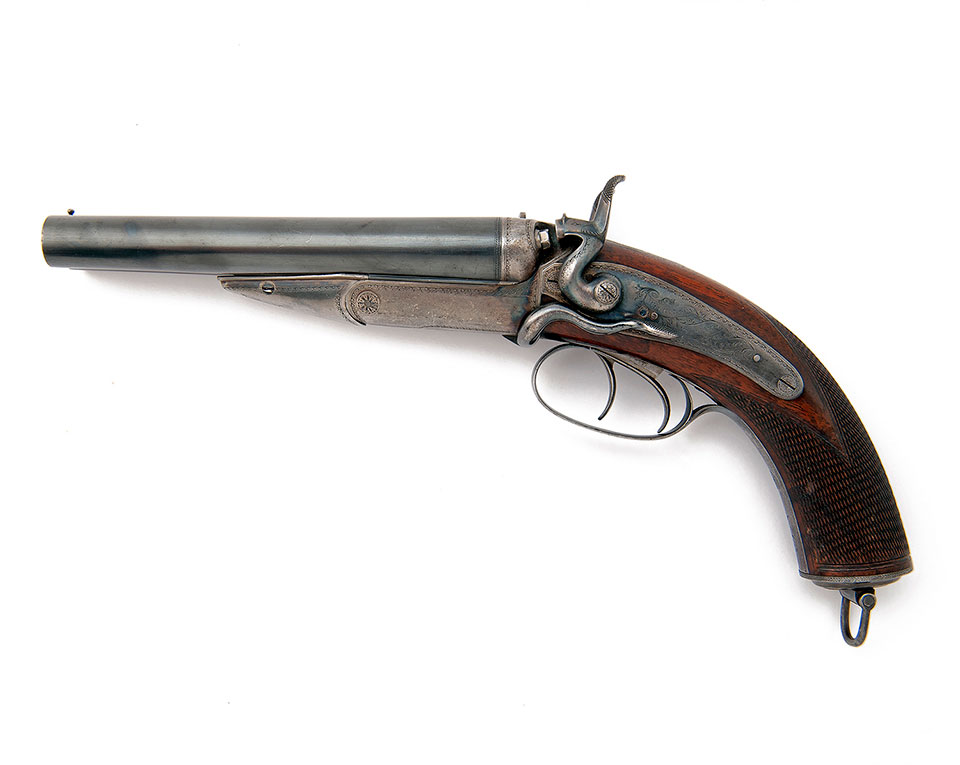 Holt's continued into the middle of September with their unsold lots sale and the Sealed Bids auction, which often contains some items worthy of careful examination.
The buying public has become used to viewing on-line and bidding remotely. I used to receive requests for condition reports each auction to the value of around £1,000. Now, it is a fraction of that figure. Buyers who, ten years ago would have been far too wary to bid on guns unseen by a trusted adviser, or in person, now appear content to risk a bid of thousands based on a screen shot and description, perhaps an additional conversation with one the the auction staff.
Provincial auctions with sporting guns are thriving. The Saleroom website has undoubtedly helped in this regard. Even sales with perhaps just five or six guns listed amongst other, barely related, lots will see them easily discovered by a quick word search. Buyers are finding them and biding.
One such example was Peter Wilson's sale of Militaria, Medals & Firearms, on 10th September in Nantwich. There were a few sporting guns, among them a Boss hammer gun with barrels damaged at the muzzle but in otherwise 'sleeper' condition. From a reserve of £200, it made £1,700.
The same sale also had a very early Reilly pin-fire, dating, it appears, from 1856. If correct, that would make it the earliest pin-fire Reilly yet known and one of the earlier pin fires of any British maker. Very few (if any) pin-fires were made here before 1854 and the number of those verified and extant from the pre-1857 period is tiny.
Moreover, this Reilly was a 15-bore double rifle, cased with accessories and in very good condition. The remains of a sanscrit paper label on the case indicate it may once have been in the possession of an Indian prince. Reilly made numerous guns for maharajahs and the quality of this rifle is first class. From a reserve of £1,500 it made £2,700.
Other provincial sales with odd items of interest this month included Sheffield Auction Gallery, which had a small number of interesting sporting guns, including a Greene (London) percussion gun, which at the time of going to press had a bid of just £240 against it.Also, Wooley & Wallis, which offered a Holland & Holland 20-bore boxlock 'Made Expressly for the US Historical Society'.
It was ordered for the 1992 quincentenary of the arrival in America of Columbus. The order failed to achieve delivery in time for the event and the gun was later sold privately. The £8,000 to £10,000 estimate is a fraction of build cost. The gun is unique; engraved with scenes from the 'discovery' of America and it may appeal to a collector sufficiently to pay the price.
The September sales conclude with Bonhams, in Knightsbridge, which holds a sale of Arms, Armour and Firearms on September 20th. A pair of duelling pistols by Purdey caught my eye as beautiful examples in excellent, complete condition, cased with accessories. The estimate of £15,000-£20,000 indicating the entry price for ownership of this kind of history and quality. We can expect to see Bonhams offer their 2021 sale of Sporting Guns on December 3rd, along with more Antique Arms & Armour on the same date.
Published by Vintage Guns Ltd on