The Smith gun-making business in London started with William Smith, who was apprenticed to John Joyner in 1766 and then to William Shepherd in 1771.
He was later recorded as a gun lock maker in St James's in 1792 and St Pancras in 1800. In 1805 he traded as a gunmaker at 34 Tottenham Court Road, moving in 1806 to 2 New Lisle Street. In 1817 William Smith was appointed Gunmaker-in-Ordinary to the Prince Regent, and he moved to 59 Princes Street, Leicester Square.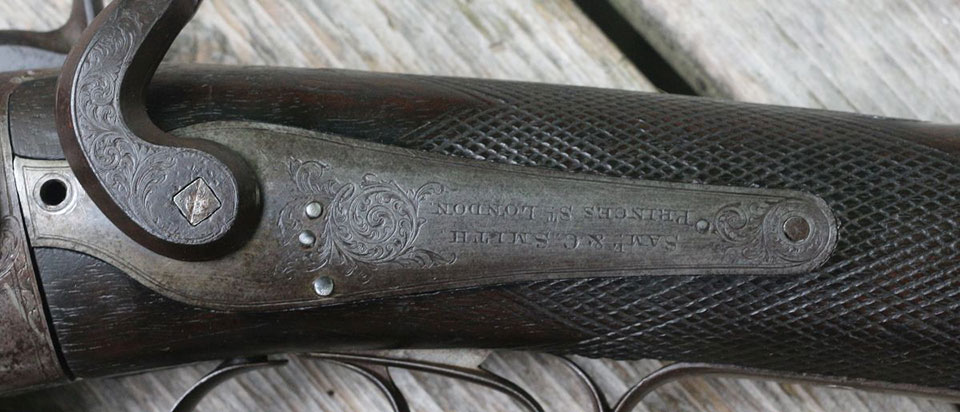 In 1820 when the Prince Regent became King George IV, he was appointed Gunmaker-in-Ordinary to the King, and the following year moved to 64 Princes Street. Smith had also been appointed Gunmaker to Tsar Alexander I, Emperor of Russia, and Maximilian I Joseph, King of Bavaria. Such patronage says a lot about the quality of Smith guns and the regard in which they were held.


In 1825 William was succeeded by his son Samuel (1794-1855), and the name of the firm changed to Samuel Smith. In 1834 Samuel's brother, Charles, joined him, and the firm became Samuel & Charles Smith. Between 1835 and 1837, the firm was appointed Gun Makers to His Majesty (William IV) and the Duke of Gloucester.
By 1855 both Samuel and Charles had died, and Samuel's two sons, also named Samuel and Charles, took over the firm. In 1867 Samuel (junior) patented a breech-loading action, whereby half-cocking the right hammer withdrew the barrel locking bolt. In 1870 the firm moved to 18 Oxenden Street Haymarket until 1875 when the business closed, and the Smith brothers emigrated to Australia.


The firm has tremendous history and pedigree, and Googling the name turns up exquisite examples of flint and percussion guns, and even a few pin-fires. Like most makers of the pin-fire period in Britain, Samuel and Charles Smith appear to have offered different grades of sporting guns, including patented actions from other makers.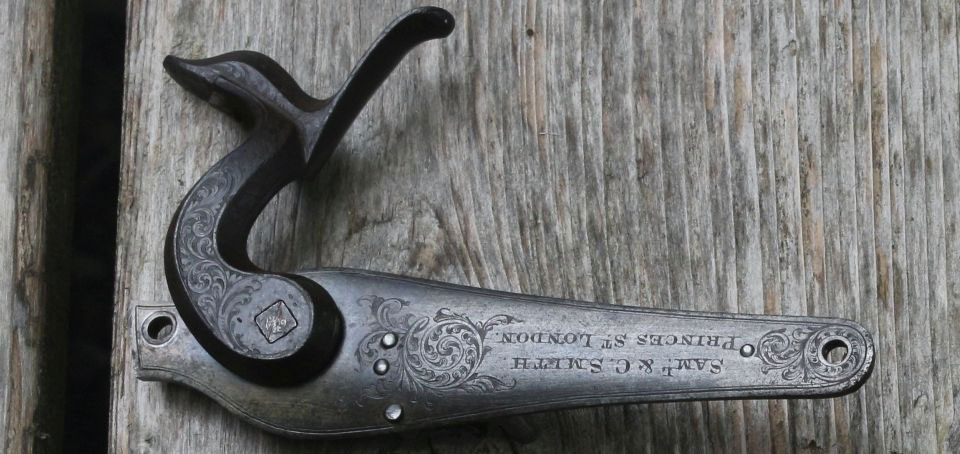 The gun pictured here is in a very sorry state, with a broken mainspring, parts missing, worn engraving, and obvious tiredness. It is a standard double-bite screw grip action, and the serial number 6583 places it about 1864 in date. The 29 3/4" damascus barrels are signed "SamL & C Smith Princes Street Leicester Square London" on the top rib and carry the usual London proofs underneath.
The gun has typical percussion-style fences, an extended top strap, and flat-sided hammers, all of no particular note – this was the entry-level pinfire gun of the mid-1860s, not much different from the offerings of most London and provincial makers. Where this gun becomes highly unusual is with the back-action lockplates.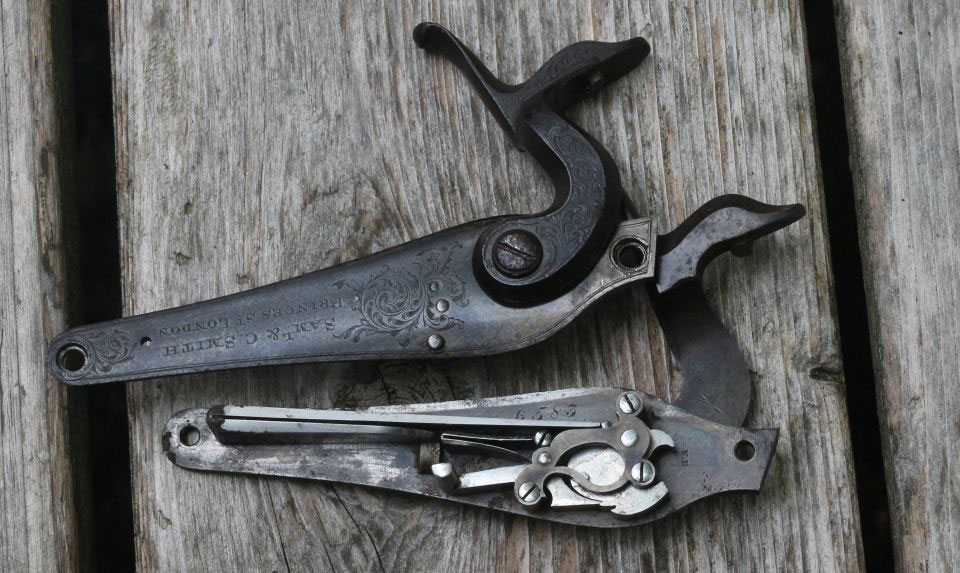 Look closely; the name inscriptions, "SamL& C Smith Princes St. London," are inverted! This form is different from other Smith pin-fires I've been able to trace, which have typical inscriptions on the locks. The locks are pinned from the right, which is unusual but not infrequent. I've never encountered another gun with inverted inscriptions before and would like to hear of any others.
I am confident it was not an engraver's mistake but a special request from the client. Why would a client make such a request? This question is likely to remain unanswered.

Inside the lockplates are the lock maker's marks, "N.B," which appear to be that of the lock maker Noah Butler of Darlaston Road, Wednesbury, Staffordshire (or an alternate nearby address, 4 King's Hill, Wednesbury).
Butler was born in 1827 or 1828, and his trade was a common one in Wednesbury and nearby Wolverhampton, sources of the best gun locks. These are quality locks with nicely shaped bridles, befitting a Smith gun. And finished with a very odd signature style!

I wish to acknowledge the Internet Gun Club for graciously allowing the use of information from their extensive historical database.
Words and photographs by Stephen Nash
.
Editor's Note: I once encountered an 1880s Purdey centre-fire hammer gun with the name upside-down on the locks.
Published by Vintage Guns Ltd on (modified )