The outliers emerging from the successful firm established by Joseph Lang can be rather confusing when the famous surname is attached to some less familiar sounding christian name or teamed with others.
Readers may recall an article some months ago about a .410 hammer gun by 'Joseph Lang & Sons', which indicated some unusual fringe activity around the main firm in the late 1870s. Joseph Lang had several sons, was twice married and, though his business carried on after his death, the name 'Lang' traded later under several different owners.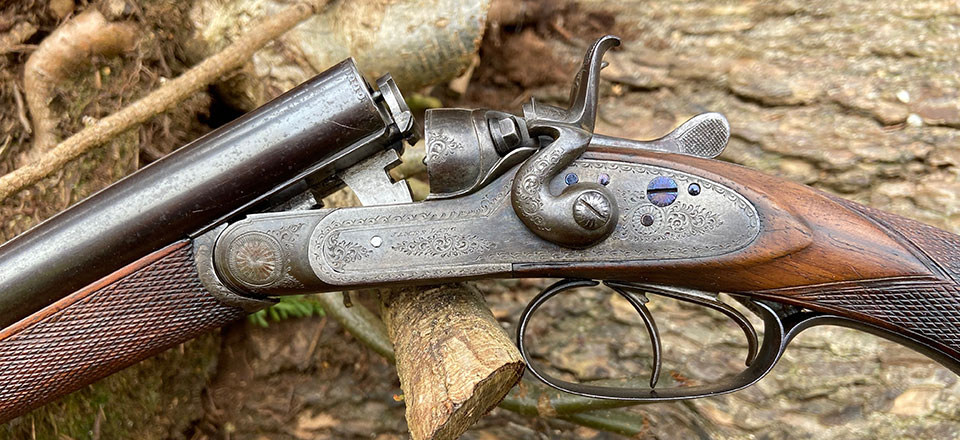 Here, we have another 'Lang ' to examine: a small bore .380 (Long) double rifle by Joseph's son, James Lang.
Joseph Lang was selling guns from his Haymarket shop as early as 1825. He was a solid member of the London gun-making fraternity and married Elisa, James Purdey's seventeen-year-old daughter, in 1828, when Lang was thirty two. He was a contemporary of James Purdey and the two businesses grew alongside one another. For a time, Purdey made the guns and Lang sold them. These early 'Joseph Lang' guns are, naturally, of superb quality.
Lang gained further kudos when he introduced a version of the Lefaucheaux breech-loader to the British public, following the Great Exhibition; there by starting the pin-fire era in the 1850s.
However, in later years his family and business arrangements became somewhat fractured. His wife, Elisa, died of cancer in 1853, when Lang was fifty-six. He married her servant, Hannah Stevens, nine years later in 1862 and they had two further children.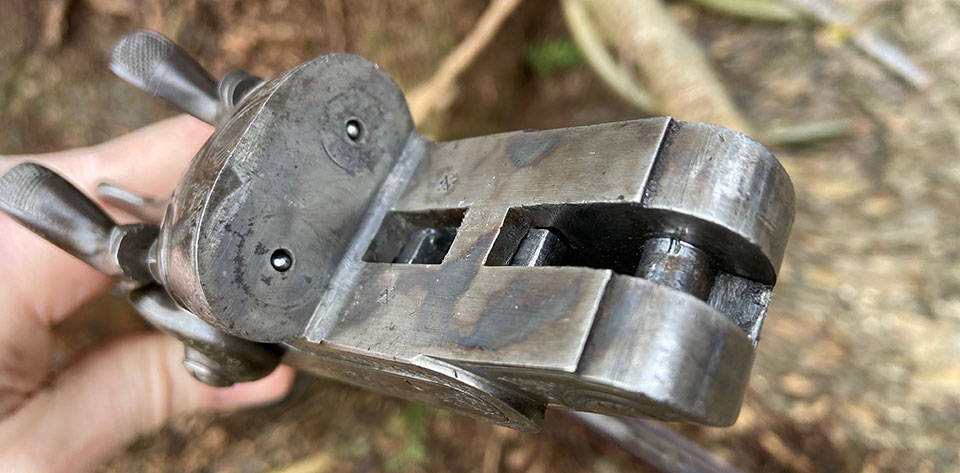 Joseph's son, James Lang, entered the family business early and was managing the workshop in Cockspur Street by the age of twenty-two. He had brothers; Edward and Thomas. He also had a half-sister, Mary and half-brother, Arthur. Upon the death of Joseph in 1868, James became managing partner of the company. In 1871 he changed the style of the firm to 'Joseph Lang & Son'. James married and had two sons: Percy and Edward. Both later became involved in the gun trade.
James Lang was co-patentee of several improvements to sporting guns during his tenure, collaborating with practical gunmakers like Thomas Southgate and John Reeves. Business appears to have been good under his ownership. Then, in 1886, James sold his father's business to Thomas Morton.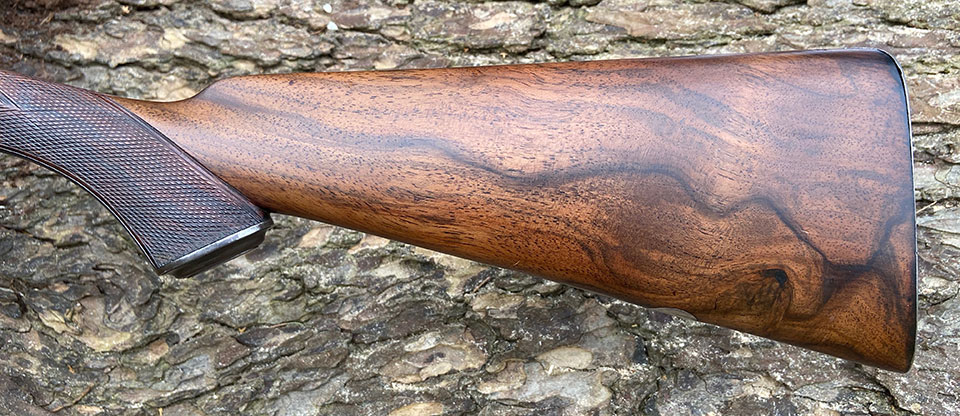 After selling the original business, James started selling guns and rifles under his own name for the first time. The two 'Lang' companies, under separate ownership, continued to trade side-by-side, in London. James placed advertisements in the press to assert his independence and promote his new business, which, at first, traded from Bruton Street.
In 1887, James was fifty-two and had premises at 33, New Bond Street. Then, in 1888, he took on 18 Brook Street. That is the address we find on this particular rifle. Frustratingly, it carries no proper serial number, just the barrel number 28963. James Lang guns from this address are usually found to be in the 10,000 serial number range.
The last gun thought to bear the James Lang name is serial number 10592. The business was sold in 1893 to Col. Hugh Douglas and the style changed to 'James Lang & Company.
So, the rifle we are looking at was made between 1888, when Lang moved to Brook Street, and 1893, when he sold the business, a window of five or six years. It is in .380 Rook.
The proof marks are indistinct on the steel barrels and the only patent stamp on the gun relates to the use of Anson's push-rod forend catch, of 1871.
The stock is of nicely figured walnut, with a vacant gold oval and steel grip-cap and butt plate. The action is well made, with clan lines and very good metal-to-metal fit but it is certainly not best quality and the engraving is simple border scrolls with further scroll panels on the larger surfaces, but it does extend onto the guard and the forend iron and finial.

It has folding leaf-sights to 200, 300 and 400 yards and a standing sight for 100 yards.
.380 Rook (or .380 Long as it is also known) is a straight-cased, rimmed, centre-fire cartridge. I propels a 124 grain, lead bullet at 1,050 fps and was, in its day, considered suitable for small game up to roe deer size, though, clearly, would no longer be legal for any species of deer in the UK.
The cartridge was introduced in the 1870s, with black powder as a propellant. While the British used it as a small-calibre rifle chambering, European makers often employed it for use in pistols.
This one has had a fairly hard life, probably not from over-use; the rifling remains clean and the metalwork is not worn bright, however, the woodwork has been the victim of a, perhaps over-enthusiastic, amateur chequerer in the past.
At some point, somebody more competent has had to file-off the chequer and re-cut it at the hand leaving an overhang of grip-cap metal and a rather unsatisfactory thin-profiled, pistol grip-shape. Chequer to the forend is a bit more acceptable, but over-runs and unevenly-shaped diamonds also upset the eye, upon close examination.
Where does a rifle like this fit in today's market? It is not of notable quality, nor by a notable firm. It is not in notably good original condition. However, it is now mechanically sound, it could use a re-black to the barrels and a little effort to re-oil the stock but it is a 'shooter', if one wants an obsolete calibre to shoot in competitions for such things.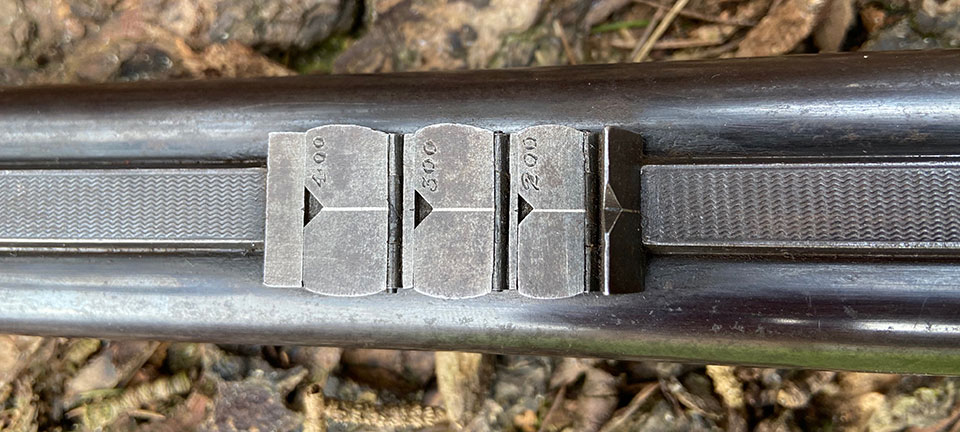 Fiocchi made a modern version of the cartridge, which could be used, until quite recently. I'm unable to confirm if it is still available. Alternatively, it could be held 'off ticket' as a section 58 'curio' and displayed on the wall at home.
For me, it is an interesting example of the output of a branch of one of London's most influential gun-making dynasties, from a period in which family involvement in the firm was coming to an end.
Published by Vintage Guns Ltd on (modified )