Edwinson Green was a clever inventor and gunmaker of quality. This black leather label with gold embossed lettering refers to two endorsements - the Royal Warrant to the King of the Netherlands and the award of two prizes at the 'London Field Trials'.
He had premises in Cheltenham from 1867 until the late 1970s and in Gloucester from 1894 until 1928. Unhelpfully, the label does not indicate addresses in either town, as they were many and the dates of moving would help us date the label more accurately.
Green also has premises in Weaman Street in Birmingham, which, presumably, was where his guns were made. Gun production ceased in 1947.
One clue is the '& Son' added to Green's name. This occured in 1894, so the label post-dates that. We can, then establish a working period of between 1894 and 1928 for this label. The reference to 'London Field Trials' would indicate it to be at the earlier end of this period.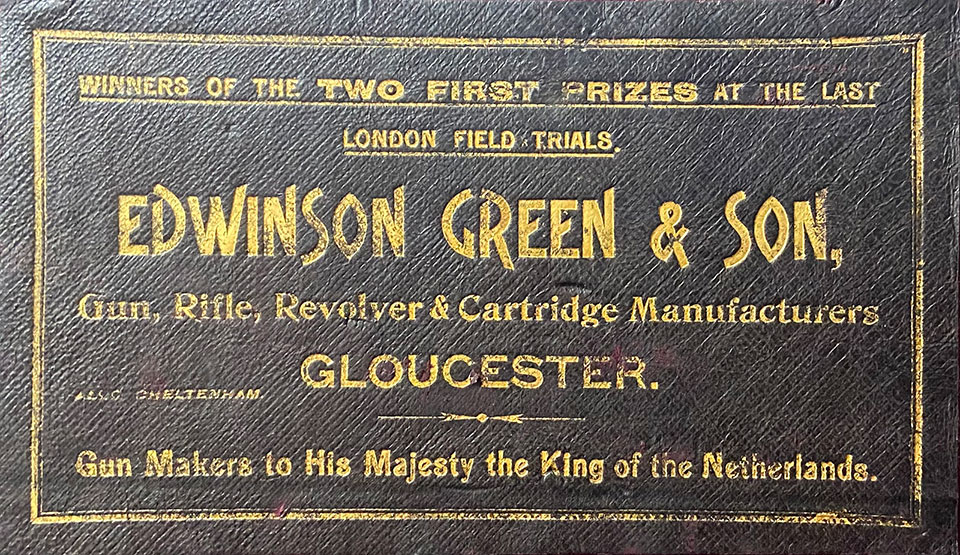 Published by Vintage Guns Ltd on