John Thomas of 66 and 67 Slaney Street Birmingham is not a well recognised name and is rarely mentioned in most discussions about hammer guns.
In fact, he is not even the most recognised John Thomas, that distinction has to go to Mellors, the gamekeeper in Lady Chatterley's Lover.
However, his 1870 patent action is actually quite commonly encountered and was used by a number of (mainly Birmingham and provincial) makers during the 1870s.

The concepts he described as a 'Solid Self-Locking Vertical Grip' and it consists of a rearward extension of the rear lump. This extends into the breech face, which has a vertical slot cut into it, when the gun is closed. To secure the lump extension in the slot and prevent the gun from falling open, the extension is engaged by a bolt operated by a top-lever.
The bolt is pushed back by the lump extension when the barrels are raised into the closed position and snaps back over it when barrels and breech face meet fully, powered by a vertical-positioned V-spring, affixed to the the top-strap. I have two examples of the Thomas patent and both have broken lever springs!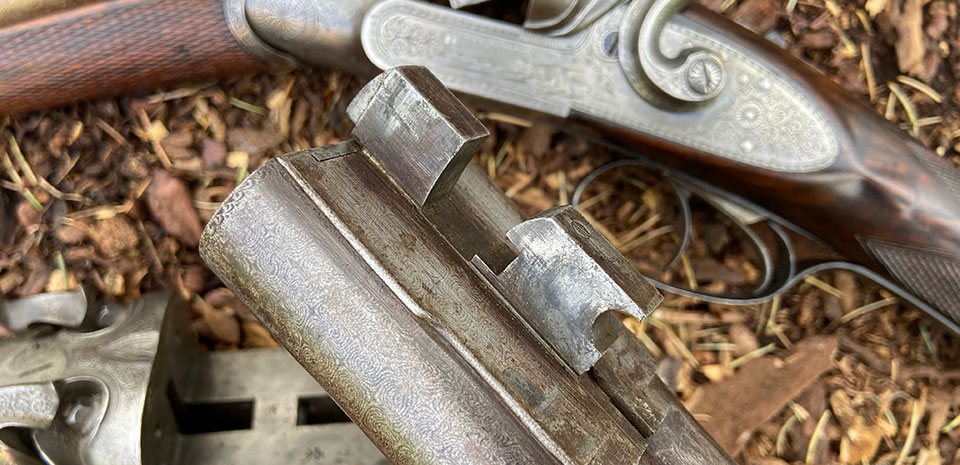 Sharp-eyed readers will have noticed that this idea of a rear lump extending in to the action face for bolting is not novel. It first appeared in an 1864 patent by William Powell, mated with his lift-up top-lever. Thomas also patented a lift-up top-lever version of this gun (in 1871) but it was not as well used as his rotating top-lever version.
John Thomas was recorded as 'Working Manager' to the gun-making firm of Tipping & Lawden in 1880, according to Crudgington & Baker, but other than that little appears to be known about him. I certainly do not recall encountering guns by John Thomas with his own name on the locks.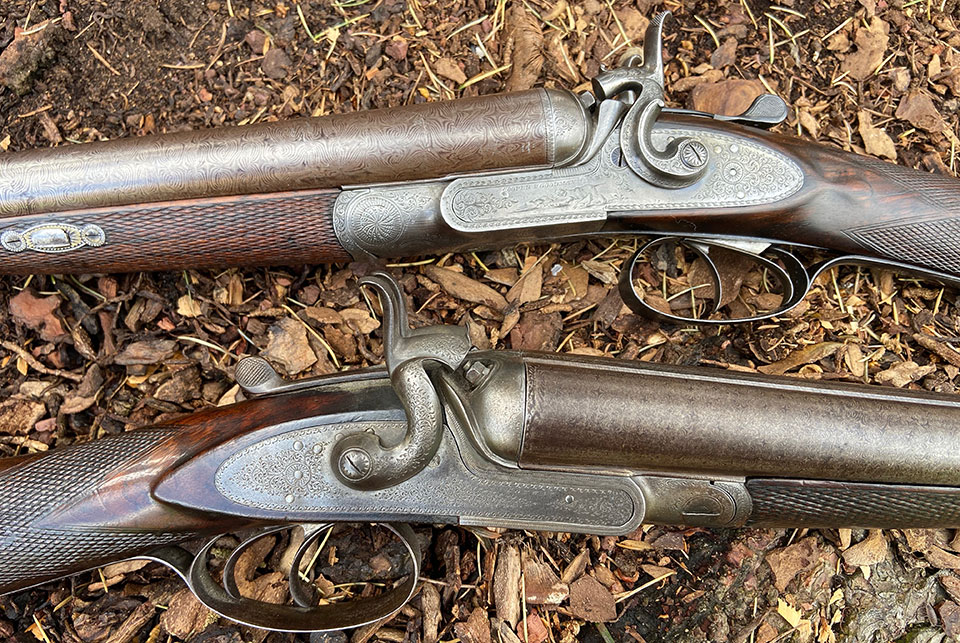 The two examples I have here are 12-bores one by Cooper & Goodman of London and the other by Conway of Manchester. Both bear Birmingham proof marks.The former conforms clearly to the Thomas patent but the latter has an additional bite in the front lump, engaged by an under-bolt, making it a double-grip action. This may be a variant or may be subject to another patent.
There were dozens of single-bite snap actions of this basic type in the 1870s, with a rearwards projection on the rear lump. They vie with the 1859 Henry Jones patent rotary under-lever and screw grip action for the title of 'typical' 1870s hammer guns.
If asked to express a preference, I prefer the Jones. Though it is slower, being inert, it produces solid-locking, well-proportioned guns in my opinion. These single-bite snap action guns have a feeling of incompleteness about them.
They were, of course stop-gaps. The entire gun trade appears to have been waiting for the patent protection on the 1863 Purdey Bolt and the 1865 Scott Spindle to expire, so they could be used without having to pay a royalty to either Scott (who took all the fees from Birmingham gunmakers) or Purdey (who took it from all the London gunmakers).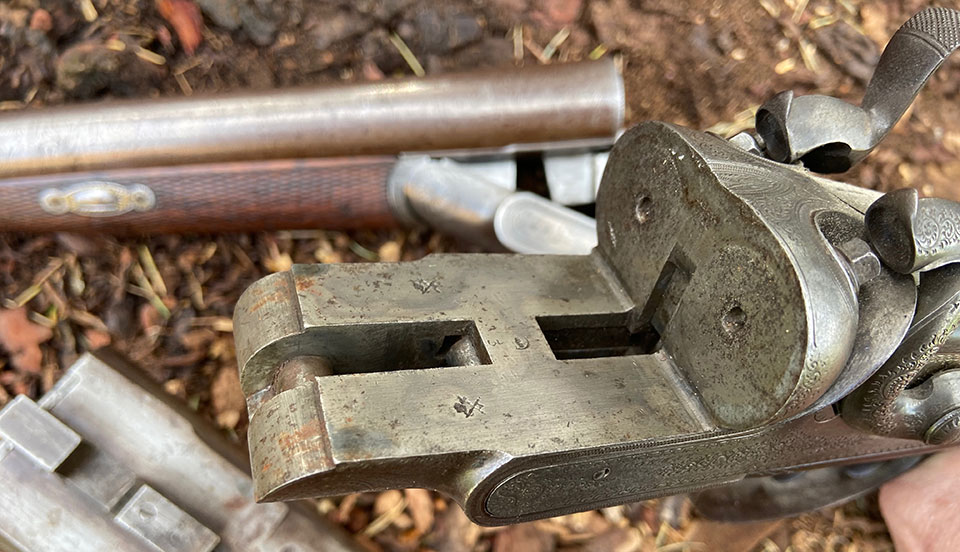 As soon as the patent protections lapse and we get into the 1880s the range of utilised patents thinned considerably, as most gunmakers opted for that classic combination; the same as now found on new side-by sides made by Purdey, Holland & Holland, Boss and pretty much anyone else (Westley Richards use the Purdey Bolt with their own lever-work and bolted doll's-head rib extension).
As a practical shooting proposition, the Thomas locking system never feels quite as well devised as many others, in my subjective opinion. As a 'shooter' I am much more comfortable with a Jones -screw grip or a Purdey bolted gun, though if in good order, there is no reason a Thomas patent gun cannot be used with confidence. I have just never really warmed to it.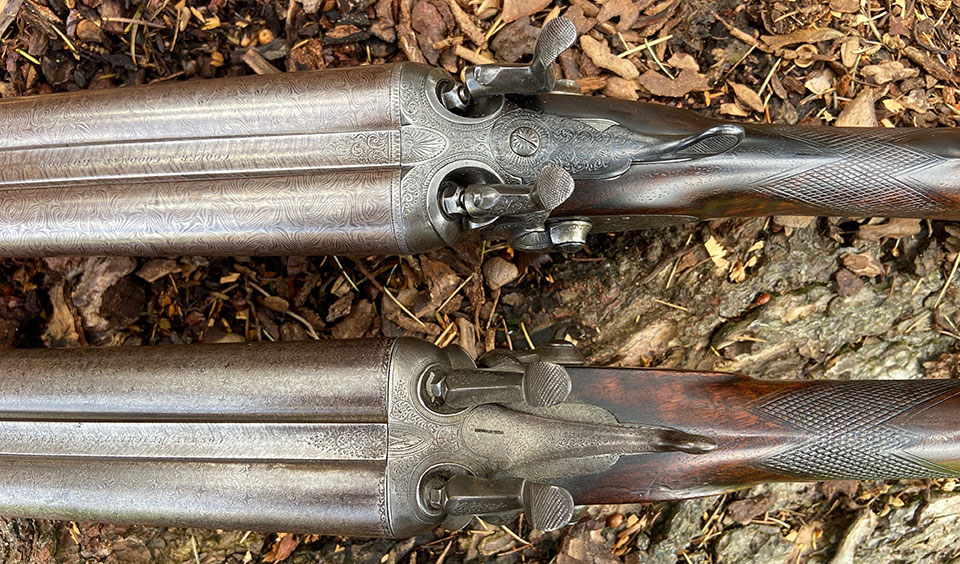 Published by Vintage Guns Ltd on (modified )