A gun proof tested between 1875 and 1897 is examined here to illustrate the marks then used. It is a Stephen Grant 16-bore with Damascus barrels.
This 16-bore is proofed under the Rules of Proof in force at the London Proof House from 1875 until 1887.
'Smokeless' powders were yet to be introduced to the British market when these stamps were in use. So, guns marked with these stamps have been proof tested for black powder only.
The stamps show:
'V' with crown over, which is the 'View' mark.
'GP' with crown over, which is the 'Definitive Proof' Mark
'G' in script with lion rampant over, which is the 'Provisional Proof' Mark
'16B' indicates the nominal bore size; a measurement taken nine inches from the breech.
'17M' shows the choke in both barrels is 10 thou smaller than the bore (providing about 'Quarter Choke' in modern terms).
'NOT FOR BALL' is a warning not to use solid projectiles or balls through the gun, because of its choked muzzles.
Stamps visible that are not proof stamps are the serial number (5254) on the tubes, the '2' on the rear lump, because the gun is No.2 of a pair, and 'HW' on the tubes, which are the barrel makers initials.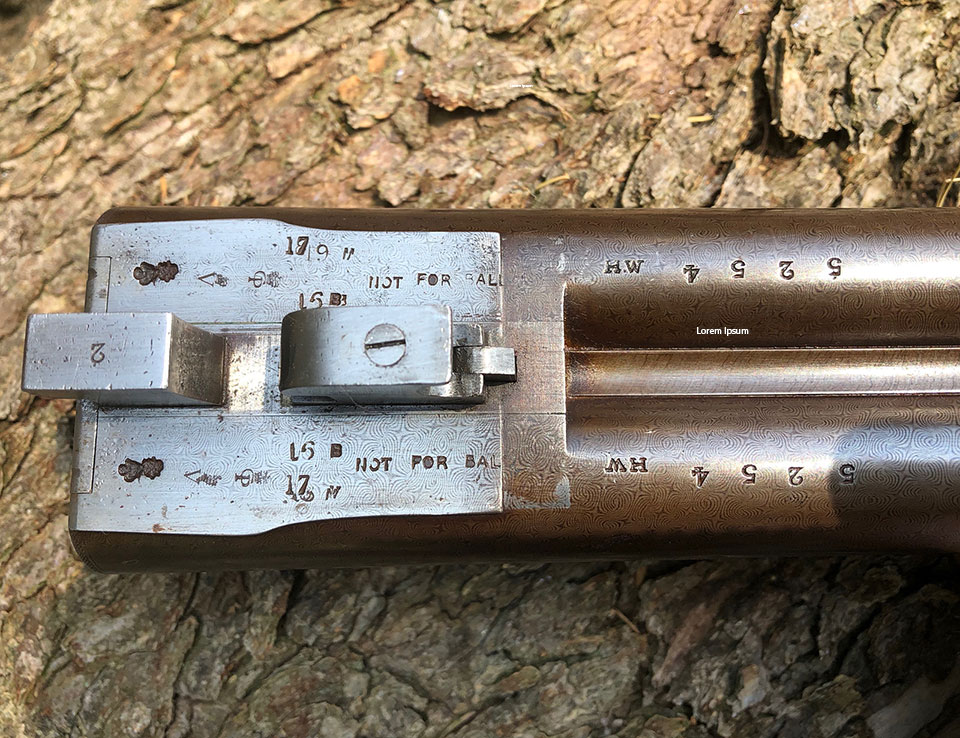 Published by Vintage Guns Ltd on