A pair of Westley Richards pistols, a Vaughan gun case, a Holland & Holland two-inch chambered twelve-bore, an early Westley Richards boxlock.
These all have one thing in common: I was the underbidder at Holt's auction on September 21st.
Under-bidding is a frustrating business. what does it tell us? One might argue that it means we are right about the likely price of something and err just on the side of caution so as not to over-pay. The less charitable might suggest it means we know the value of something but never want to pay it. It might be that we are just disciplined and fix a value on something and stick to that come-what-may, therefore never getting caught up in a bidding frenzy and letting emotion get in the way of sober judgement.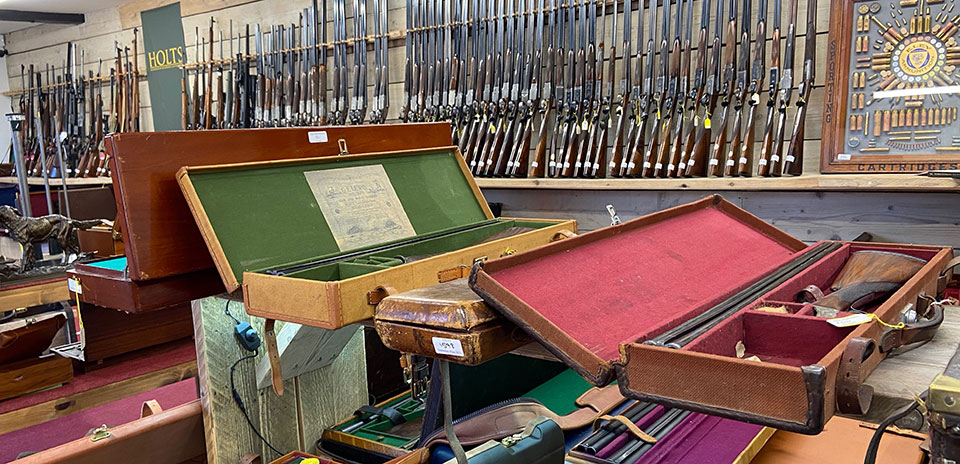 One thing it does, inescapably, illustrate is that, despite putting lots of bids down, you walk away with nothing. Well, on this occasion I did secure a Heym double rifle for a client.
It is tempting to convince yourself that you were within one more bid of success and perhaps you should have been bolder if you actually wanted the thing. That is probably untrue most of the time. It may well be that your opponent had more determination and deeper reserves and would have continued bidding well beyond the point where your little competition stopped.
This, you can never really know. For example, I was authorised by my client to take that Heym bidding to £11,000 if necessary, so if the under-bidder, who bid £9,000, thought one more bid of £10,000 would have secured his prize, he was wrong.
Still, it grates and 'I was the underbidder' always makes it seem like you were pipped at the post.
One rumour we can at least putto bed based on evidence this time around is that traditional British guns will plummet in desirability and value because of the threat to their perceived viability when lead shot is banned. Were that the case, one would expect such things as the Holland & Holland two-inch chambered 'Twelve Two', with its unusual chamber length and light weight to be one of those items left on the shelf.
I bid for a client up to £7,500 and it sold for £8,000, meaning £10,400 by the time commission and VAT had been factored in. One might suspect the buyer was overseas and not worried about British regulations but my bidder was British and still bullish about the future of traditional guns.
Perhaps we all should be. Anecdotal evidence from the field now the season is underway is starting to gather up some reaction to the effectiveness of the new ammunition packages emerging i response to the lead issue. Bio-ammo launched a new product last year which has a biodegradable case, biodegradable wad and a shot compound that rivals bismuth in performance and is half the cost.
Partridge shooters are telling me that it is very effective. Bio-ammo recommend this 'Blue' load (a mixture of bismuth, zinc, tin and aluminium) be restricted to ranges up to 25 yards and, let's face it, most partridges are shot within that range in this country. They cost £539 per thousand.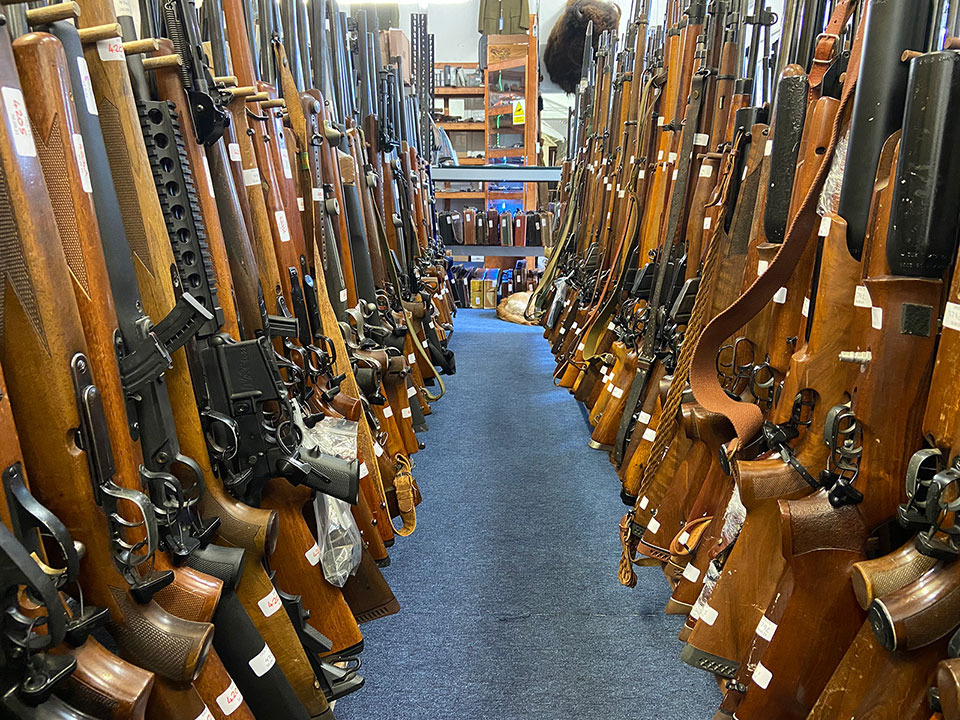 So, it seems we already have an effective load for hedge-bursting driven partridges and covert pheasant shooting with shot that will not damage your British guns, and at a price increase that might add just £30 to your typical driven day. Meanwhile, innovation continues.
One of my favourite guns at the sale was a magnificent looking Purdey 12-bore built for wild-fowling with 32" barrels and 3" chambers, dating from 1894 but retaining a lot of original finish and sporting a very pretty and distinctive fence carving by engraver James Lucas that contrasts nicely with his very fine rose and scroll.
The £25,000 reserve was high in my opinion but the gun is lovely. It was built for the same French General who ordered the four-barrel gun on display in Purdey's Long Room.
Another impressive piece was the William Ford double 8-bore, cased with some original correspondence with the maker. Given the detail into which some customers now go regarding their orders, it was refreshing to note the original paperwork for the Ford, which is engraved with numerous types of duck as well as scrolls, simply states 'nicely engraved'.
Holt's managed a turnover of £XXX on the day of the sale with the unsold lots entered thereafter into an on-line format where bids can be made until the deadline. The Sealed Bids sale is massive (seems to be growing every cycle) and the results from that will swell the coffers in the weeks to come.
As always, viewing in Wolferton was a pleasant and un-hurried experience with coffee and even boerwurst sandwiches supplied by the chaps manning the barricades while the boss was sunning himself on a beach somewhere nice.
Now Holt's has come to a conclusion, the auction action quietens down for a couple of months, though Wallis & Wallis have some in their 28th September sale, including a stunning LeFaucheaux type pin-fire by Firmin of Paris, cased and rather sunning- bidding as of the time of writing was just £1,200, which seems good value for a best quality example of the gun that changed us over from shooting muzzle-loaders to breech-loaders.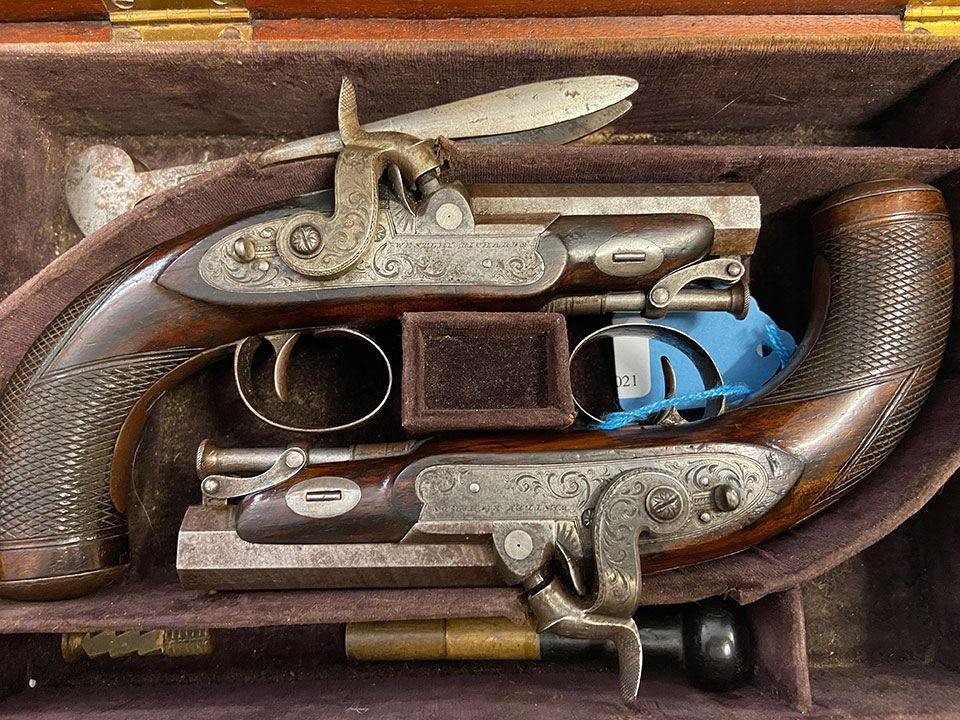 December will be upon us soon so there will be another round of auctions before Christmas to look forward to. Bonhams is one to look out for, in November, more details about that next month.
With Holt's selling 83% on the day of the auction and 33% of those sales going to people in the room (allowed again for the first time since COVID struck), there is a feeling of returning normality and a bullish market for used guns.
Published by Vintage Guns Ltd on