Deep River sporting clays shooting ground in North Carolina holds an event in the spring and autumn of every year (they call it 'fall') which has attracted British gunmakers and enthusiasts for almost two decades.
Hosted by Bill Kempher (who was absent this year to recover from an operation), 'The Southern' as it is universally known, was beautifully organised and ran smoothly this year despite his absence.
The top tent contains the longest associated sponsors of the event, like Atkin Grant & Lang, John Dickson & Son, Heritage Guns and Westley Richards. Many of them hoard the hammer guns and older sidelocks they have restored or bought during the previous year and bring them to Deep River to tempt the legion of American buyers who flock in to see what is new.
Three other large tents play host to a good showing of American dealers.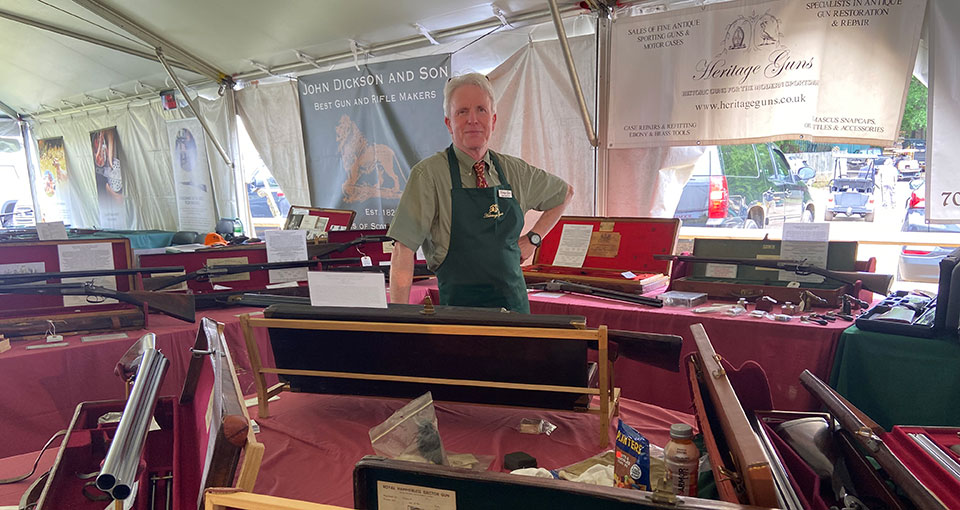 I arrived on Day Two of the four day show. Business had been brisk already and several tables showed 'sold' tickets on two thirds of their displayed guns. Prices looked solid but not unreasonable. Good examples of best English and Scottish sidelocks and hammer guns were offered, ranging from $8,000 to $12,000, in the main.
It is not the case, any more, that Americans will pay silly money for ordinary guns but America ia good market with motivated buyers for quality vintage guns, while in the UK the pool of buyers is smaller and probably shrinking.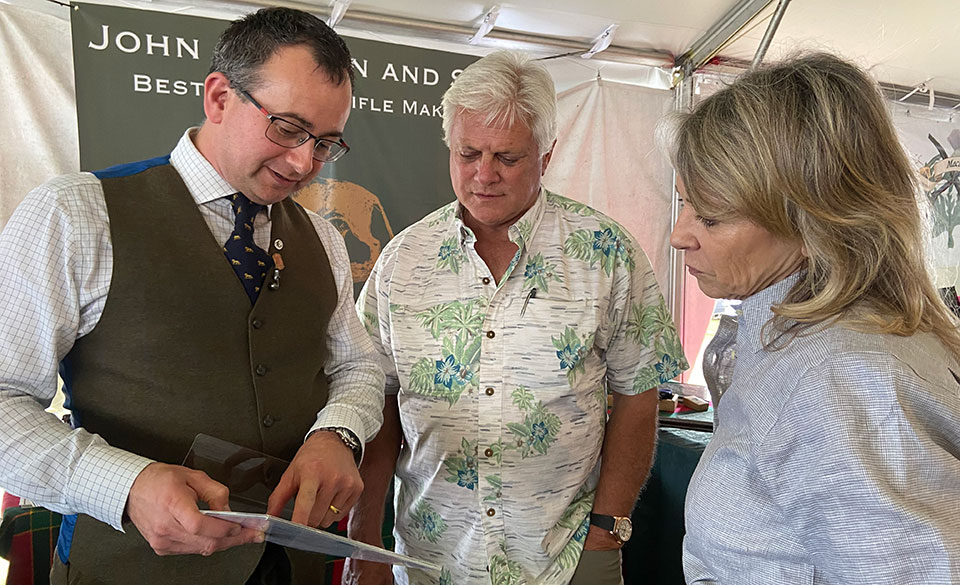 One observation, frequently made, was about the age of the average visitor. This is not a young man's game. Vintage guns are expensive and people who prioritise getting-on at work, buying a home and starting a family often lack the disposable income to indulge a passion for old guns that cost thousands of dollars.
Once the kids are safely educated, the house paid for and a good salary coming in, or a business established and profitable, the dormant passions begin to emerge and, while some may develop in interest in something awfully tedious, like golf, true sportsmen get back into the shooting sports of their youth and the guns of their great grandfathers.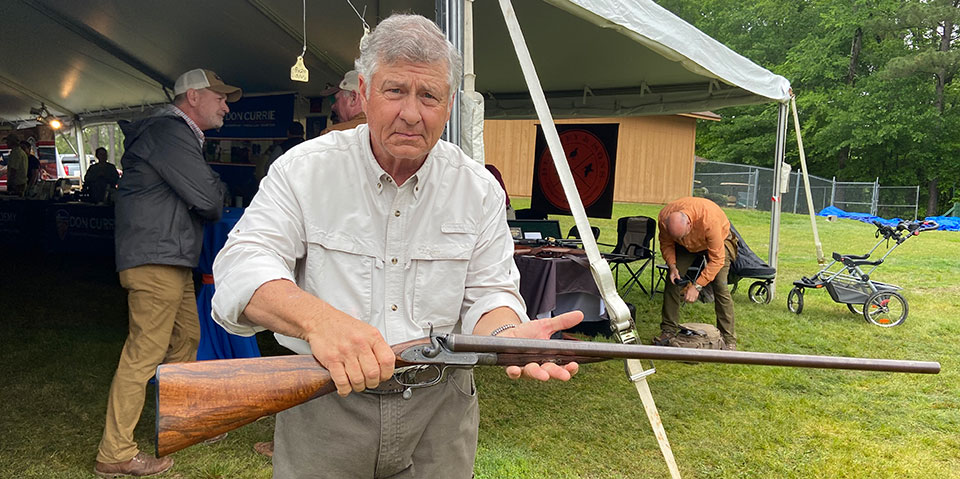 The show was not simply a load of dealers selling guns, there was a sporting clays circuit, which was set up for several competitions, sponsored by different gun makers.
I borrowed a Dickson boxlock and skipped around the 40-bird layout on a (also borrowed) golf buggy. Progress was a doddle and waiting times short in the late afternoon. The stands were fair and I shot acceptably; better as I got used to the gun (which had a good bit too much drop for me).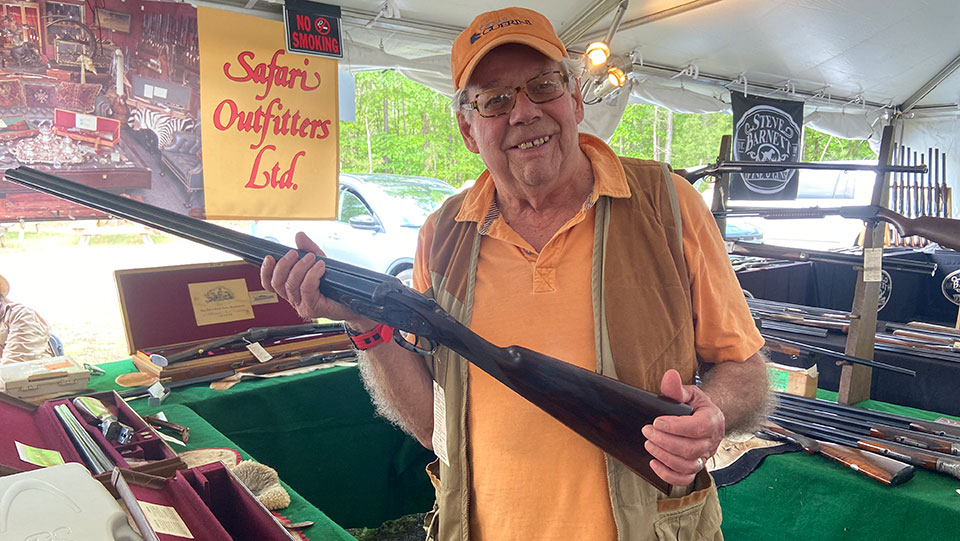 There was also a good natured but competitive competition between owners of Parker Bros and L.C. Smith shotguns, the two major American makers of the late 19th-early-20th century period. We see very few American vintage guns in the UK so a visit is also an education in that regard.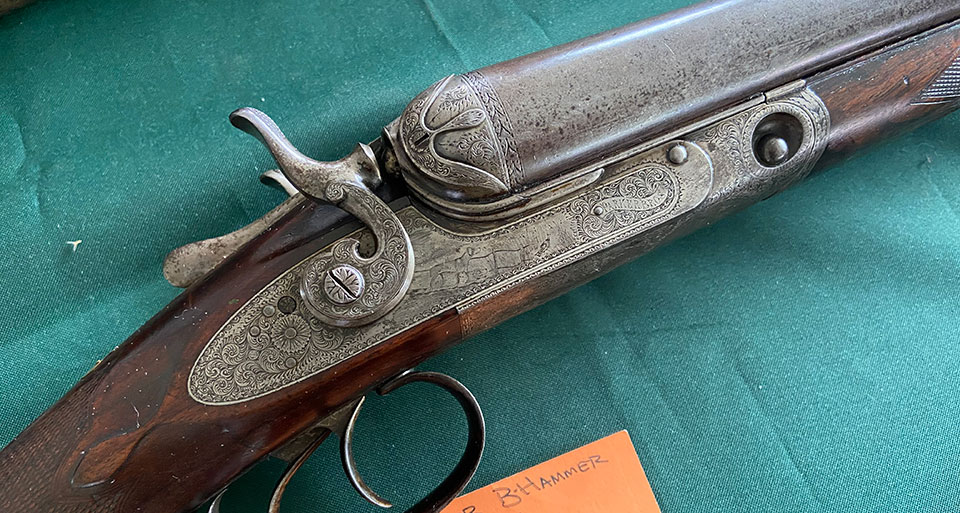 What is refreshing about the American enthusiasts is...well, their enthusiasm. They are passionate about their guns and they love to meet-up with like minded people and talk about them, compare their discoveries and shoot.
J-P Daeschler, of Dickson, said "This show is always strong for us. We had the Dickson Owners Club gathering on Friday morning and a huge amount of Dicksons and MacNaughtons turned up for show and tell. The Scottish Round-Action Challenge is always a good draw and we had a large amount of entrants for the coveted trophy and bottle of whisky. The winner this year shot a 44 on the 48 target layout, which is a bloody good result considering."
Many people make the trip from right across the country, as well as from overseas, to attend. American dealers currently have some very high quality British guns. People from the US have been collecting British guns since the end of the Second World War and once they get here they seldom leave. As these collectors expire and their collections find their way into the dealers' hands, they become visible once more.
The ticket prices will alarm all but the very wealthy but their way of doing business is to 'fly a kite'; meaning they put a seriously high number on a gun, then haggle to find the 'real price'. To Brits (apart from Yorkshiremen) it is a little unseemly but you get used to it. I watched a gun listed for $75,000 sell for $35,000 the last time I was here.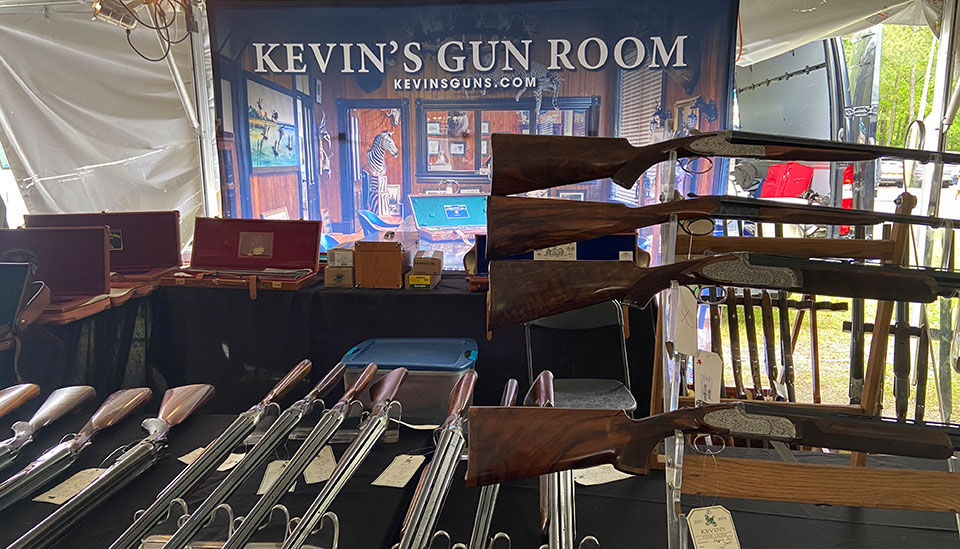 I always treat these shows as a place to catch-up with old friends, make some new ones, have a play with some old guns, look out for some interesting features or guns I may not have seen before and relax in a good atmosphere, enjoying good company (and a decent cigar or two).
To any British readers who have yet to visit, I highly recommend 'The Southern'. The next Deep River event of 2023 is in September ('The Fall Classic'). So, start checking flights to Atlanta and hire that Mustang convertible you always promised yourself you would one day hit the highway in!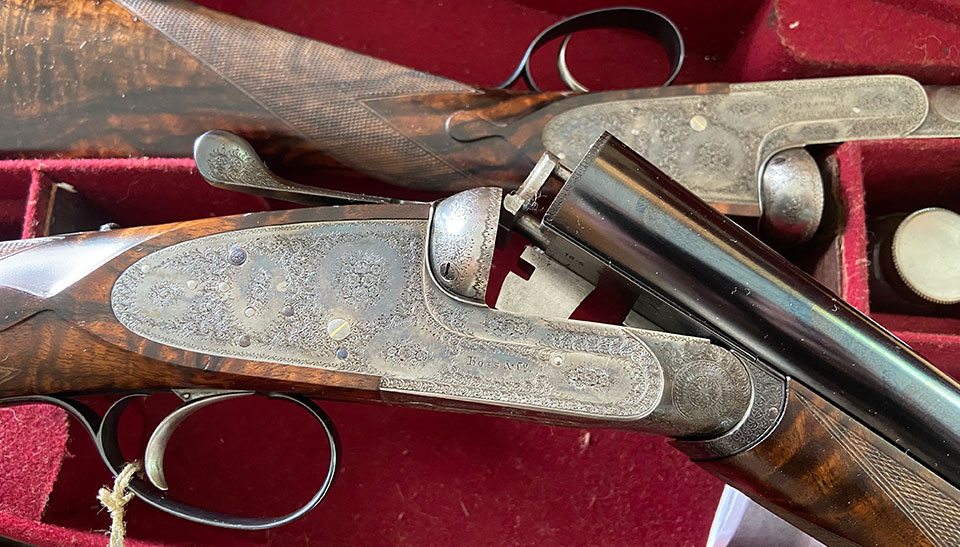 Published by Vintage Guns Ltd on