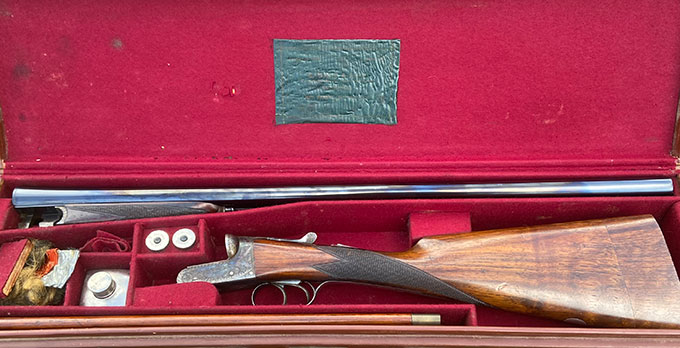 6
Gale 86748
A lovely original example of a 1930s lightweight boxlock ejector made for the 2" cartridge, firing 25 grams of shot. Easy to carry on long walks or in heavy cover. Fast handling and ideal as a walked-up gun. Cased in its original Gale leather case with faded trade label, accessories and cleaning rods. We willl supply this gun in the UK with 200 new Eley 2" cartridges. Unfortunately, we cannot export ammunition but RST make and sell a 2" load in the USA.
Enquire About this Gun
Details
Stock Number: 06V748
Gauge: 12
Weight: 5lbs 5oz
Location: England
Stock
Grip: Straight Hand
Length to centre: 14 1/2"
Forend
Catch: Anson
Ejectors: Southgate
Barrels
Type: Steel
Rib: Churchill Type
Length: 26"
Chambers: 2" Nitro
Choke: right: 1/4 left: 1/2
Walls: right: 25 left: 25
Serial Number: 86748