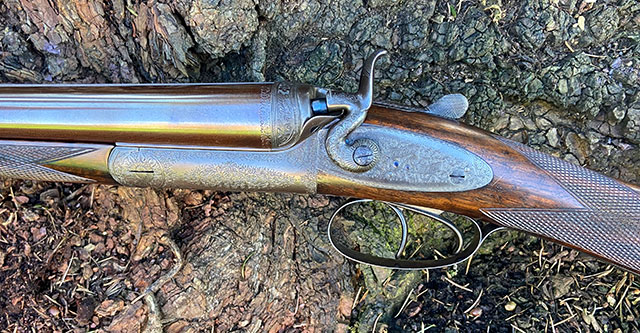 11
Hammond Bros 2436
Hammond Bros hammer guns are very distinctive and the lock shape unique to the company, as is their engraving pattern and wording on the bar. This is the best example I have seen to date. Found in remarkably good original condition and professionally and sympathetically restored, it is mechanically perfect. Recent nitro re-proof for 65mm Standard (850 BAR).
Enquire About this Gun
Details
Maker: Hammond Bros
Stock Number: 04RM436
Gauge: 12
Weight: 6lbs 15oz
Location: England
Stock
Grip: Straight Hand
Length to heel: 14 1/4"
Length to centre: 14 1/8"
Length to toe: 14 3/4"
Forend
Catch: Snap
Ejectors: None
Barrels
Type: Damascus
Rib: Concave, milled
Length: 30"
Chambers: 2 1/2"
Choke: right: 1/2 left: 1/2
Walls: right: 25 left: 25
Bores: right: 18.6 left: 18.7
Serial Number: 2436