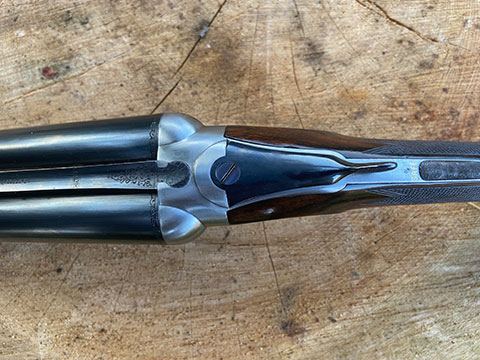 6
Hollis 16
A plain but well made Hollis boxlock non-ejector in 16-bore. Totally restored recently at a cost well in excess of the selling price. New barrels by Holloway probably in the 1950s. Mechanically excellent and overall a very sound gun that should give decades of service without issue.
Enquire About this Gun
Details
Maker: Hollis
Stock Number: 10V16
Gauge: 16
Location: England
Stock
Grip: Straight Hand
Length to heel: 14 3/4"
Length to centre: 14 1/2"
Length to toe: 14 1/2"
Forend
Catch: Anson
Ejectors: None
Barrels
Type: Steel
Rib: Concave
Length: 28"
Chambers: 2 1/2"
Choke: right: I.C left: Half Choke
Walls: right: 23 left: 23