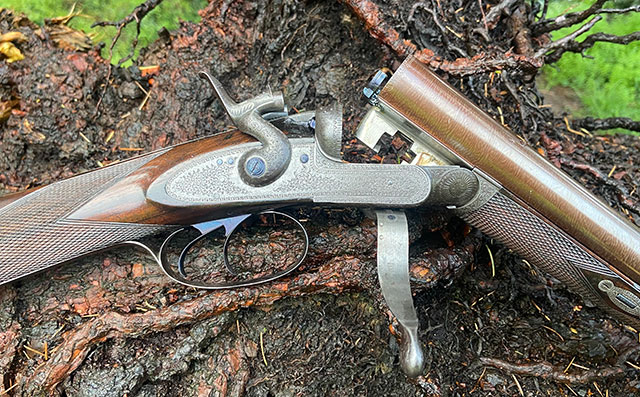 9
Joseph Harkom 1013
Best Scottish quality is evident all around this 1870s Joseph Harkom bar-action hammer gun. Professionally and tastefully restored and mechanically perfect. Highly figured stock, non-rebound locks and Jones under-lever and screw-grip operation combine to make this a classic of its era. Modern nitro re-proof.
Enquire About this Gun
Details
Maker: Harkom
Stock Number: 04RM013
Gauge: 12
Weight: 6lbs 11oz
Location: England
Stock
Grip: Straight Hand
Length to heel: 14 1/2"
Length to centre: 14 1/2"
Length to toe: 15 1/16"
Forend
Catch: Wedge
Ejectors: None
Barrels
Type: Damascus
Rib: Concave
Length: 30"
Chambers: 2 1/2"
Choke: right: T.C left: I.C
Walls: right: 24 left: 24
Bores: right: 18.3 left: 18.3
Serial Number: 1013