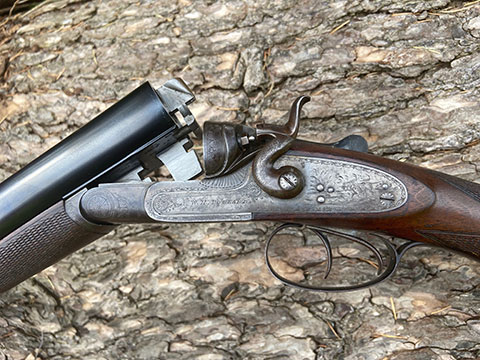 9
Pollard 2946
W.H. Pollard, King William Street, London. A good 3" chambered, nitro proof 12-bore hammer gun with rebounding locks, semi-pistol grip stock and 30" steel barrels. Modern re-proof for 76mm cartridges. Scroll and game scene engraved, good mechanical order, nice tight jointing, good fit to doll's head extension. Probably made as a wildfowling gun, ideal for that, or sporting clays and high pheasants.
Enquire About this Gun
Details
Maker: Pollard
Stock Number: 06V946
Gauge: 12
Weight: 7lbs 11oz
Location: England
Stock
Grip: Semi Pistol
Length to heel: 14 1/2"
Length to centre: 14 1/4"
Length to toe: 15"
Forend
Catch: Deeley & Edge
Ejectors: None
Barrels
Type: Steel
Rib: Flat
Length: 30"
Chambers: 3"
Choke: right: 1/2 left: Full
Walls: right: 30+ left: 30+
Serial Number: 2946