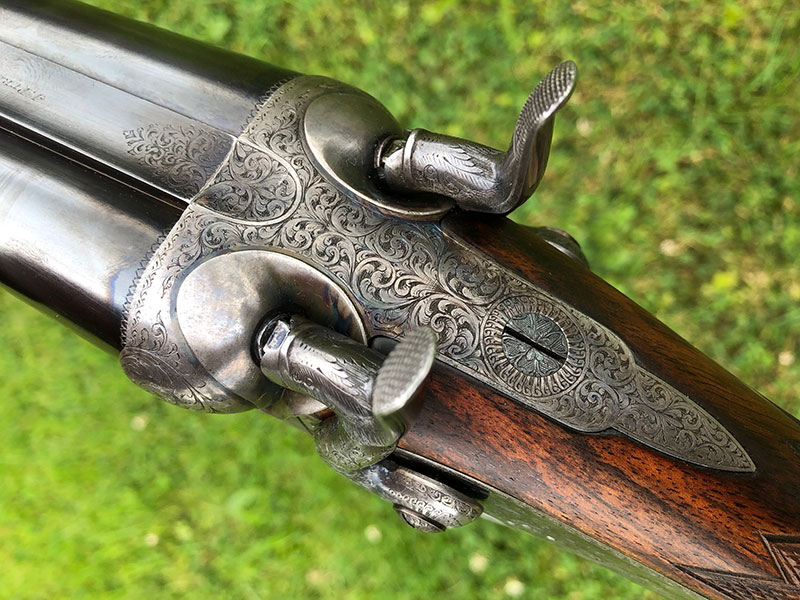 6
Purdey 16410
A unique Purdey hammergun made in 1899 for the Scottish eccentric Charles Gordon. It has 34" Whitworth chopper-lump steel barrels, 3" chambers and non-rebound locks. Lovely French walnut stock with no chequer to the forend. The action is massive and has side clips. Gordon never used the gun and it is in remarkable condition. The last owner used it very successfully on high pheasants. The configuration allows for very heavy loads to be fired and the light chokes deliver very good patterns. This is a historic gun, delivered on 20th April 1899. It features in Donald Dallas's book 'Magnificent Madness' and comes with a complete and detailled history and examination of the gun.
Enquire About this Gun
Details
Maker: Purdey
Stock Number: 07V410
Gauge: 12
Weight: 9lbs 7oz
Location: England
Stock
Grip: Straight
Length to centre: 14 3/8"
Forend
Catch: Wedge
Ejectors: None
Barrels
Type: Witworth Steel
Rib: Concave, wide
Length: 34"
Chambers: 3"
Choke: right: I.C left: 1/4
Walls: right: 32 left: 30
Bores: right: .735 left: .736
Serial Number: 16410