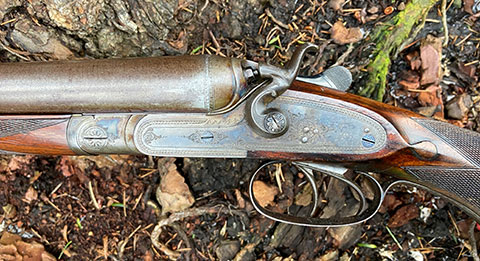 5
Stephen Grant 5368
A little-used looking, bar action hammer gun with rebounding locks, 26 1/2"damascus barrels 2 1/2" chambers and semi-pistol hand stock. The serial number (on barrels only) conforms to Stephen Grant and dates to 1885. We suspect this is a later gun built around the Grant barrels. Overal quality is good, condition excelent. If it were a verified Stephen Grant in this condition it would be priced at over £6,000. A nice, shootable gun with an interesting story . Surely, a good buy at this price.
Enquire About this Gun
Details
Maker: Grant
Stock Number: 12V368
Gauge: 12
Weight: 6lbs 6oz
Location: England
Stock
Length to heel: 14 1/2"
Length to centre: 14 1/4"
Length to toe: 14 3/4"
Forend
Catch: Anson
Ejectors: None
Barrels
Type: Damascus
Rib: Concave
Length: 26 1/2"
Chambers: 2 1/2"
Choke: right: I.C left: I.C
Walls: right: 30 left: 30
Bores: right: .730 left: .730
Serial Number: 5368