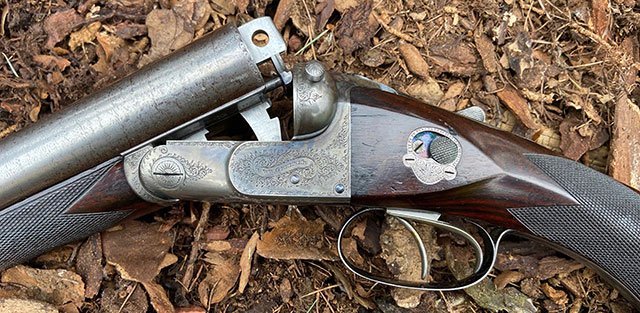 10
W.W. Greener 31646
Greener Facile Princeps 12-bore non-ejector live pigeon trap gun with 3" chambers and American style trap stock. Very original and unadulterated. Non-auto Greener side-safety, perfect barrels, treble-wedge-fast action. A superb, honest example of a classic Greener pigeon gun.
Enquire About this Gun
Details
Maker: Greener
Stock Number: 03V646
Gauge: 12
Weight: 7lbs 6oz
Location: England
Stock
Grip: Semi Pistol Grip
Length to heel: 13 1/2"
Length to centre: 13 1/2"
Length to toe: 14 1/2"
Forend
Catch: Deeley & Edge
Ejectors: None
Barrels
Type: Damascus
Rib: Concave
Length: 30"
Chambers: 3"
Choke: right: 3/4 left: Full
Walls: right: 35 left: 35
Serial Number: 31646