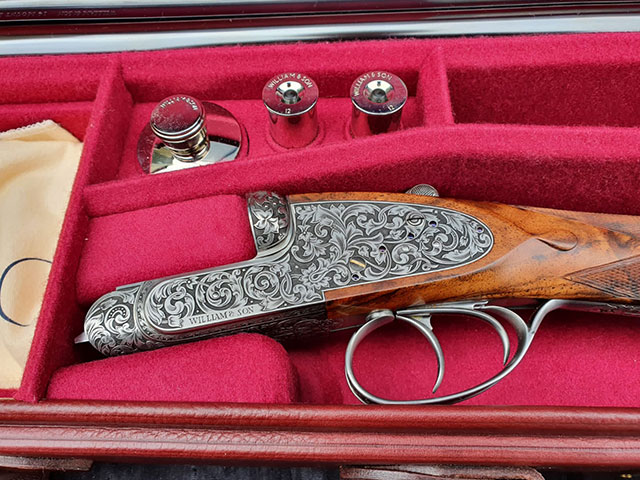 7
William & Son (New) 3044
The last William & Son shotgun to be sold from the stock in the London shop when the company closed in July 2020. A brand new, 12-bore, Holland & Holland system, self-opening, sidelock ejector. Built to Holland & Holland 'Royal Deluxe' standards of finish and boldly engraved by Peter Cusack. A classic game gun configuration, it can be choked to suit the customer. Complete in maker's best leather case with accessories. Last year, this gun was £83,500, plus VAT (£99,100 in total). We can sell for £45,000, including VAT.
Enquire About this Gun
Details
Maker: William & Son
Stock Number: 03V044
Gauge: 12
Location: England
Stock
Grip: Straight Hand
Length to centre: 15 1/8"
Forend
Catch: Anson
Ejectors: Southgate
Barrels
Type: Steel Chopperlump
Rib: Concave
Length: 30"
Chambers: 2 3/4"
Walls: right: 30+ left: 30+
Bores: right: .729" left: .729"