The twelve-bore dominated British game shooting for a century and a half.
Ever since the universal adoption of the breech-loader necessitated a standardisation of bore sizes in order to reduce, to a manageable number, the variety of cartridges sold, the twelve has been the standard gauge; considered appropriate for most men to use to shoot most things.
With the increased popularity of the over & under, the twenty-bore has become increasingly common; not surprising given the fact that a modern continental 20-bore over & under weighs about the same as, and is used to shoot a similar load to, the classic British 12-bore side-by side.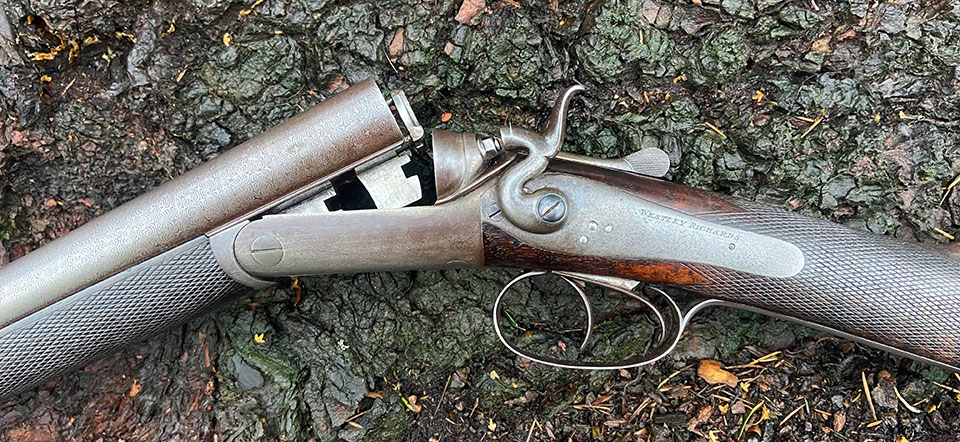 However, Victorian small bores were small, light guns, generally designed for boys, ladies and old men to use. We have just such a gun here, in the smallest of the universally useful shotgun gauges; the twenty-eight.

Made by Westley Richards in July 1890, for an R. Ellis, it is a well-made but plainly finished, top-lever, back-lock gun with 25 3/4" Damascus barrels, locked by a Purdey under-bolt.
The original order states 27" barrels, choked in the right only. So, that was either amended before delivery or the barrels were shortened later in its life.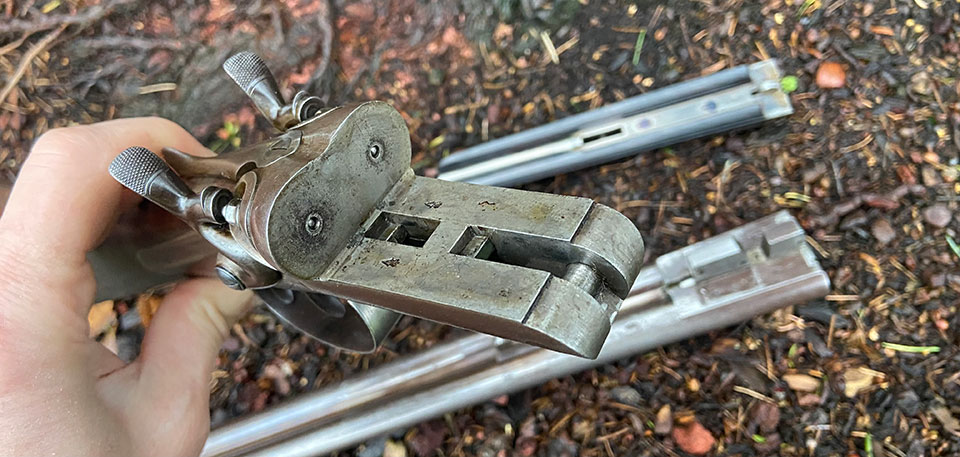 Westley Richards hammer guns of this type do not emerge very often. The most common type is the 'crab-joint' Westley Richards, with the wood covering the knuckle, as well as the fore-end and the bar.
After 1875 Westley Richards naturally favoured the Anson & Deeley boxlock, which was patented by the firm and offered a safe, reliable hammerless alternative. As Westley Richards owned the patent, they did not need to pay another firm royalties for building boxlocks. After 1875 they viewed hammer guns as, essentially, outdated. However, there was still some demand from customers and the order books show these were still being made and sold.
This 28-bore (serial Number 7002) is much more conventional in style than older Westley Richards hammer guns and may have been bought-in from the Birmingham Trade as a barrelled action. It is not a 'best' gun but would have been the sort of thing a customer might well buy for his son to wander around the estate with, shooting vermin or walking-up partridges over his dog.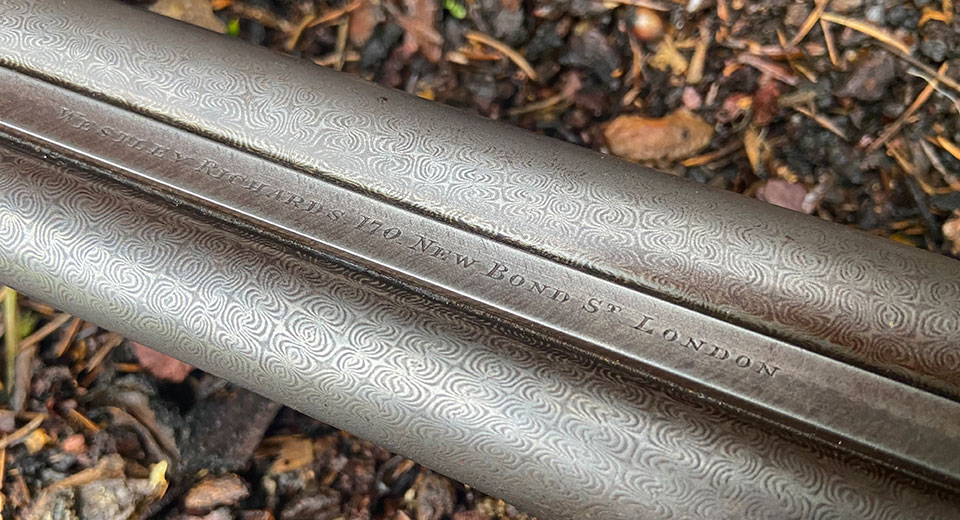 The action has no engraving at all, simply the name 'Westley Richards' lettered on the lock plates. The rib is engraved 'Westley Richards 170 New Bond Street, London', which indicates it was ordered by a London customer from the Bond Street showroom.
The proof marks show a discrepancy from the order book, with both barrels stamped 'CHOKE', rather than just the right one. They have not been re-proof tested since manufacture, nor re-browned.
The woodwork is neat and very well fitted, with nice figure to the dark walnut, though any original finish is long gone and it now has a matt surface. Chequer is flat-top and original, showing little wear to hand or forend.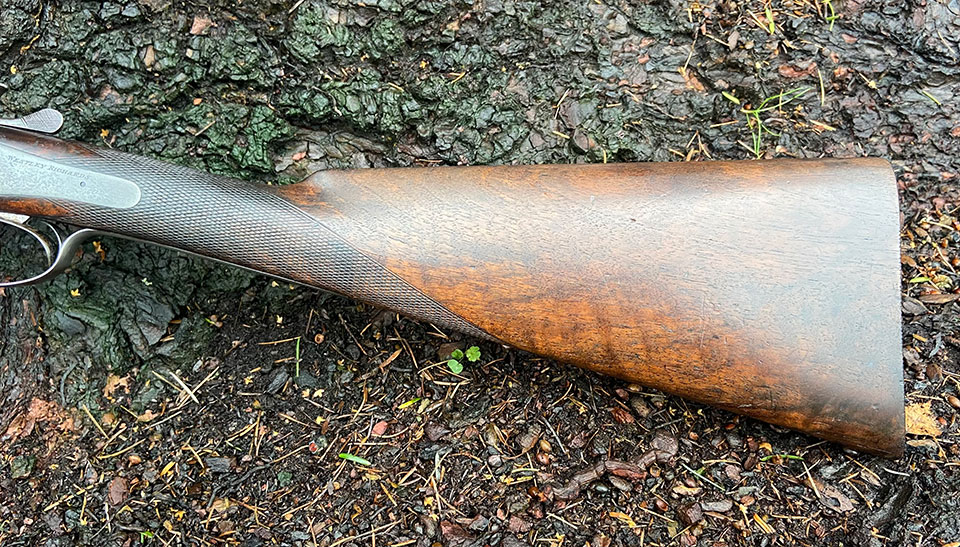 Other details show the gun to be nicely original and not abused. The pin and screw slots are in good condition and all line-up correctly. The lock plates fit neatly flush with the wood and the metal finish has never been refreshed.
In all, it is a good, mechanically perfect and cosmetically un-abused, plain Westley Richards working gun of the period. It demonstrates clearly how well-made even these inexpensive grades of gun were.
The light 28-bore (it weighs 4lbs 9oz) was typically a child's gun. Major Burrard (in the 1930s) noted the average weight for a 28-bore would be between 5lbs 2oz and 5lbs 8oz. Greener, writing earlier, states a weight not less than 4lbs and not more than 4 3/4lbs.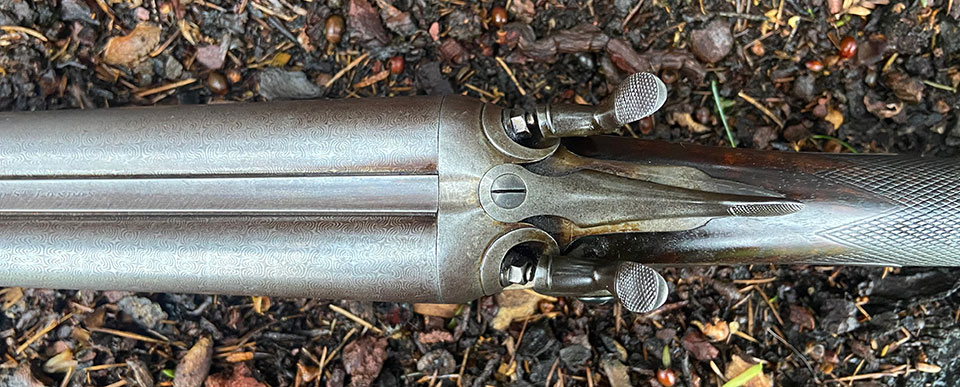 Any twelve-year-old would have been delighted to have this as a daily shooting companion. The stock, at 14 1/4" to centre, is not unusually short for the period and I find it perfectly shootable. Adjusting front hand hold for length is the least difficult issue to resolve regarding gun fit.
Greener illustrates the ammunition for which these 28-bore guns were intended, specifying a charge of 1 1/2 drams of black powder and 3/4 oz of No.6 shot being a useful load. This should put 130 pellets in a 30 inch circle at 40 yards. That rises to 150 pellets if No.8 shot is used. He opined that 'but little choke' was necessary.
All this is a far cry from the modern over & under 28-bore weighing 6 1/2 lbs and being fed 28 gram loads (essentially mimicking a 12-bore). These original, diminutive, Victorian 28-bores are delightful to use with the light loads for which they were intended, for walked-up shooting.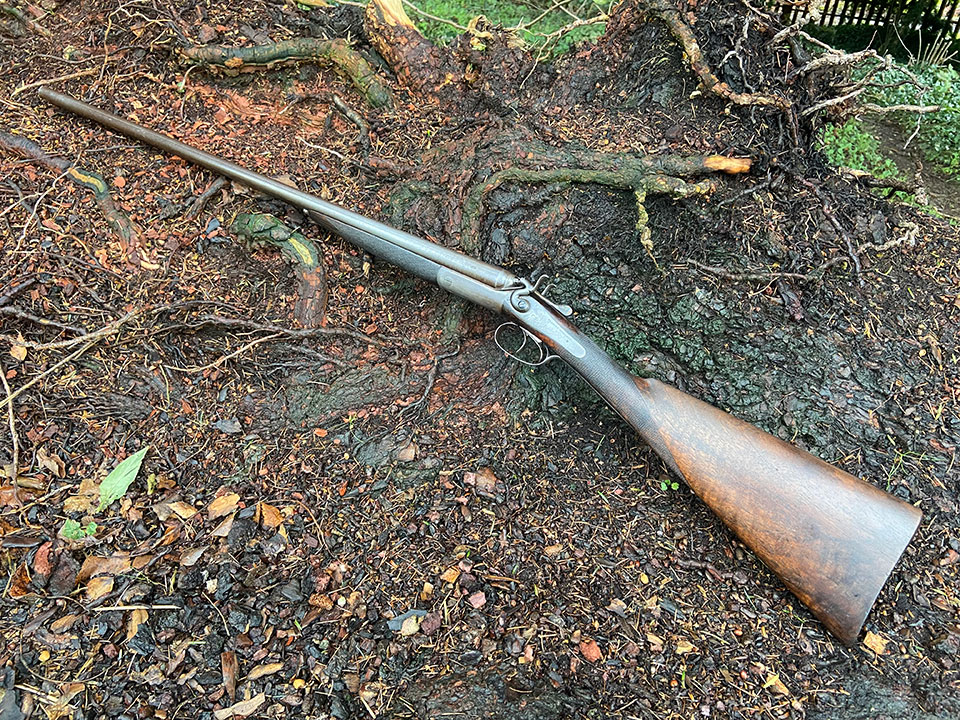 Finding such a clean, un-fussy example is a rare occurrence. The joy of old guns is not confined to the best-quality or exhibition-grade show-stopper, these workaday pieces from 130 years ago offer great fun on a sensible budget.
Published by Vintage Guns Ltd on