The Holland & Holland 'Royal' is one of the most recognised and popular shotguns ever produced. It is simple, reliable, attractive and efficient. No wonder it has been copied by so many other makers since it became Holland & Holland's best-seller.
However, the current 'Royal' is the latest development of an older model. It did not reach its current form until 1922, with the addition of the patent self-opening mechanism.
The concept of the 'Royal' as a 'best' gun and flagship of the Holland & Holland range emerged in 1885. The first incarnation was quite different when compared to the later one that we all know so well today.
The term 'Royal' was first used to describe a production gun in September 1883 but the trademark was not applied for until May 1885. The patent mechanism is Holland & Robertson's patent No.23 of 1883. It cocks by the fall of the barrels and employs Scott patent intercepting safety bolts. An intercepting safety stops the gun firing if the sear is jarred out of the bent without the trigger being pulled.
When ejectors were added to the gun, they were the 1888 Holland & Robertson patent, which is simple and reliable. At this time Holland & Holland guns were made 'in the trade' by outworkers.
John Robertson and Henry Holland collaborated on several patents for gun mechanisms, including ejectors and single triggers.
The early 'Royals' were probably made by W&C Scott and stocked and finished by John Robertson. There is no shame in that - both firms were capable of the very best work and John Robertson was one of the most important gunmakers of his day; he went on to become the owner of Boss. John Robertson and Henry Holland collaborated on several patents for gun mechanisms, including ejectors and single triggers.
The first model 'Royal', with its dipped-edge lock plates, lasted until 1894, when the, now more familiar, second model took over. The second model looked thoroughly modern, was stocked to the fences and employed the improved Holland & Robertson two-piece ejector system. It was with this model that the famous 'Royal Engraving' of bold foliate scrolls was introduced.
Engraving on first model 'Royals' is of a finer, more traditional type. It gives the guns a certain elegance and, with all the other work carried out by top-class gunmakers, the 'Royal of the 1880s and early 1890s is a lovely thing.
Because of the period they were made, these models can have either Damascus barrels or steel barrels, as Whitworth steel was starting to gain favour at the time. Personally, I prefer Damascus and a nice example with Damascus barrels will be valued by a collector with good taste.
We must remember that, old fashioned as it looks, this was a 'best' gun in its day. The 'Royal' was priced at 50 guineas in the late 1880s. So, when you look at one of these you are looking at the best hammerless ejector gun Holland & Holland sold at the time. That means it is very good indeed.
In the market, the first model 'Royal' has always lagged behind the later ones in price. Most expensive are the self-openers, then the second model without the self-opening mechanism. The First model looks, to many, old fashioned, with its dipped edge lock-plates and shouldered action. However, if you can value it for the lovely piece of work it is, its qualities shine through and can be appreciated.
Prices are accordingly reasonable but, in my opinion, this, the original 'Royal', is one of the neglected gems in the side-lock market. Quality is always first class, the guns operate and handle beautifully and they are very robust and reliable. If you want a really good side-lock ejector by a top London brand, and have less than £5,000 to spend, you should pay attention when one of these turns up.
I kept a 12-bore example as our 'guest gun' to lend to visitors who came shooting here. It did two seasons' sterling work without missing a beat, on 250 and 300 bird days, before one visitor insisted on buying it. I was sad to see it go.
I recently acquired a rare 16-bore 'Royal', with a pistol grip stock, which makes it even more unusual. It has fine Damascus barrels and a very nicely figured French walnut stock. Proportioned and balanced just right, the gun feels like one of those that people say 'just comes up nicely' and looks every inch the thoroughbred that it is. A sixteen bore will cost a bit more than a twelve these days, but at £4,000 it still represented extremely good value. With its old-fshioned locks it may not look like the 1930s ideal but it is a best gun in every way and a bargain if you can find a good one.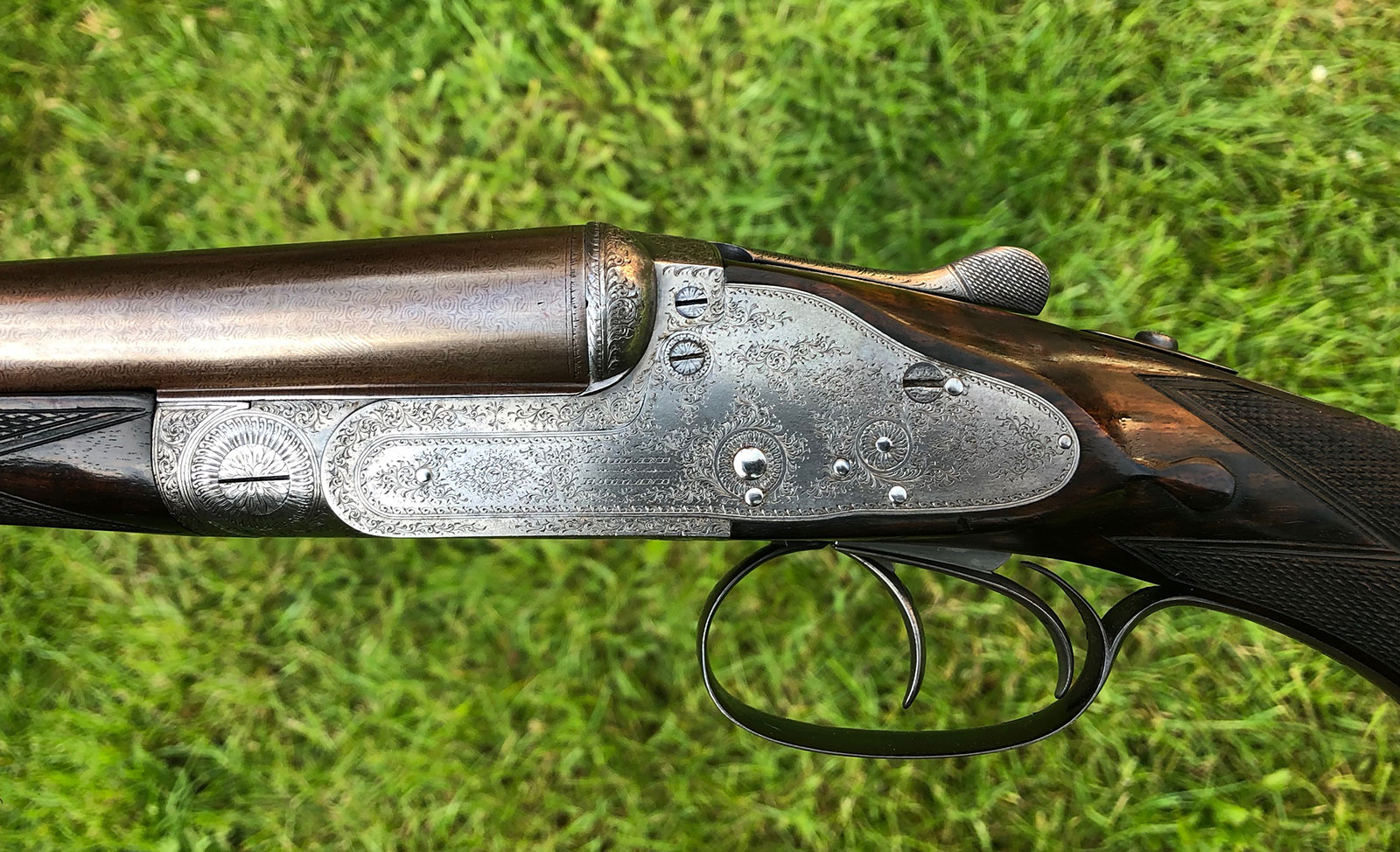 Published by Vintage Guns Ltd on (modified )