Readers with good memories will recognise the name Hodges from previous articles.
Edwin Charles Hodges was a gunmaker whose primary income appears to have been gained by providing gun-making services to famous firms in the West End. Rather like John Robertson, who later became director of Boss, Hodges had London workshops from where he made best quality guns to be sold with someone else's name on the locks.
The name Hodges is usually associated with the 1871 'Grant & Hodges Patent' treble-grip action, upon which Stephen Grant's distinctive side-lever hammer guns became widely known and appreciated. However, he lodged six notable patents; the first in 1865 and the last in 1899.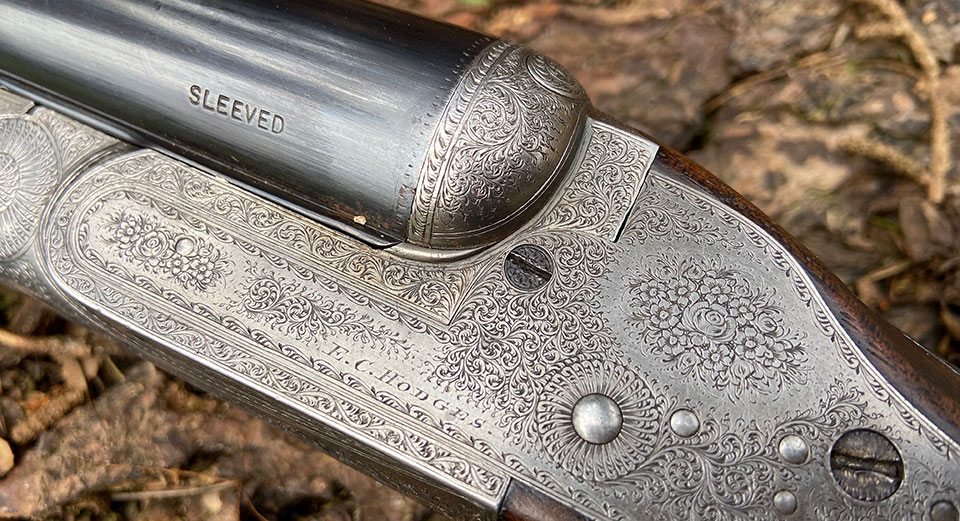 Edwin Charles Hodges was born in 1831, in Sevenoaks and died in 1925, aged ninety-four; an impressive age for a tradesman's son living in an era before modern medicine could cure many fatal diseases and antibiotics could combat infections emanating from common injuries.
Another notable contribution E.C. Hodges is thought to have been instrumental in is the introduction of the Lefaucheaux breech-loader into Britain (via Joseph Lang) after seeing it at the Great Exhibition and building a similar gun for Lang, which was then offered to the public in 1853, heralding the start of the pin-fire era in this country. This story persists, though it cannot be reliably verified.
Hodges continued to collaborate with famous gunmakers, actioning the first Boss breech-loader, in 1858, from his Islington workshop. He then started building guns for Stephen Grant, when Grant left his job managing Boss and set-up his own business, in 1867.
E.C. Hodges made (or actioned) guns for Blanch, Purdey, Alfred Lancaster, Army & Navy, Alex Henry and, doubtless, others. It was not until 1875 that guns carrying the name 'E.C. Hodges' begin to appear on the market, thereby declaring the actual maker to the public. For a time his guns gained a reputation among live pigeon trap shooters.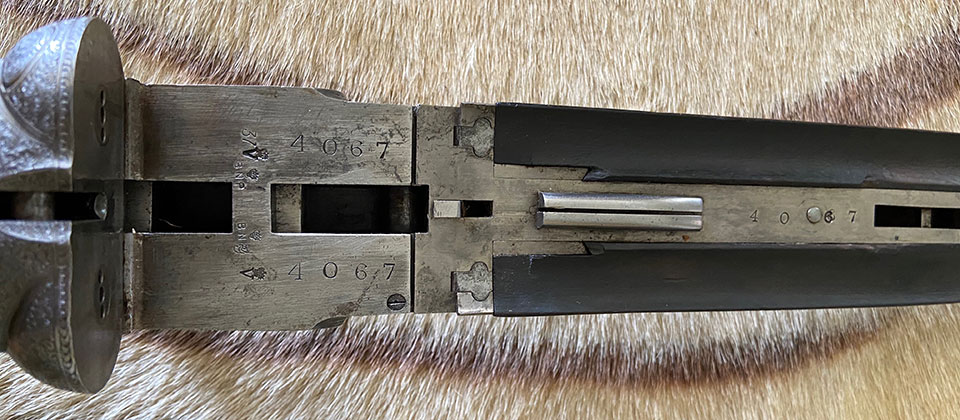 He eventually expanded and opened a retail shop in Mayfair, opposite Purdey, in 1884, which only lasted a year. However, relations between the two businesses must have been cordial because Hodges apprenticed Ernest Lawrence, who went on to become the, hugely influential, factory manager at Purdey.
It seems that Hodges then returned to trade work, making hundreds of guns for Henry Atkin, James Woodward, Army & Navy and Stephen Grant. He continued to be listed as a gunmaker until 1915 and died in 1925 with an estate valued at almost a thousand pounds. If you equate that in gun-making terms; a Holland & Holland 'Royal' in 1915 was 75 guineas, so Hodges fortune would have bought thirteen new 'Royals'. Today they would cost £1,300,000.
The gun under examination today is tricky to date because the proof marks were struck-off before it was sleeved (somewhat agriculturally) in Brmingham.
It carries serial number 4067 and outwardly resembles a first-model Holland & Holland 'Royal'. The early 'Royal' guns were made by John Robertson, who, like Hodges, was primarily a gunmaker to the trade until he took over at Boss in 1891.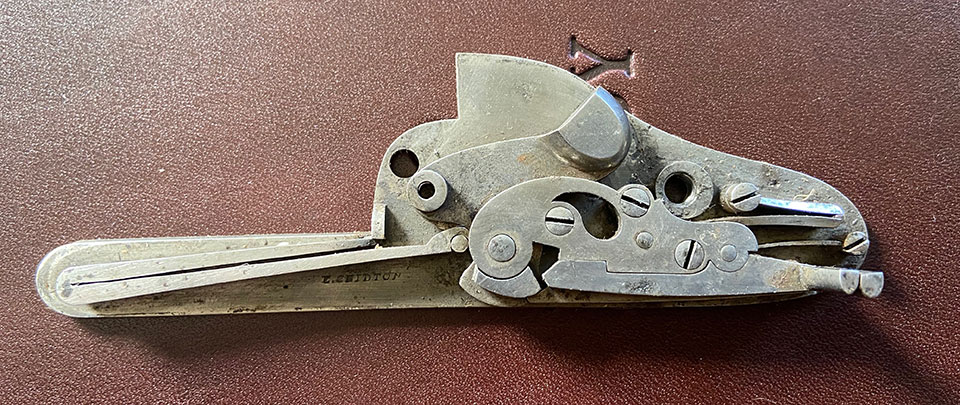 The locks are stamped 'E. CHILTON', the black country lock-maker who supplied many London firms. Internally, however, they are quite different to the Holland & Holland. They are high-quality, bar-locks with an intercepting safety sear.
Cocking for both locks is effected by the fall of the barrels, with cocking levers moving upwards to lift the tumblers back (by pressing on studs) qqqqinto the cocked position. The top-lever action has a Purdey under-bolt, plus a Greener cross-bolt with rib extension. Ejectors are located in the forend with coil-springs propelling twin sliders mounted on the iron, in the manner of a Robertson ejector. A central cam provides initial lift to the extractors.
Engraving is full-coverage fine scroll, with bouquets of flowers interspersed on locks and under the bar. A number '2' engraved on the top lever indicates it was part of a pair. Unfortunately, there is no address on the rib to help us date the gun; this was likely lost when it was sleeved.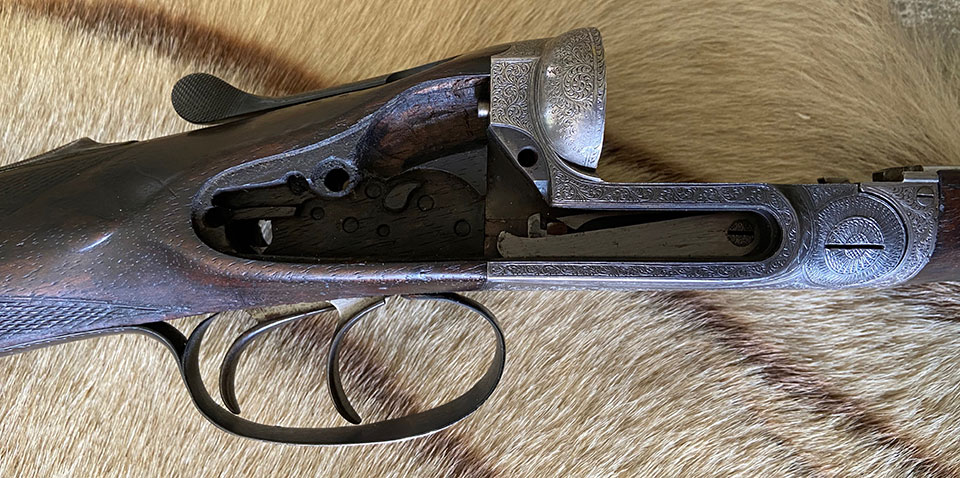 I have seen, perhaps, five Hodges named guns in the past. They are not at all common. Robert Hodges, descendent of Edwin and now a keen collector and analyst of any emerging Hodges gun-making data and artefacts, is always keen to learn more and see anything Hodges related. If any readers have anything that may be linked, do please let me know.
While this old side-lock may be rather tired and is much altered from the fine, balanced and beautifully made piece that Hodges once handed to a proud new customer all those years ago, it remains interesting and what is left that is original shows the high quality and engineering competence that went into building it.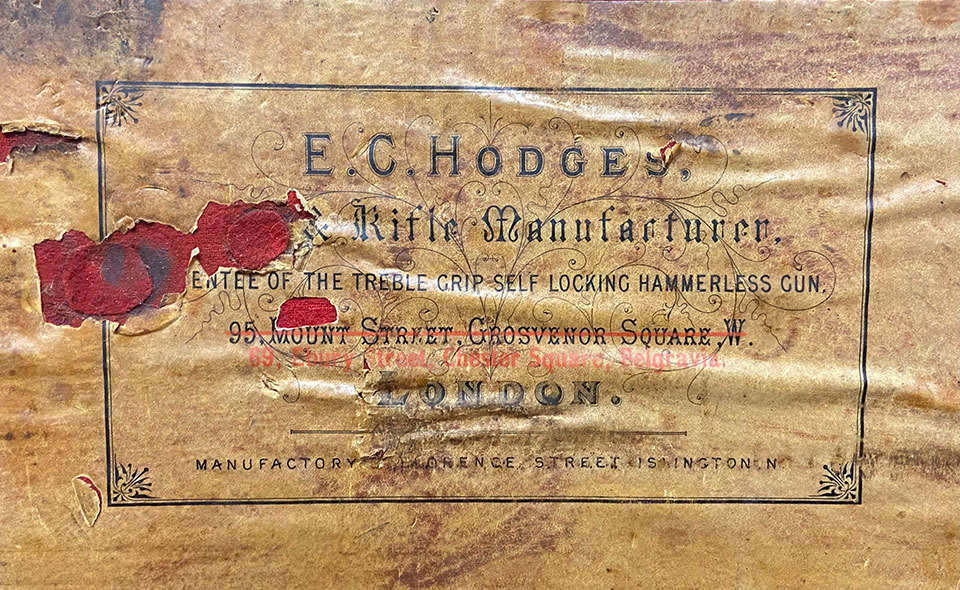 Edwin Charles Hodges is certainly not as well-known by gun collectors today as the famous London makers who were his contemporaries but in his day, he would certainly have been one of the most respected gunmakers in the business, even if he was, for most of his life, something of a 'trade secret'.
Published by Vintage Guns Ltd on (modified )