Lurking at the back of an auction catalogue in November, I spied a gun not so much interesting for its name or quality but for the unusual mechanism employed for opening it.
It was listed by Holt's as:
A SCARCE S.W. BERRY 12-BORE 'S. MATHEWS 1863 PATENT' TOPLEVER SINGLE-BITE SNAP-ACTION CONVERTED FROM PINFIRE BAR-IN-WOOD HAMMERGUN, serial no. 836, circa 1870, 30in. black powder only barrels (some pitting and dents, right wall at 17), the rib engraved 'S.W. BERRY. GUN & RIFLE MAKER. MARKET HILL. WOODBRIDGE.', and with acanthus scroll detailing at the breech-end, firing pin apertures filled with starburst detailing, 2 1/2in. chambers, bored approx. true cyl., action incorporating S. Mathews 1863 single-bite toplever patent no. 2441 of 6th October 1863, use no. 67, diminutive toplever, rebounding back-action locks, border and acanthus scroll engraving retaining very slight traces of colour-hardening and finish, 14 1/2in. figured stock including steel buttplate (crack to rear of right lock, insert repair to overhorn on left lock), fore-end with crosspin release, weight 6lb. 12oz.
We are all familiar with the top-lever. The first time it was used by a gunmaker to lock a breech loader shut was when Westley Richards built a pinfire with a long rotating top-lever, the end of which slotted into a bite in a doll's-head rib-extention.
Modern top-lever guns look very different.
The top-lever was teamed with the (1863 patent) Purdey bolt for the first time in 1865, when Scott invented his spindle, which linked the two.
Once the patent protection ran out, the entire best gun trade decided that a top-lever with Scott spindle was the generally preferred means of operating a breech-loader.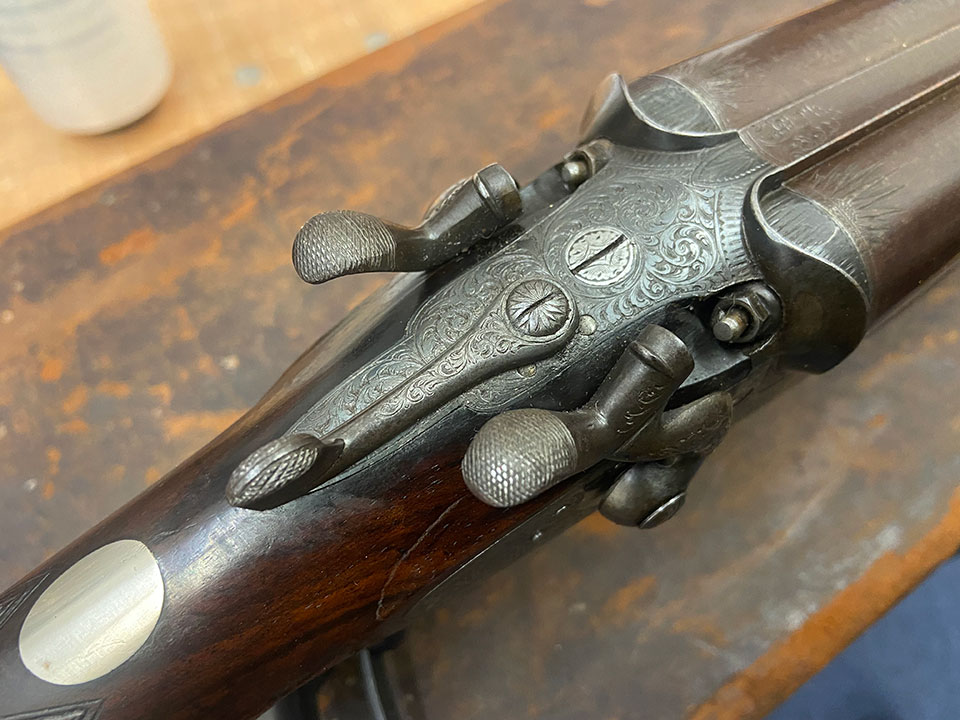 This Mathews patent top-lever looks very different. It is much smaller than the norm and slightly off-set. Unlike the (also 1863 patent) Purdey, which has a double under-bolt, the Mathews was one of many single-bite bolting systems then in common use.
Holt's estimate the date of the gun to 1870, which I think is late.
It was made as a pinfire and converted to centre-fire with rebound locks. The conversion is likely to be 1870 or thereabouts (rebound locks began to be used from around 1867) but the gun itself is, I think, mid-1860s.
It was patented in 1863 and use number 67 means it was the sixty-seventh of its kind made.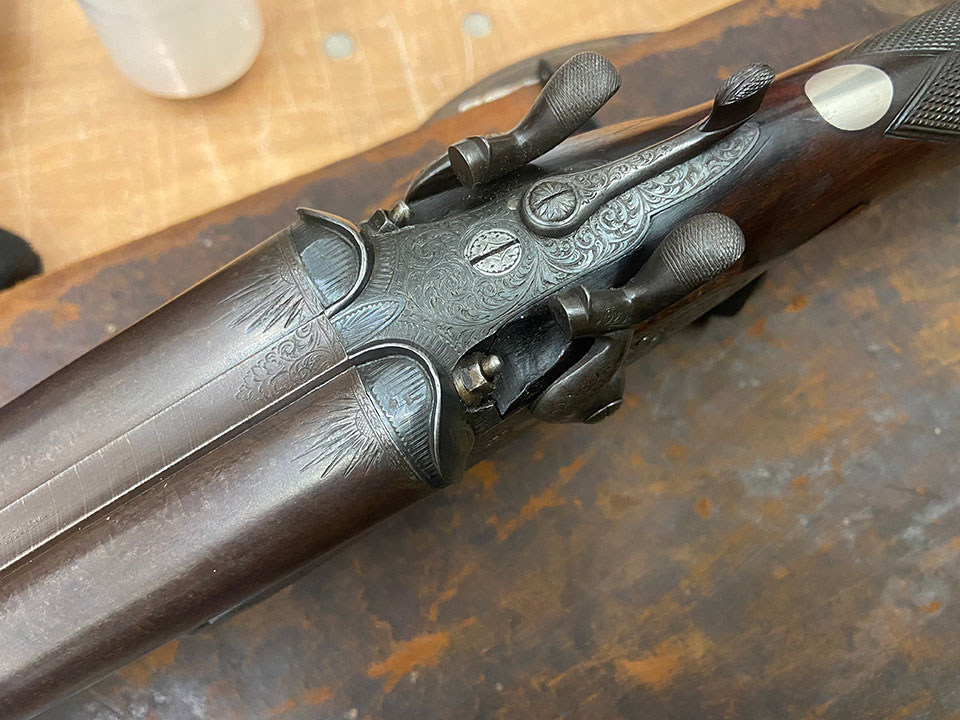 The conversion, with the characteristic star-burst engraved around the plugged pinfire holes was popular and a great many pinfire guns were made into centre-fires this way, saving quality breech-loaders from becoming obsolete when they were just a decade or two old.
We should remember that the pinfire era was short. It started in 1852 but only really became dominant in the very late 1850s, by which time Daw had introduced centre-fire guns. These quickly became acknowledged as better, though pinfires continued to be made.
Sharman West Berry was a gunmaker in business in Woodbridge, Suffolk from 1845-1870, with an address listed as Market Hill, Woodbridge from 1870 until 1878.
This is a well-made gun by a provincial gunmaker, built on a short-lived patent at a time of inventive turmoil.
In this condition it is not a viable shooter but will, no doubt, form a part of someone's collection and become a useful reference and a talking point over several cups of tea in the future.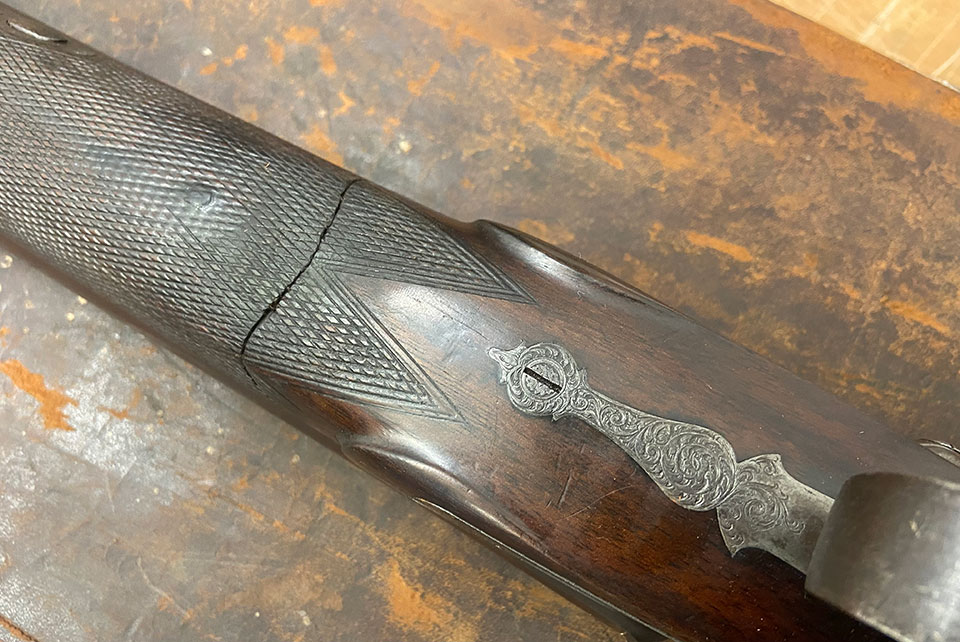 Published by Vintage Guns Ltd on (modified )