Frederick T. Baker may not be one of London's most famous brands and W.W Greener made sure Needham's name was shoved into obscurity. In this gun, the two names combine to showcase both fine gunmaking and ground-breaking innovation.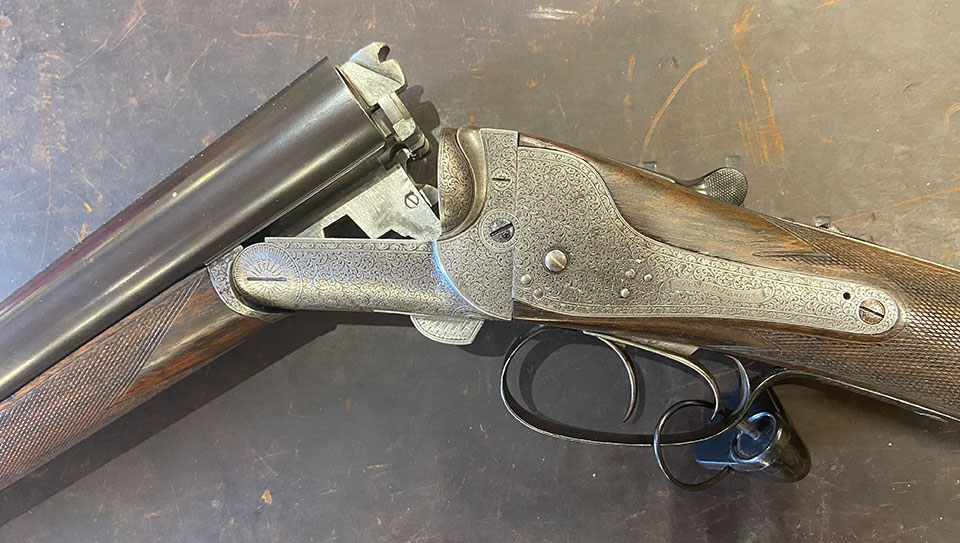 Frederick Thomas Baker was on of a long line of Bakers who succeeded to a family business started in London 1833 by Thomas Kerslake Baker. Frederick took charge in 1858 and died in 1887. Eventually, the company was taken over by Westley Richards, in 1913.
Frederick t. Baker operated from 21 Cockspur Street from 1882-1898, making him a neighbour of Joseph Lang, who was at number 22 in the same street.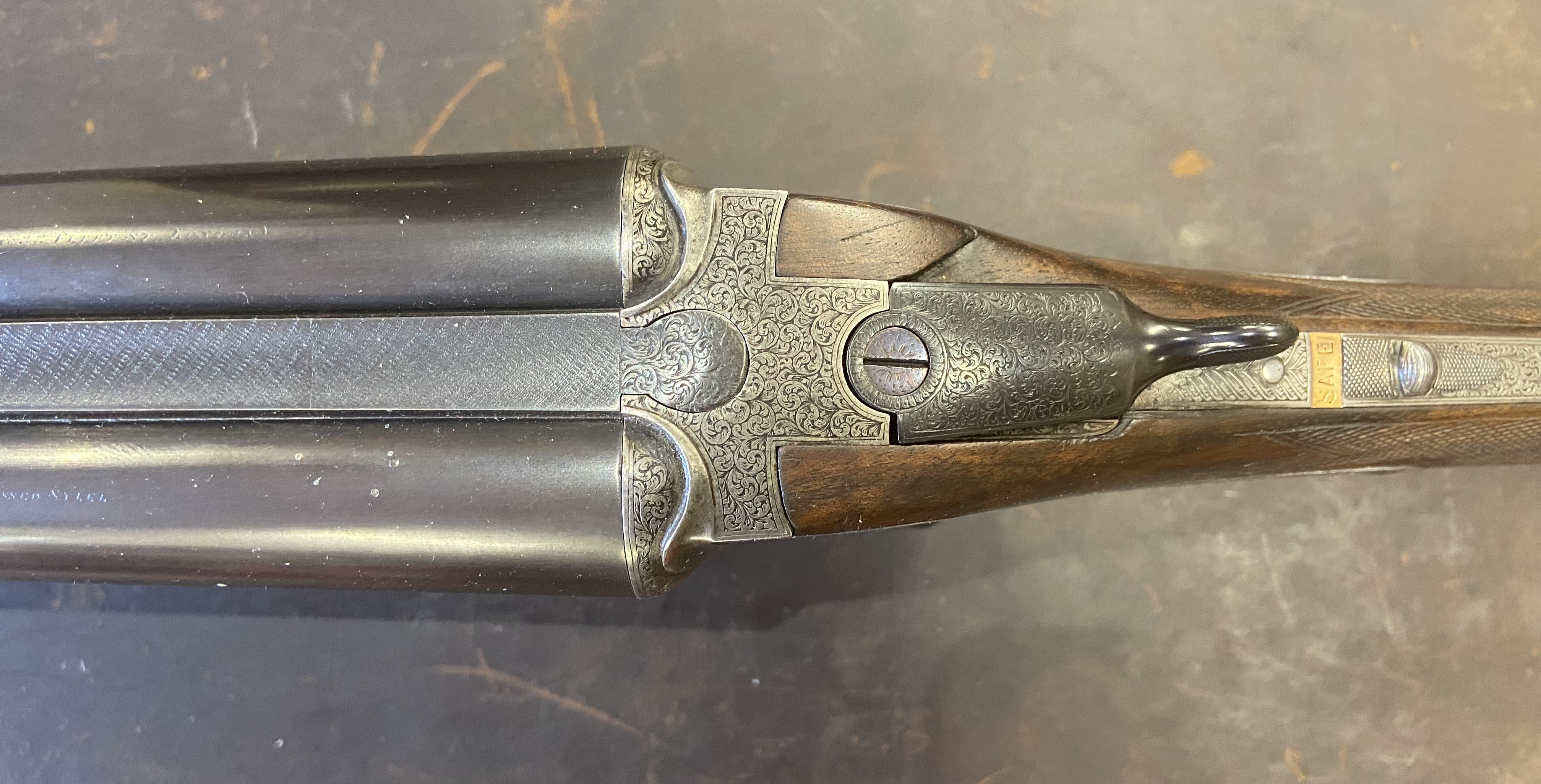 Joseph Needham cesaed to exst as an independent business upon th death of teh founder, when it was bought by W.W. Greener . The name was subsequently used by Greener to brand and sell lower quality guns. However, Needham was an important figure in the Birmingham gun trade becauase of his 1851 needle-fire, his 1862 side-lever gun and his 1874 patent ejector gun. It is the latter that is illustrated here. It is a Nedham ejector gun bearing the name Frederick T. Baker, made around 1887.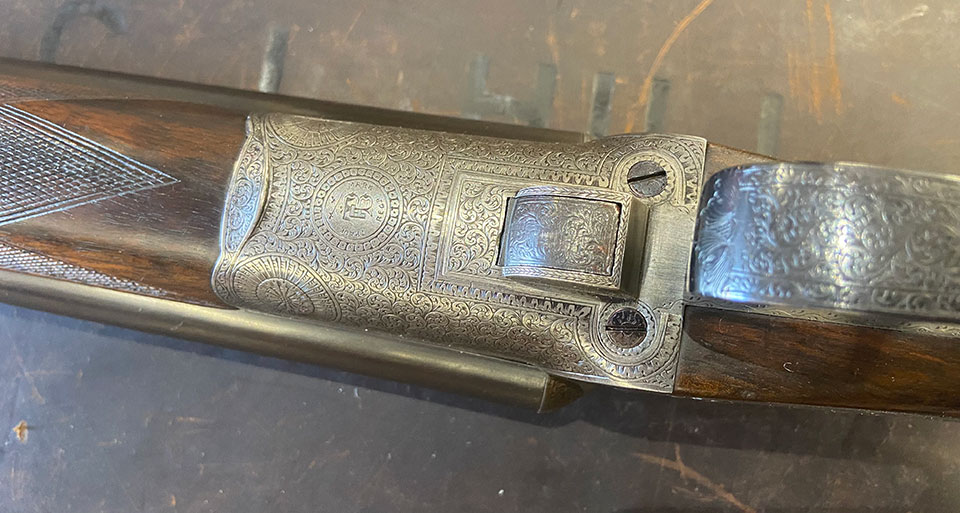 In these days of barrel-cocking hammerless ejectors, we should respect the fact that Needham can claim to be the first to patent a gun of each type. The gun ilustrated conforms to his patent 1,205 of April 1874. It is a barrel-cocked hammerless ejector. This is the first time a split extractor appeared, allowing ejection of one (fired) cartrige without affecting the unfired one.
While the extractors can be seen only with the gun open, the evidence of the ejector can be found via external examination, as a box protruding from the underside, just forward of the trigger guard.Thsi formed the basis for Greener's development of his own 'Self-Acting Ejector'.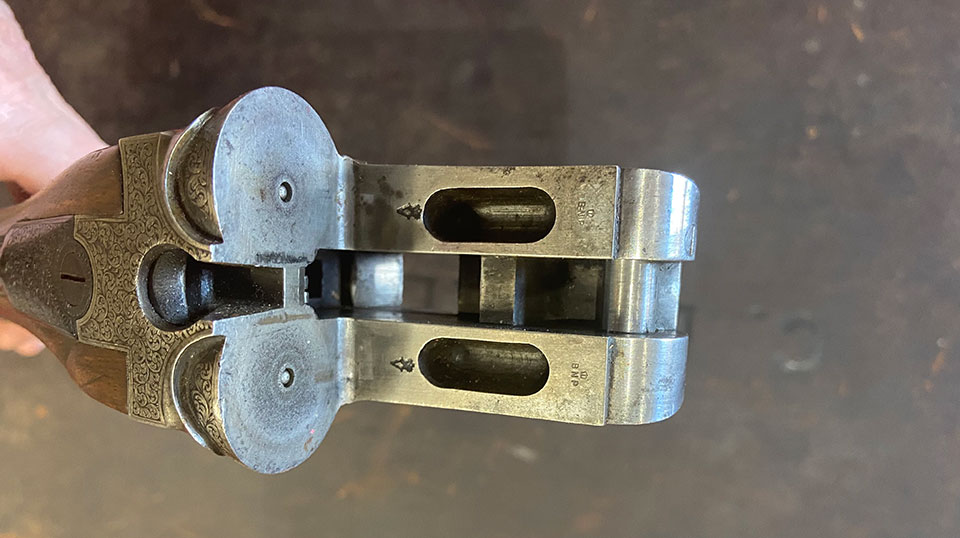 To modern eyes, the design looks very old fashioned. Considering it is a contemoprary of the Anson & Deeley action, the long, pointed lock plates look strange, while teh Anson & Deeley made today still looks solid.When made in 1887, it was already obsolete and would have been competing with much more attactive alternatives like the Purdey Beesley of 1880 and even the Scott & Baker patent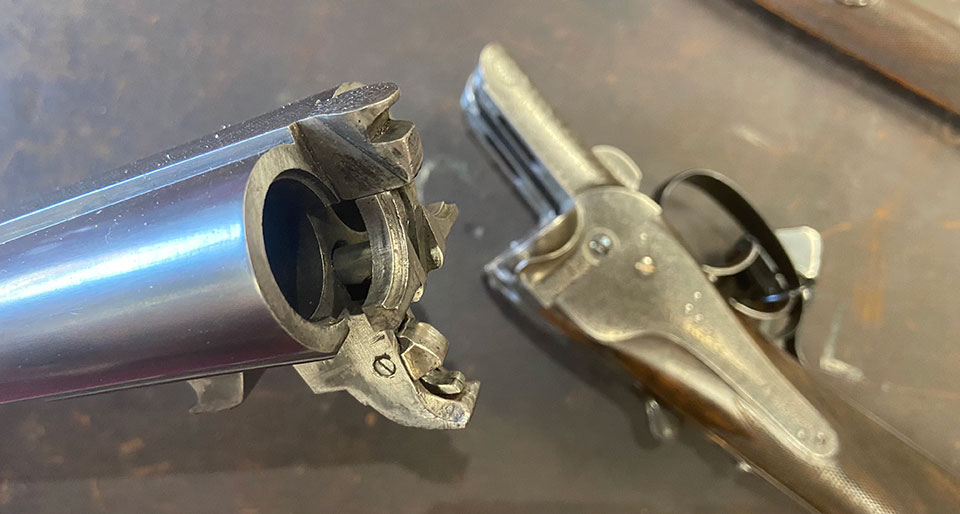 One other contributor to teh gun should be noted, that is Westley Richards, as Bake has employed teh 1871 patent top-lever and sliding bolt as a locking mechanism.
Perhaps not to everyone's taste nowadays and languishing in the unwanted section of many a gun shop or auction, however, the Needham ejector's contribution to the progress of the sporting gun should be respected and the quality of F.T. Baker's gun is evident. Note the monogram on the underside of the bar, which Baker reserved for only his best quaity guns.
Despite its ungainly appearance, it is a conventional game gun in other respects, with 30" barrels, 14" stock and weighing 6lbs 8oz.
Published by Vintage Guns Ltd on