An intriguing aspect of collecting vintage guns , or buying and selling them, is finding an appropriate case that suits a particular weapon. Of course , it is even better if the gun or rifle comes in it's original case but this is sometimes too much to hope for.
At a recent arms fair , I was approached by a man who had bought a nice Holland and Holland oak and leather case at a furniture auction and the case had an additional label in it showing the serial number of the gun . His quest now , he said , was to find the gun and reunite the two.
A pretty remote possibility, I hear you say , to find a gun long gone and perhaps no longer in existence. And I would normally have agreed with you that it is very unlikely that he will ever find it, but coincidences can occur. Call it luck or call it fate , but in a lifetime of collecting and dealing in guns I have had several remarkable coincidences one of which was the achievement of the same situation my arms fair acquaintance had hoped to realise .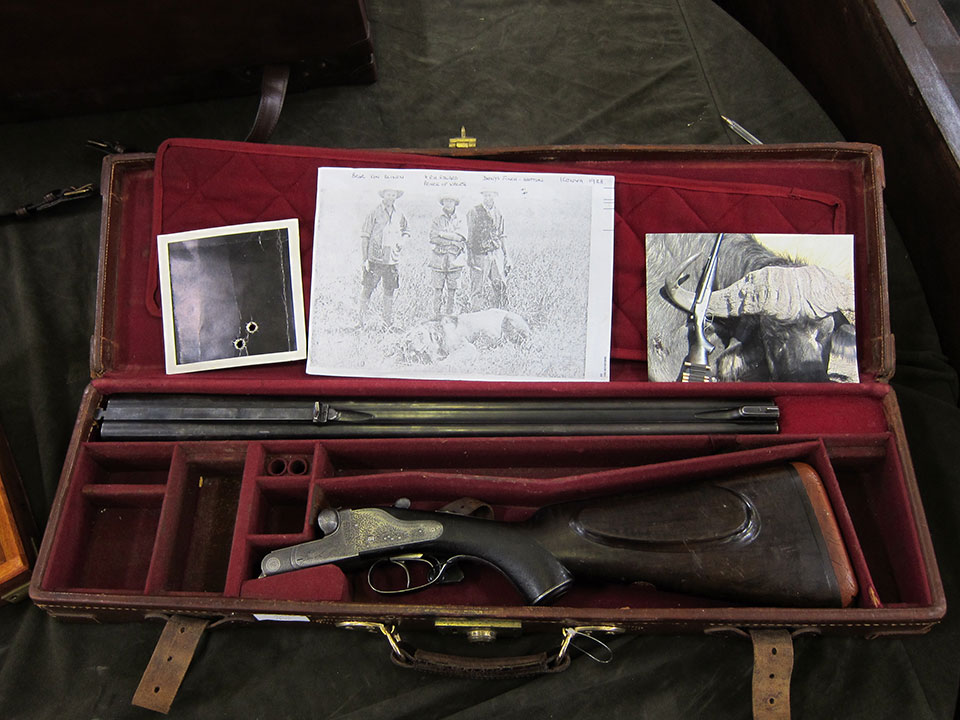 I knew that Angus Barnes and David Winks had accumulated a fascinating array of guns old and modern , tiger skins , cartridge magazines, and gun cases for their November 1999 auction at Bonhams in London and the catalogue duly arrived in my office and was thrown in my briefcase for closer reading during my next air flight , a good chance to get absorbed and to learn what was on offer and to check the lots that were of interest. I cant remember how many I marked but one was " a leather rifle case for a double rifle with 25 inch barrels by Charles Lancaster, London. Handle missing. With the initials D.F.H. Probably those of Denys Finch – Hatton . Estimate £200 - £300."
I already had cartridge magazines belonging to the Marquis of Ripon and Hon. Harry Stonor.
Now the history of African hunting is of great interest to me and Denys Finch Hatton acted as professional hunter to many great people in the twenty years from 1911 to 1931 , and of course became famous through his love affair with Karen Blixen , author of " Out of Africa " . Even without this aspect , cases for double rifles are hard to find , and ever the collector , I already had cartridge magazines belonging to the Marquis of Ripon and Hon. Harry Stonor so this would add to the " famous people " collection.
I attended the auction and bought the rifle for just over the high estimate and so was pretty pleased with my purchase . Charles Lancaster cannot have made many breech loading double rifles in over fifty years of collecting I have only seen a few. The rifle that had been in my case would have been in Kenya and Denys had died in the fire that followed the crash of his Gypsy Moth aeroplane and perhaps the rifle perished with him .
But even if it had not the rifle was most likely lost forever. I never thought of trying to find it . Therefore it was with disbelief that I read the description of lot 499 in the December 2001 auction sale held by Holt & Co in London .

" A Charles Lancaster .450 ( 3 1/4" ) nitro express back action sidelock non ejector rifle, serial number 13,315. 25 inch nitro barrels replaced in 1928 ( from an original .475 calibre ) with matt sight rib , open sights and ramramp.mounted bead foresight , barrels engraved " Charles Lancaster , Mount Street , Berkeley Square, London " 15" well figured pistol grip stock with cheek piece and including 1 inch rubber recoil pad, rose gold escutcheon inscribed " D.F.H. November 1928 " in a J. Rigby canvas and leather rifle case ( damaged) . The makers have confirmed that the rifle was completed in 1911 for Hon. Denys Finch Hatton ". It had to be the rifle for the case.
estimated at only £3,000 to £5,000 , I knew it would make much more
A quick check of the length of the barrel compartment length of the case and of the address on the makers label confirmed that they both matched the rifle . So I had to view the sale and see if the rifle was as good as the catalogue led me to believe . It was . Luckily not refurbished , used but not abused , and almost still bearing Denys's hand prints. He was a tall man and the 15" stock and pronounced cast off meant that it fitted me perfectly. After Holland and Holland , Lancater is my next favourite maker and the .450 3 ¼ round is a useful calibre for hunting dangerous game , so it interested me greatly .
I had to buy the rifle so I attended the sale . Though estimated at only £3,000 to £5,000 , I knew it would make much more , and the bidding rapidly advanced . It came down to.myself and a phone bidder and with sweat breaking out on my brow I bought the rifle at almost ten times the low estimate. Later I discovered that the other bidder was a well known pop singer who wanted to give her husband the rifle for Christmas!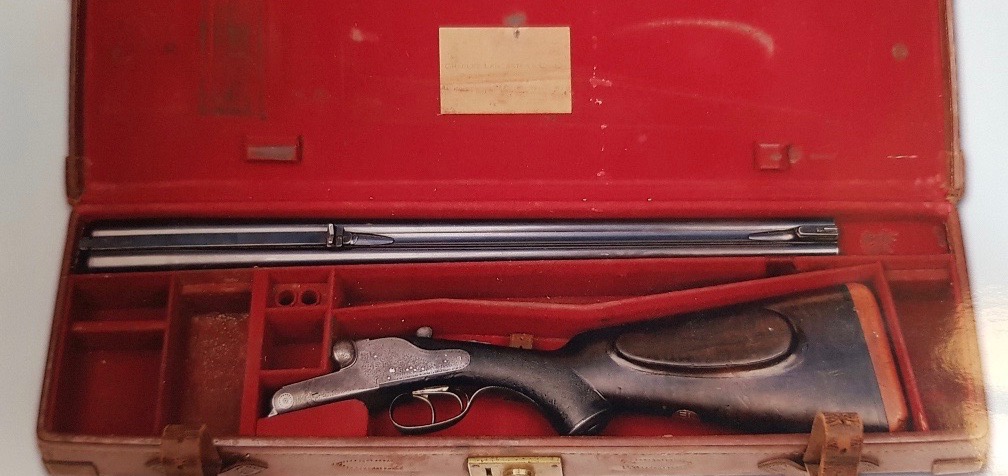 In the second case of coincidence I owned the gun before the case.The gun is a 16 bore muzzle loading percussion gun by Charles Moore which , while still at school , I used to shoot rabbits in the earl mornings in the fields behind our house. I had bought it through an advertisment in " Exchange and Mart" magazine and had taken the train to Bradford to pick it up .There followed the necessary purchase of powder and shot flasks , Curtis and Harvey's black powder an Richard Arnold's " Shooters Hand book " for suggested loads . The gun was my pride and joy and I used it at least twice a week .
On my way home from school I called at Bulmers gunshop in York which was an " Aladdins Cave " for gun enthusiasts and later when at university I always visited Mick Bulmer to see what he had for sale. On one of these visits he said to me " I have kept a muzzle loader case for you and I guarantee you are going to buy it ".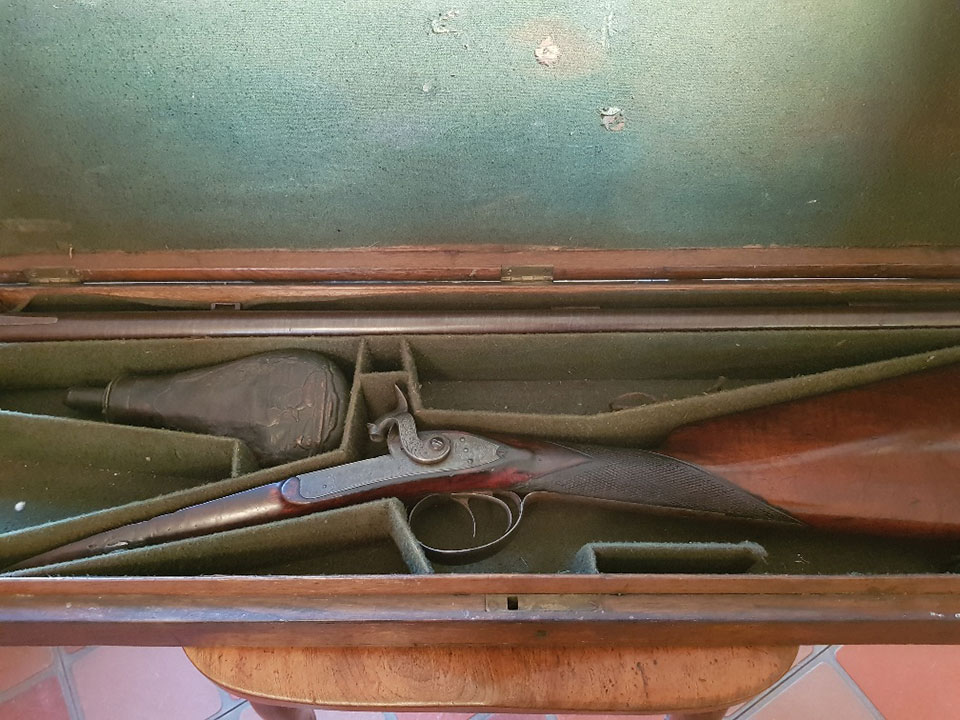 I asked why he was so confident but he just handed me what turned out to be an oak case with a round brass handle in the lid ; the sort of case a percussion double gun would lie in . There was no makers label in the lid – never had been ." Look at the inscription on the handle " he said , with a grin. It read " A present to James Ormiston from R H Outram "
Now, Ormiston is not a common name in Britain and my great., great grandfather was called John James Ormiston – he was a sailing ship captain in the 1850s and went by the name of James.
So that was quite a coincidence and of course I bought the case ( at a very fair price ) and took it home hoping my one and only percussion gun would fit in it without too many adjustments to the compartments . It did fit .But not only did it fit , it fitted exactly. There was no room for movement . It was easy to put the gun in and out of the case it was in fact a perfect fit . It was as if the case had been made for the gun .
I still have the gun and the case and though I have sold many guns since I have always kept this one . Surely it has to more than just a coincidence ?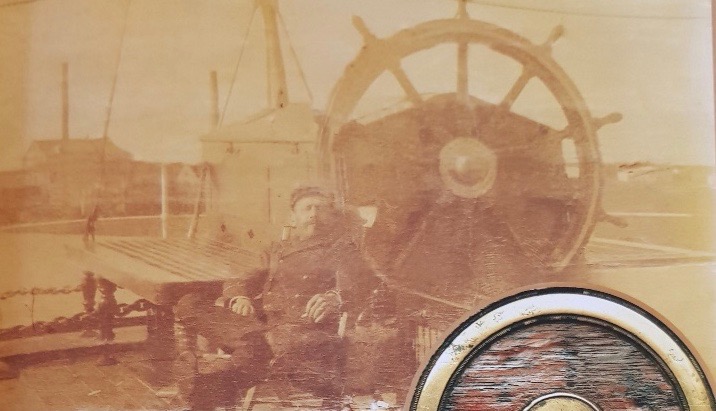 John Ormiston is a former Director of Holland & Holland.
Published by Vintage Guns Ltd on