Inspired decision or abject lunacy? I guess time will be the judge. But now the die is cast and this strategy will play itself out for better or worse.
Why on earth did I buy a twelve year old Bentley Continental GT?
As most things do, this chain of events began randomly. I was driving my Land Rover, late one afternoon this summer, past a rural filling station with a used car lot attached to it. Among the usual detritus a dark blue Continental stood proud.
Something clicked in my brain, prompting me to look, later that day, into what these things were selling for nowadays. Not much, as it turned out.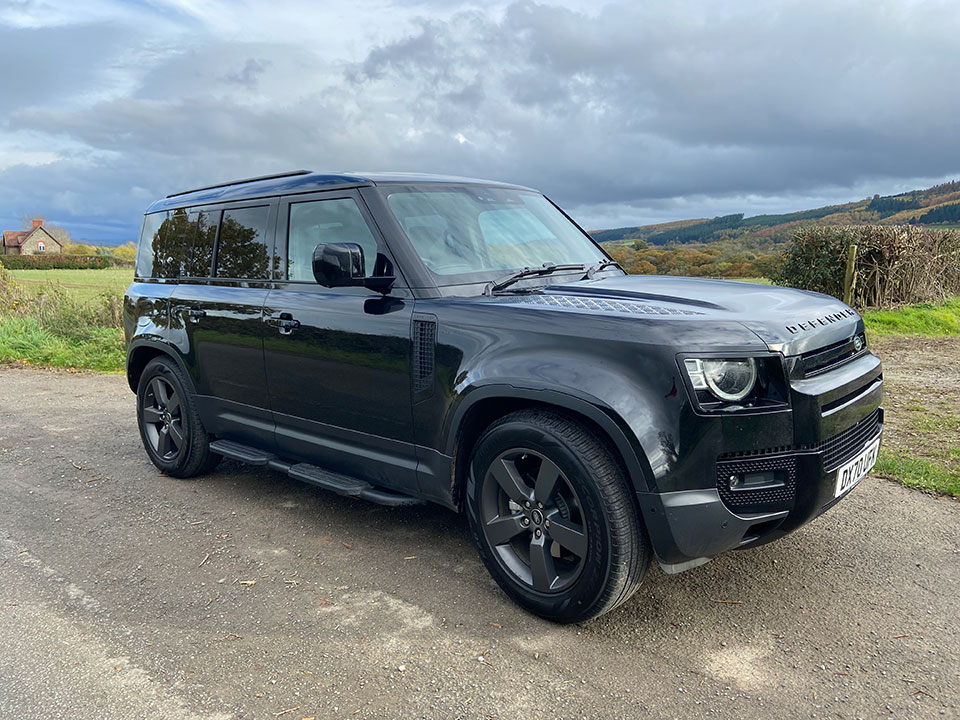 The Continental arrived in 2003, the newest and biggest departure from Bentley models of the time that could have been imagined. Smaller, sleeker, basically German engineering with a Crewe-built body and interior, four wheel drive and ridiculous reserves of power, wrapped in beautiful build quality and restrained opulence.The Volkswagen Audi Group had made a Bentley for the twenty-first century.
An immediate hit with footballers and celebrity chefs, the 'baby Bentley' was suddenly everywhere. Bentley sold a heap of them and continued to do so for a decade. The first incarnation carried on until 2011 and this is what we are looking at, as this one is now within reach of poor gun dealers.
For me it was a departure. I have driven Land Rover Freelanders since 2006, changing each for a new one once it reached 100,000 miles. Then they stopped making Freelanders. The Discovery Sport did not ring my bells so I test drove a Range Rover Sport. Lovely but £56,000. I decided to wait, leaving me with my 1998 Defender and my Harley Davidson: neither ideal for long trips to London on business!
I waited for the new Defender, test drove it, loved it but again, a price tag of over £55,000 was one I simply could not justify. So, what else? My mind kept coming back to a Bentley. When it was new, it cost £130,000. I found plenty of very good used examples for under £30,000.
So, I started watching Youtube films about ownership, then I talked to Toby Service at Brightwell's, the classic car auctioneers. His view was that they were great value and would bottom out around £15,000, eventually, if looked after. They were future classics. This advice has parallels with other cars I have owned. I used to buy old model BMW 3 series cars, starting with £400 E28s and moving on to a £5,000 E30. At the time, they were just older models and were on a downhill slope but I didn't lose money on any of them. Now, a good example of any of these will cost £20,000 to £30,000 in the classic car sales pages.
The Continental, I reasoned, was never going to be a five-grand heap...
The Continental, I reasoned, was never going to be a five-grand heap, parked outside a council block in Stockwell. The depreciation on my Land Rover vehicles had always been steep. They usually cost me about £35,000 and I got £8,500 back when I sold them.
Also in my favour now was the home-based nature of my businesses. We run a modest accommodation business and my gun dealership operates from an office and gun room in the same building. No daily commute for me, putting hundreds of miles a week on my vehicle. No, I do need to take the odd long trip to Heathrow to collect clients, or to London for auctions or engage in multi-drop trips to my gunmakers' workshops, but these occur one or twice a month at most.
So, I can (I tell myself) justify the execrable miles per gallon figures the Bentley produces, mitigated by the comfortable and effortless driving experience. And they really are pretty terrible! I'm currently averaging about fifteen mpg, perhaps extending to twenty mpg on a sedate run to London.
I found the car I bought at a dealer in Derby. I almost bought one in London that was lower mileage and three grand cheaper but it had a patchy service record. The one I bought has done just 40,000 miles for its two previous owners and has a Bentley dealer's service stamp for every year since it was first delivered; twelve in all. Interior and exterior are immaculate. Work it out; the car has averaged about three thousand miles per year.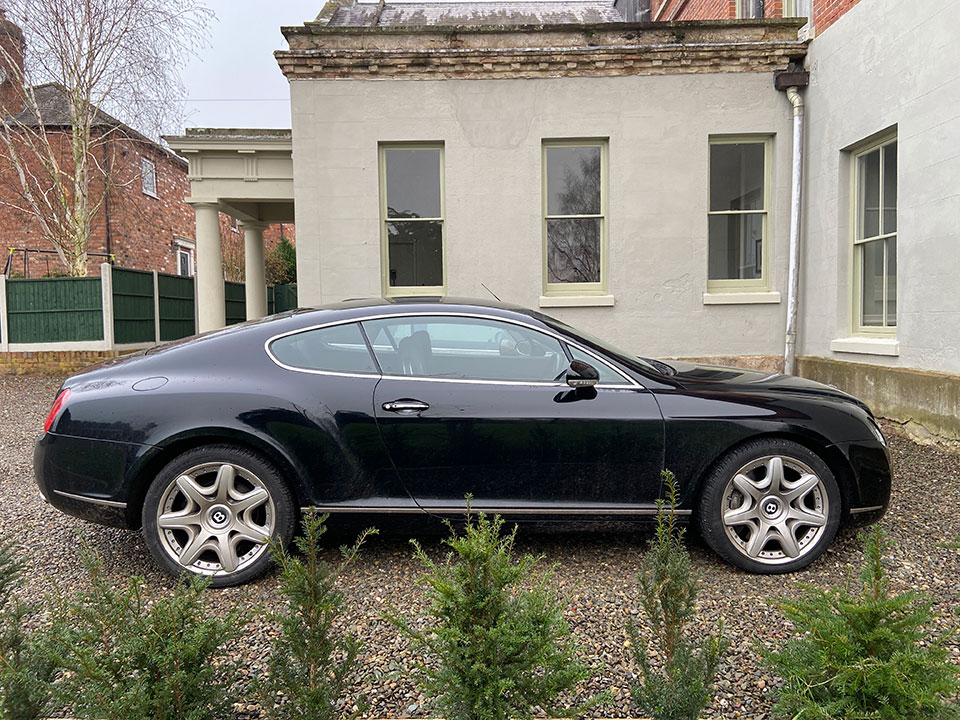 I did follow advice. I was told in no uncertain terms to buy the best example I could afford and to be careful to get one with a clear service history and avoid cars that had been stored of had big gaps in their usage. They don't like to stand around, apparently. Also, the slightly better equipped Mulliner version was recommended, with its cross-stitched leather seats, drilled aluminium pedals and other styling details.
"Get triple black" said Dan, at Brightwell's, who has owned two Continentals. That means black paint, black seats and black wood. I actually prefer very dark green or pewter paintwork but none I found had dark interiors and beige isn't my thing. So, triple black it is. Apparently they are easier to sell.
Given the Covid -19 restrictions, I didn't even see my car until it was delivered. When it arrived, it looked the part, I thought. Once behind the wheel, it was clear that the Bentley was both powerful and comfortable: the essence of a Grand Tourer. Despite being 'the old model' I actually prefer its under-stated lines; the boy-racer spoilers, huge grills and Carlos Fandango wheels that some people go for do not float my boat. Despite the odd comment from friends that a footballer's wife had parked her car in front of my Land Rover, I liked it, and that is all that really matters.
Practical issues were not entirely absent from my thoughts when I bought the car. We have a fifteen year old and the back seats passed her road test, as adequate. The boot is huge: plenty of space for guns )either in cases or slips), which is what I usually carry. Rubber mats have gone into boot, front and back, given that I live in ruralShropshire and mud is a distinct possibility.
The permanent four wheel drive bodes well for the winter. When snow is on the ground I'll still have the Land Rover but the Bentley should cope with the winter well enough. Plenty of footage is available on-line of them tooling along ice and snow covered roads on the continent to suggest it will be safe and secure in all but the worst British weather.
When snow is on the ground I'll still have the Land Rover but the Bentley should cope with the winter well enough.
However, the real test begins now. What is a 200mph, £130,000 Bentley with a dozen years under its belt going to cost to run and maintain? I shall keep readers updated from time to time. Costs, so far, include £400 for private plates (a nice way to hide the age of a vehicle), another £100 to add it to my insurance, £580 to tax it for a year (ouch!) and, of course, that premium quality petrol that it drinks faster than Ollie Reed used to quaff pints of Guinness.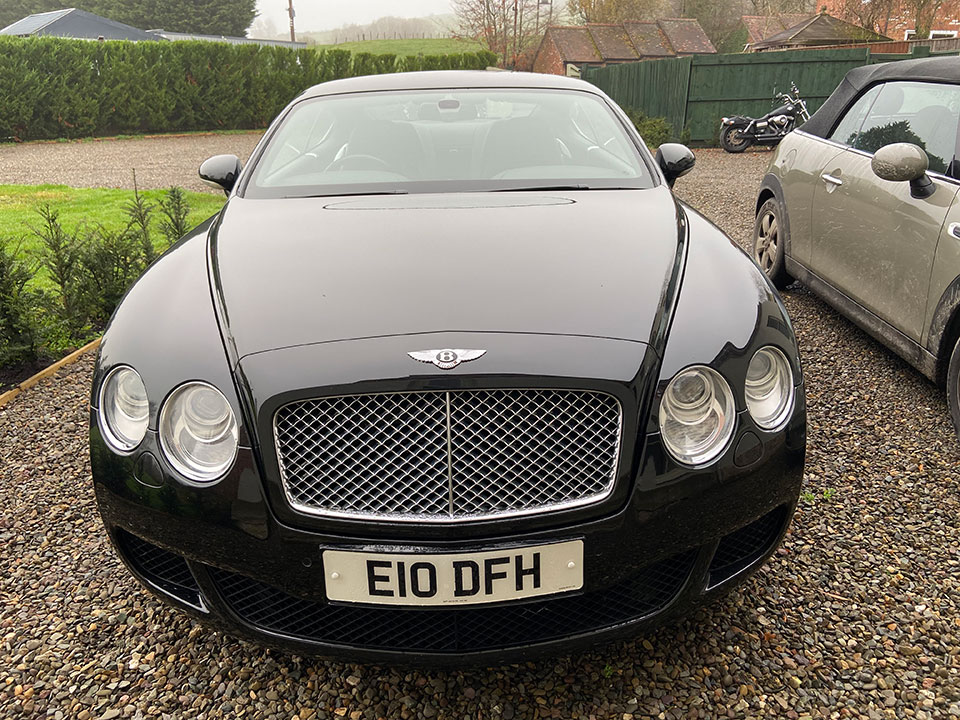 A full service was carried out, prior to delivery, by an Independent Bentley specialist in Leicester. The recommendation is a service every 10,000 miles or every 12-months, whichever comes around first. So, the first challenge is to see if we can make it to the next service without spending any money. Tyres look in good shape and should last a few miles yet (they cost about £1,000 to replace all four corners) and the satellite navigation system is utterly unfathomable. So, I spent £17 on an iphone holder and mounted it on the dash, in front of the screen. A full audio and sat nav replacement, to bring it up to date, costs close to three grand; so not on my list right now.
It is possible to re-map the engine to improve gear changes, and to increase power, torque and fuel efficiency. Costs for this average at around £300 and several people have recommended the upgrade, which I am considering. Not because I need more power, but a few extra miles per gallon would be nice to see.
So, now we wait, drive and hope that my Bentley will deliver several years of pleasurable and reliable ownership, delivering me to meetings in good shape with a bit of style thrown in for good measure. It is extravagant? Perhaps, but my Bentley cost a fraction more than a new, top-spec, Suzuki Jimny. I think I can live with that!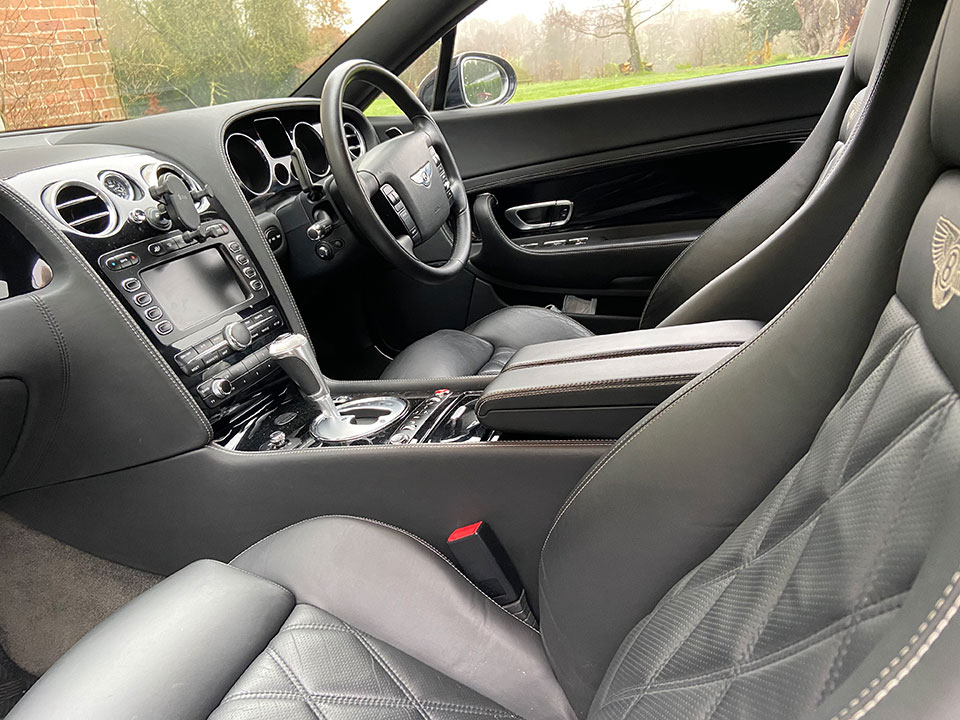 The End of the Road
In September 2023, I decided that it was time the Bentley and I parted company. Thie was the first conventional car I had used for daily driving since my last BMW 3-series Sport Coupe, which I bought new in 2003. Since then I had always had Land Rover Freelanders and Defenders.
Our three years together have been fun and we will have completed almost 50,000 miles in that time. The first two years were relatively pain free. I had to replace the central rear LED brake light (£800) and I had the wheels refurbished but otherwise, apart from normal service consumables, it was trouble free.
In the last six months things have got a bit more expensive. New discs, wheel bearings, four new tyres and an overhaul of the spoiler motor, which still doesn't work, cost around £3,000 and the engine warning light is now indicating an issue with air intake, which has proven time consuming and difficult to rectify.
The writing seems to be on the wall, a big bill is likely to hit me full in the face if I continue to pile on the miles.
The decision, therefore, has been made.The Bentley will make way for a Velar 3.0 diesel. It has been a fun ride and owning and running a Bentley is an experience I am glad I indulged myself in. However, I doubt I'll have another.
Published by Vintage Guns Ltd on (modified )