Occasionally, a gun arrives that bears a name not known to many but signifiant to a few.
I remember a hammer gun that Wayne Hurt once had in stock, with the name William Froome on the locks. That was a Holland & Holland that belonged to their chief rifle regulator. A very important figure in the firm's history but unknown to all but the real enthusiast. I have no doubt it is now in the collection of a wealthy American.
So, when a local chap brought in a pair of guns that his father had ordered in the sixties, I was interested to see the name David Dryhurst engraved on the sides of the action. That name is not on the radar of most people. However, the reason is not that he made very few guns, but because the majority of guns he has made bear another, more famous, name: notably that of W.W. Greener.
Greener was once a major force in British gun making. Founded in 1806 by William Greener, it remained under family management until 1965, when the St Mary's Square factory was compulsory purchased and demolished, to make way for the Birmingham Ring Road.
One of the last men to apprentice at Greener's before the closure of the factory, and the sale of the remains of the gun making concern to Webley, was David Dryhurst. He served a five-year apprenticeship (started in 1958) as an action-filer. Upon leaving Greener's, Dryhurst set up his own Birmingham workshop.
From there, he continued to make guns and learn new skills, notably under the guidance of Albert Smith, formerly with Boss and Holland & Holland. Smith taught him how to make London pattern side-locks and there came a point when he told Dryhurst that he wold go bust if he continued building and selling boxlocks of the quality he was making.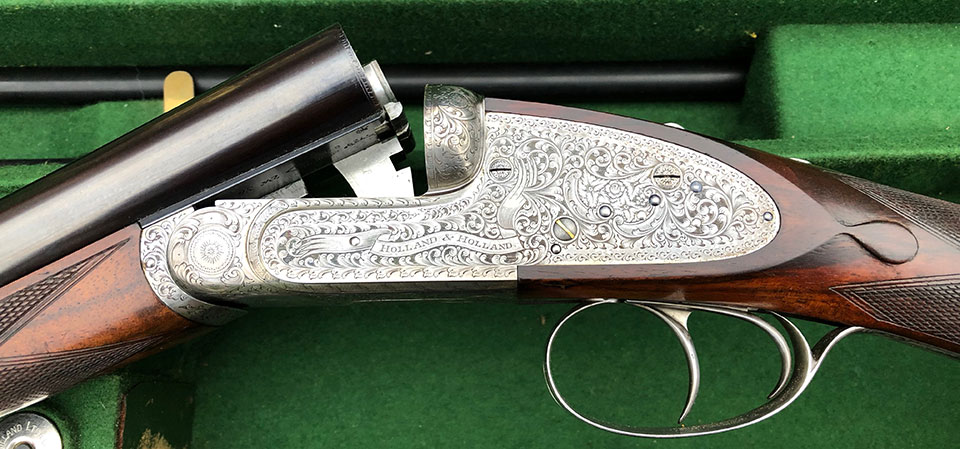 He was, by then, good enough to make guns for Holland & Holland, which he did; notably their 'Badminton' side-locks. Dryhurst also made new guns for other famous firms, including Boss (for whom he built the 'John Robertson' best boxlocks), Grant, Atkin, Churchill and Lancaster. Dryhurst began his association with another Birmingham gun-maker, Richard Tandy, in the 1980s, and they collaborated to design the new Holland & Holland 'Royal' over & under.
In 1985 David joined Graham Greener and Ken Richardson to purchase W.W Greener from the Harris & Sheldon Group, who then owned it. Later, joined by Richard Tandy, they began to make a range of W.W. Greener guns, mostly of 'best' quality.
Under the Greener/Tandy/Dryhurst regime, W.W. Greener began to cement a reputation for building the best guns in the business. I had the pleasure, a few years ago, to examine a collection of 28-bore guns made for the same American collector. There was one by every major English maker active at the time. A Purdey, a Holland & Holland , a Westley Richards, a Greener, a Boss, a Watson Bros and (I think) an Asprey.
There was no doubt in my mind that the Greener was the finest of them all. In a line of best guns, it was the best of the best; built on a side-lock action and finished to perfection. A friend of mine bought it and still has it.
So, we can see that David Dryhurst stands among the finest gunmakers of his generation and that the last thirty years of his career have been spent building the very best quality bespoke guns for discerning collectors, for whom perfection is more important than time or cost.
Guns built by Dryhurst mostly date from his years at 61 Price Street in Birmingham (1966-'72) and 16 Golden Cross, Bromsgrove (1972-'80). Those carrying his own name are rare indeed. David told me he only built nine boxlocks and they were all identical in style. They were engraved by Walter Howe, who worked at Webley & Scott in Birmingham but engraved guns for Boss, who would send them to him from London.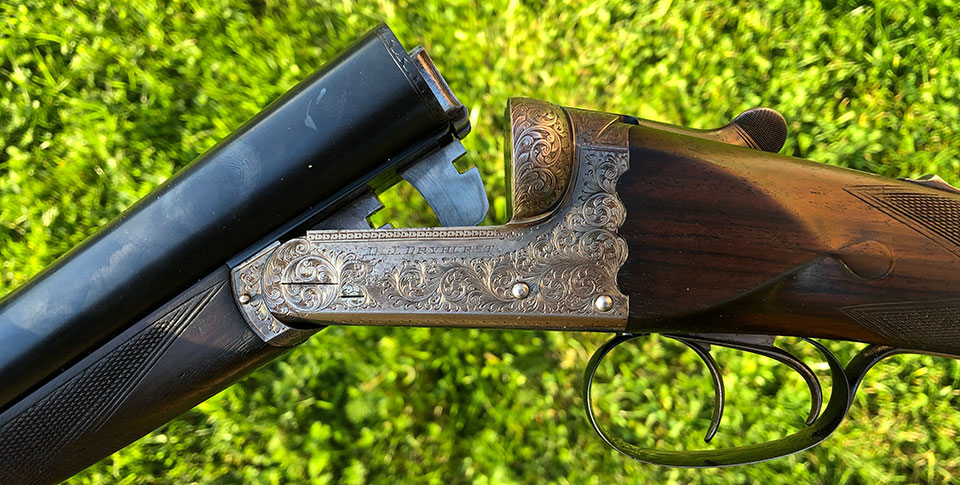 All these Dryhurst boxlocks were made between 1964 and 1968 and are perhaps so scarce because David never really wanted to make guns under his own name. He told me "As an individual, you can only make perhaps 100 or 130 guns in your lifetime and it doesn't mean anything, I'd always preferred contribute to the output of a big maker".
The guns that arrived here for servicing had clearly been well-used and were loose. David remembered that the first gun was ordered singly and the buyer came back later and asked for a second to compose the pair but, by then, the next two serial numbers had been taken, so this pair numbers 1033 and 1037.
The chequer was worn and the stocks had most of their finish replaced with the dents and scratches of many seasons in the field. The guns had clearly been ordered by a man who intended to shoot them a lot. They were now in the hands of his son and were expected to take on the shooting career of another generation, at least.
The guns themselves are fine quality boxlocks with fancy backs and all the modern norms...
The guns themselves are fine quality boxlocks with fancy backs and all the modern norms of top-lever, Southgate ejectors, pretty engraving and well-figured wood. The build quality is several steps up from the average boxlock and five decades of hard use seem to have done them no more harm than a bit of routine maintenance sorted out. Someone in the past had put some spay weld on the bolts as a cheap repair but, otherwise, they were in good condition.
The gun trade in Britain has always been an interconnected matrix of skilled men and famous names, working with, and for, one another. Many of the identities of our finest gunmakers have been lost to history; their work anonymously admired on the guns of their famous employers.
Occasionally, we get to see their work on a gun bearing their own name. Modest as David Dryhurst is and content that his work is represented on Greeners and other fine guns with proud pedigrees, I'm pleased there are some examples of his work that will carry his name unmistakably into history as 'David Dryhurst' guns.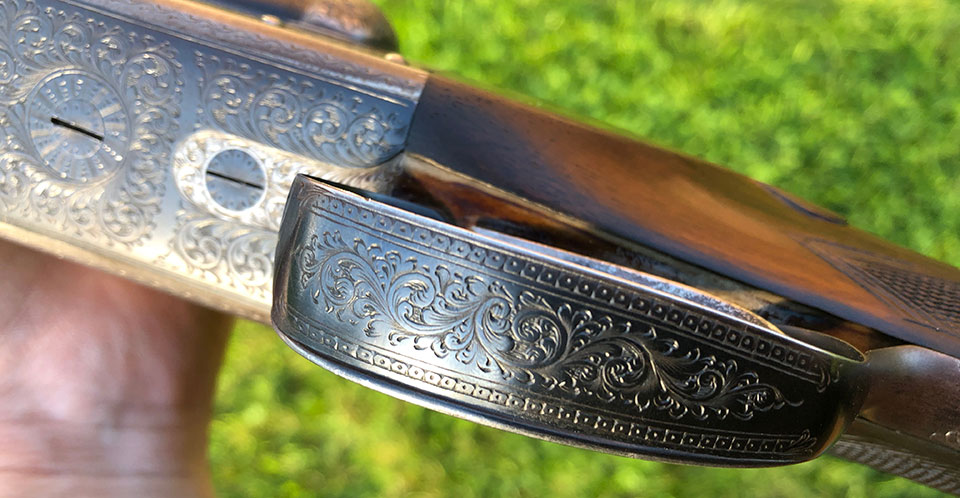 Published by Vintage Guns Ltd on