Heading to the Game Fair at Hatfield House this year, I couldn't help but think the trade, the sport and the discourse in political circles is as depressed as I can recall.

Shooting faces relentless attack and is fighting on multiple fronts. Mark Avery and Chris Packham have announced their crowd-funded campaign to regulate game bird rearing and release out of existence. Packham was due to feature at the Game Fair but was dis-invited at the last minute. An event he made the most of in the media.

The issue of lead shot and its removal from the ammunition we use is on-going. Concerted media attention is being placed on anti-hunting initiatives, variously championed by the likes of Piers Morgan, Sir Ranulph Feinnes and Kevin Petersen.
The announcement came during the Game Fair that Waitrose would not stock game that was shot with lead and the discredited Lead Ammunition Group was cited as a key 'expert' in the decision.
The NEC has banned sporting outfitters offering overseas sport hunting packages from the Shooting show and faced calls to revoke its free-entry policy to under sixteens from hysterical talking heads falsely claiming that knife and gun crime is likely to be exacerbated by introducing children to responsible ownership and healthy outdoor sports.
Shot game birds are still under-valued as a resource and until they are better prepared and more reliably collected and processed for the food chain, we will continue to face challenges to the legitimacy of shooting them.
Vermin control has been successfully stopped already this year, for several weeks, by the actions of Packham, Avery and their urban-based crowd funders. The General Licences may have been restored, but the opposition is not going away.
Meanwhile, gun dealers are crying into their beer at the slowness of trade this quarter. Very little of quality is selling and what is moving is the very cheap end of the Turkish shotgun range.
Sporting agents report slow sales and plenty of available pegs for the coming season. Many regular teams are down-sizing their days or reducing the number of days they take.
Amidst all this negativity, it is with an embattled spirit that the various interest groups that form the 'shooting community' gather in Hertfordshire to convene, swap notes, do business and enjoy some good food, interesting talks, lively competitions and exhibits of everything from guns to dogs to falcons and knife-making. Since its re-invention after the CLA-backed event collapsed, it has again started to become recognisable as the annual showcase for our sports and businesses.
There are some changes that I hope will prove positive. The Gun Trade Association has a new leader in Simon West, who has re-vamped the GTA presence, including a theatre stage that will had talks and demonstrations for the public,. These included speakers like Bill Blacker, Gavin Gardiner and Diggory Hadoke.
Diggory gave a talk: 'Customising Vintage Guns' on Friday and Saturday morning. Attendance was good and the audience had a lot of questions and ideas to discuss afterwards.
Events like the Game Fair are an important part of what helps harmonise our interests and relationships, with networking and strategising done over a cigar or a pint of cider on the camp-sites after hours. It can get messy - images of a worse-for-wear, Nick Holt in his pants, staggering out of the lorry behind the his stand, after a sociable evening, one Saturday morning will haunt many of us for years to come!
The weather this year was not especially kind, with rain on all three days, but it was not the mud bath of two years ago. Some dealers seemed to sell guns in numbers that made them happy, others were slower.
I enjoyed the show and it is the one event in the year that the trade and enthusiasts get together to swap notes and do a bit of business. Long may it continue.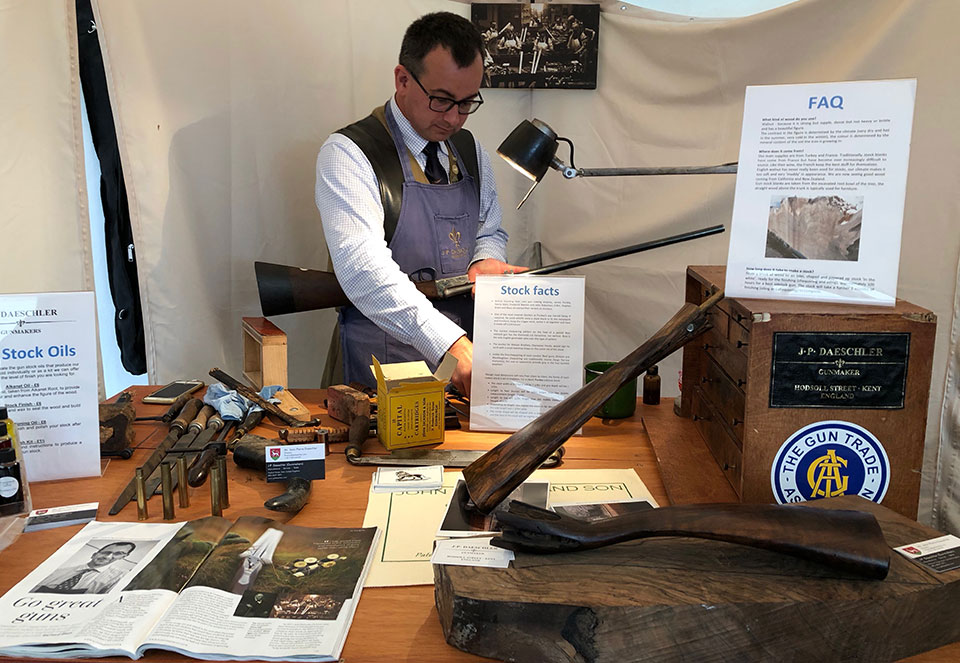 Published by Vintage Guns Ltd on