Guy N. Smith came to see me last year and brought me a copy of his latest book.
Unlike the popular fiction he wrote so successfully for a living, it was a history of the Midland Gun Company. Guy had a small collection of shoguns made by the firm and was a rare enthusiast for a company that was mostly concerned with mid-to-lower grade output.
Guy N. Smith was born in 1939 into a middle class family. His father was a bank manager and his mother was a writer. He took after his mother in having a creative streak but followed his father's instructions and went into banking, which was seen as a good safe job.
He first wrote for the sporting press in 1963 and went on to write for many of the county's best loved titles, like Shooting Times and The Countryman's Weekly, which he edited for sixteen years.
He began his fascination with The Midland Gun Company in 1957 when his father took him to the Bath Street factory to buy a gun. He later had one built to order for himself. In 2016 he acquired the rights to the company name.
Guy made his name and his money writing fiction, of which he published over one hundred works. He specialised in horrror. I well remember reading Night of the Crabs when I was twelve years old (it was probably unsuitable) and then his well observed (and locally set on the Black Hills) werewolf series.
Guy ran his own publishing house, Black Hill Books, and appears to have quietly succeeded in everything he tried. The film rights to Night of the Crabs enabled him to quit his banking job in the late 1970s and buy a house near Clun, in Shropshire's wildest nether regions.
I remember first meeting Guy at the Game Fair in the early 2000s and being a little in awe at meeting a proper writer! I was equally saddened to hear of his death in Shrewsbury at the age of 81, having contracted the Coronavirus. I shall re-read his Midland Gun Company: A Short History this week and remember him fondly.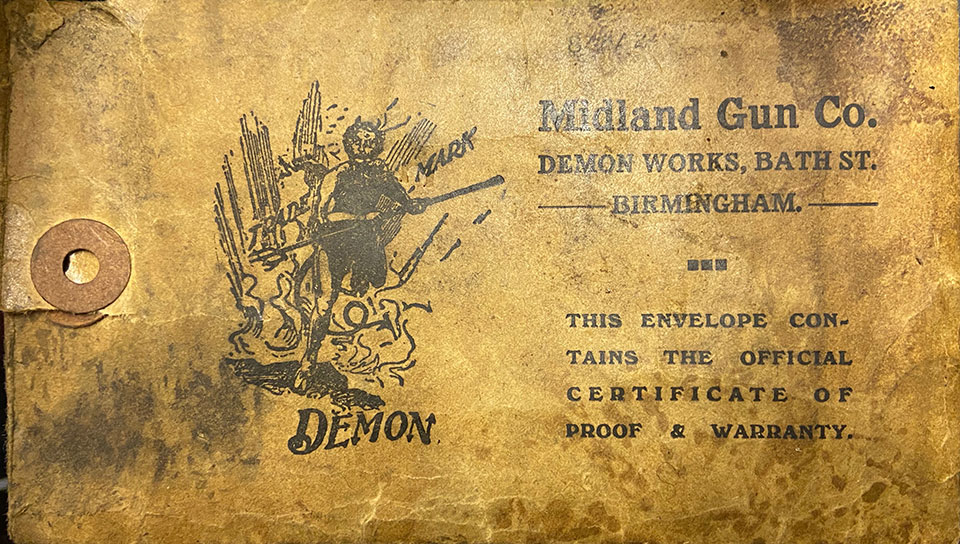 Published by Vintage Guns Ltd on