We all know Holland & Holland. The firm came into being in when Henry Holland joined his uncle in 1876. Prior to that, Harris Holland had traded as 'H. Holland'.
His first label indicates him trading from 9, King Street, Holborn. He was there from 1846-1857.
The label we have here is much later, showing the 98 New Bond Street address.This is the last of the labels H. Holland used before partnering with his nephew.
The name and address on the label here was in use from 1858 until 1875. However, this was not the only label used in this period. I am aware of at least two other labels bearing the 98 New Bond Street address.
This one would appear to date from between the two, so we could call it 'mid-period', giving us a date range of around 1865-1870.
A later, similar, label advertises conversions from muzzle loader to breech-loader and from pin-fire to centre-fire. Since this one does not, we can assume the pin-fire was still (just) relevant at this time.
The label is black ink on white paper.
The claim to be a 'manufacturer is not totally accurate as Harris Holland was having his guns built in the trade, rather than having a factory of his own. That changed in 1893, with the building of the factory at 527 Harrow Road.
The type of H. Holland gun that would be suited to matching with this label would be any late pin-fire gun, early centre-fire hammer gun or rifle. It is too early to use convincingly with hammerless guns.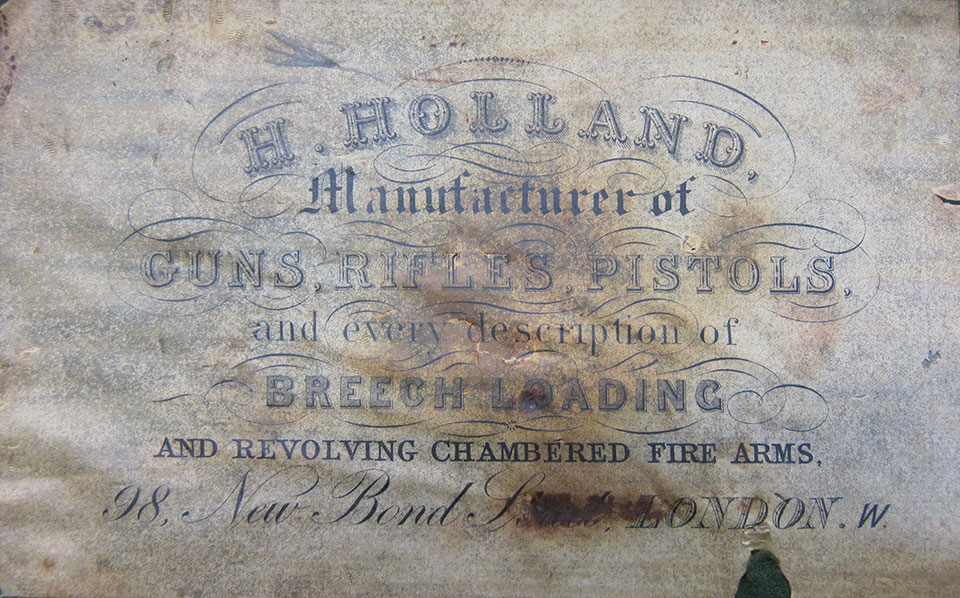 Published by Vintage Guns Ltd on