Alex Henry was a giant of rifle development in mid-Victorian Britain.
When one of his smallest iterations of a classic design appeared in a recent auction, I had to spend a little time there to appreciate what a fine thing it is.
I have written about Henry's patent No.1071 of 1865 before. It was one of the very best early breech-loaders and is as robust and practical now as the day it was made.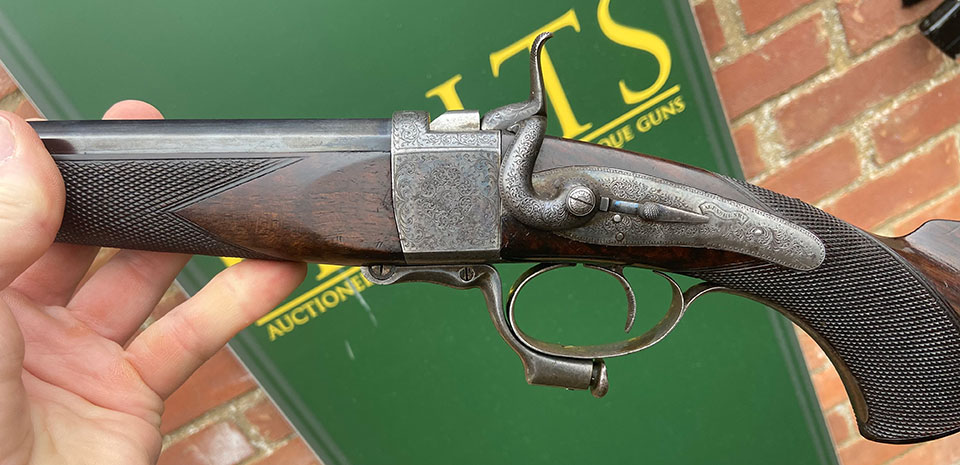 This example; serial number 2905, was made in 1873 as a second quality model in .360 (2 1/4") Black Powder Express.
It is often described as a rook rifle but .360 was a round capable of dispatching roe deer or small antelope. Sighted to 200 yards, this would have been a very capable little rifle in its day.
It has three patent stamps on it:
Patent No.2104, engraved on the barrel
Henry Patent Rifling use number 137, also on the barrel.
Patent No.815, engraved on the breech.
These patent use numbers likely refer to the 1865 patent action, the 1869 patent extractor and the Henry patent rifling.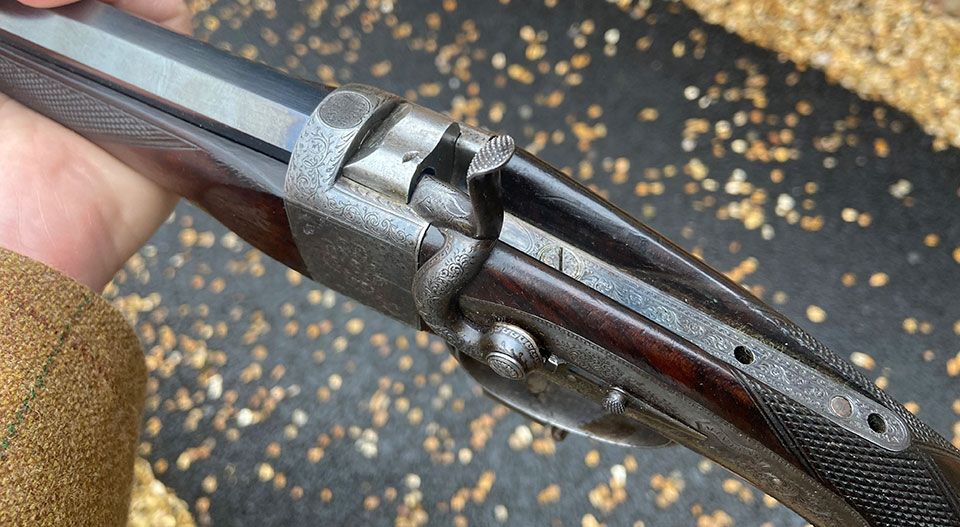 It has a left hand lock, allowing for ease of loading for a right handed shooter. This is something Henry considered desirable and he had been making rifles this way since 1867.
The most common Henry rifles of this type are in .450 (3 1/4") Express but Henry produced four scaled actions to allow for the use of very large or very small cartridges, as well as for the more common medium game rounds. He named these 'small', 'standard', 'large' and 'massive'. The smallest cartridge was the .256 Mannlicher and the largest 12-bore.
Henry did, at one time, hope that he would land a military contract for this rifle and supplied some 2,500 to Australia in the 1870s. However, the British Army selected the Martini action (with Henry's rifling) for service use and the 1865 Henry never really made it as a military rifle.
The rifling, of course is also a Henry patent. In 1860, Alex Henry seven-groove rifling improved upon the Whitworth type and delivered greater accuracy, while being easier to load in a breech-loader. The .360 was the smallest calibre for which Henry rifling was employed.
number 2905, as a 'second' quality rifle, is still very nicely made
The 1865 patent action, however, continued to find favour as a sporting rifle and it was available in four qualities, from 'plain' through 'third', then 'second', to 'best'. It had a long production run: the first leaving the workshop in 1865 and the last in 1910. It was silent to operate, accurate, beautiful, hard-wearing and easy to use.
It only fell out of favour when magazine rifles, like the 1898 Mauser, and smokeless rifle powders (principally Cordite) hastened the introduction of cheaper, light, fast, powerful multi-shot rifles onto the market.
Henry number 2905, as a 'second' quality rifle, is still very nicely made and probably only differs from 'best' in engraving. I would still rate the engraving on this one as very well executed and profuse.
Certainly, the stocking is very well done and the finishing high-quality. The pistol-hand stock, with horn grip-cap is elegant and the rifle sits nice and steady in the hand when brought up to the eye.
Originally, it had a peep sight mounted on the back strap but this has been removed, leaving the mounting holes visible. Some clumsy gun-smithing has left pin and screw slots mis-aligned but these are not significant issues.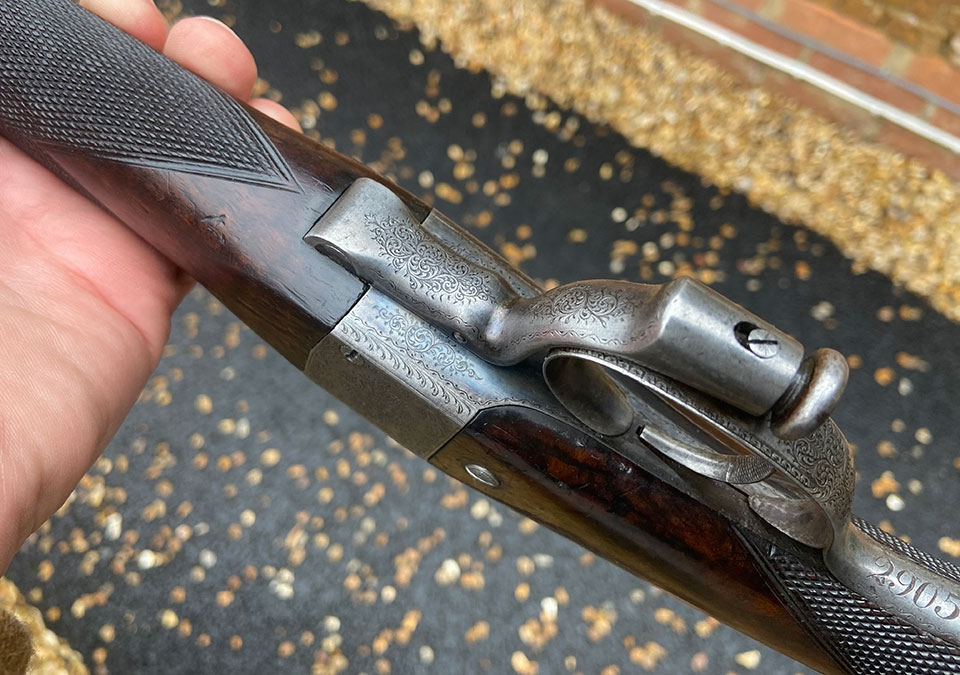 Pleasingly, it retains the original oak and leather case, in which it lies full-length, surrounded by numerous accessories and tools.
The rifle has an octagonal barrel, which suits it and, I think, makes it look and balance better. This is not as commonly encountered as the standard, round barrel, profile.
The market for interesting rifles, today, is strong. This one, like many of its age, is chambered for what the law considers an 'obsolete' round under Section 58 of the current Firearms Act.
they are trouble-free to collect and they can be displayed openly
Not only are these old rifles beautiful, ingenious and historically interesting, they are trouble-free to collect and they can be displayed openly without the need to lock them away in a safe.
That demand leads to rising prices, in what is generally a deflated market. Holt's had this estimated at £3,000-£5,000, which I thought was sensible.
However, I was not at all surprised to see the bidding take it well beyond the reserve, then past the high estimate, to eventually land on an impressive £7,000 hammer price, to which, the buyer had to add commission and tax of around 30%.
Nick Holt caught me admiring it when I visited their Norfolk viewing room, near Sandringham."Where are you going to find another?" he asked. Where indeed?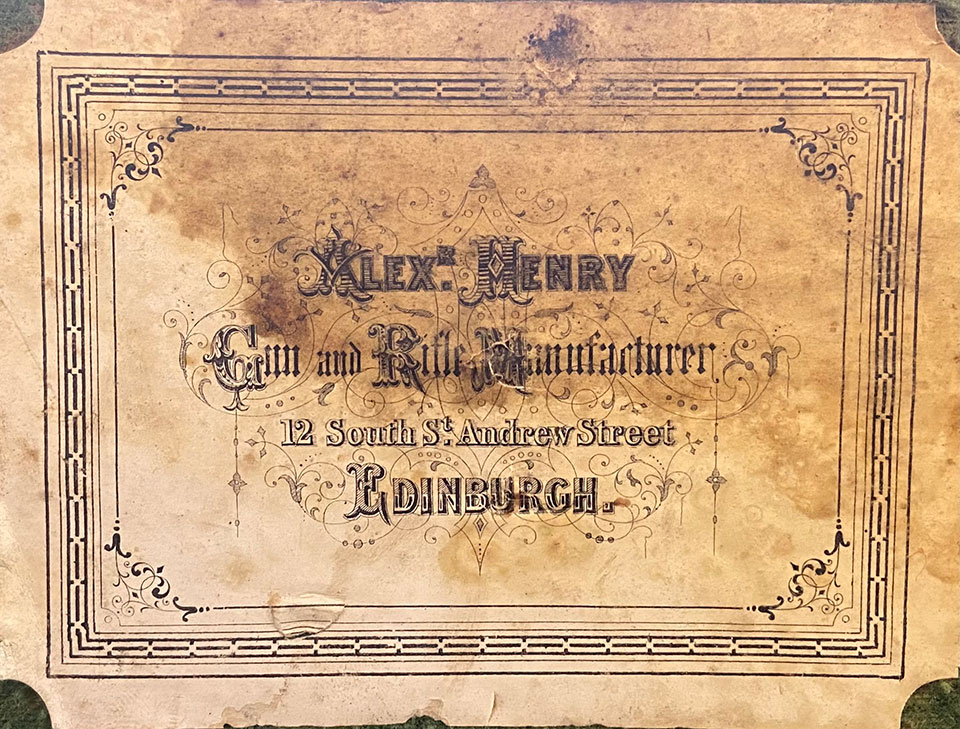 Published by Vintage Guns Ltd on