Readers will probably be familiar with Cogswell & Harrison. B. Cogswell was co-founder Benjemin Cogswell and this paper and ink trade label stems from before the formation of Cogswell & Harrison.
Benjamin Cogswell was in business as a pawnbroker before he got into the gun trade. He apparently took in a lot of guns, pawned to pay gambling debts.
He opened his premesis at 224 The Strand in 1842 and appears to have been involved in secondhand guns then. It is not until 1857 that we see him claiming to be a gunmaker.
In 1863 Benjamin Cogswell goes into partnership with Edgar Harrison to form Cogswell & Harrison, at the same 224 The Strand address.
Cogswell's pistols were well regarded and this label bears the Royal Warrant of the monarch. It is from that short period between 1857 and 1863, when Cogswell claimed to be a gunmaker but had yet to link with Harrison to form a new company.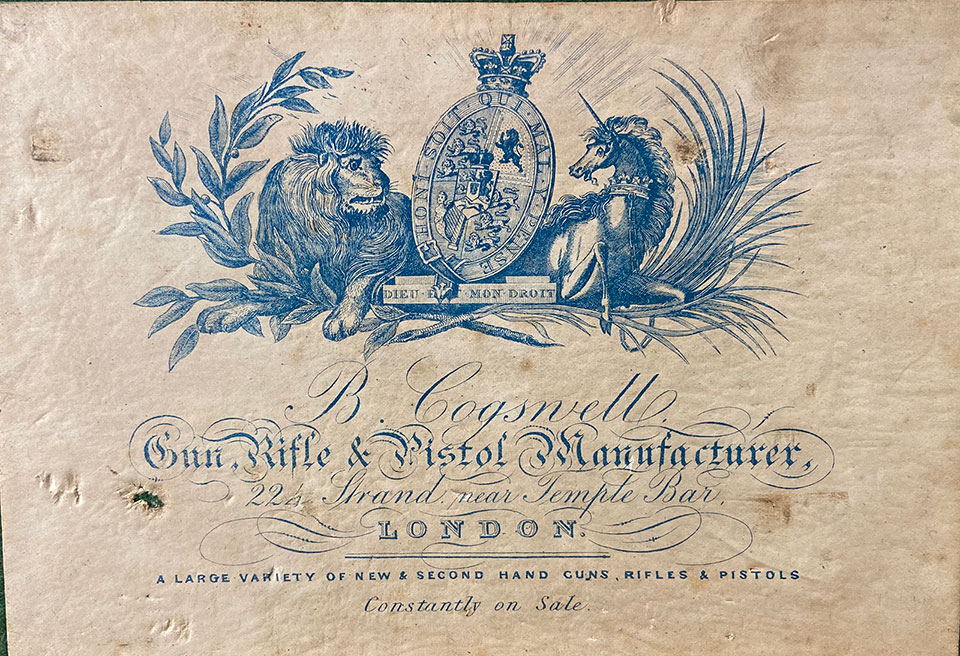 Published by Vintage Guns Ltd on