The origins of the cartridge are somewhat contested. However, this punchier version of Austria's finest bolt-rifle gained popularity in Africa with British colonists before the second World War.
In England, we called it the Westley Richards .375 Rimless Nitro Express and rifles proof tested in this country were stamped '.375 Ex'.
It may have been created in 1908 by Westley Richards and made by Eley. Finding and confirming a British-made rifle chambered for this cartridge which precedes 1910 would cement this theory but until then, we have to consider it possible that it originated with Steyr in Austria.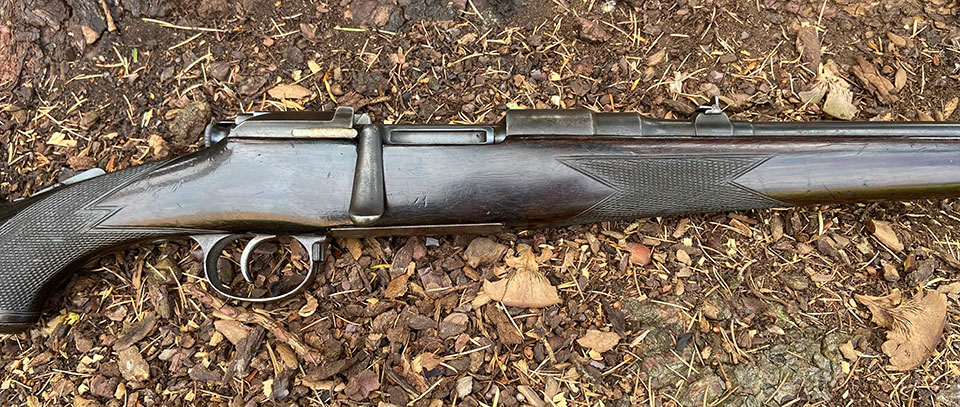 Preceding this, Holland & Holland had made rifles in London on bought-in actions, from Oestereichischer Waffenfabrik-Gessellschaft, Steyr, in their own chambering of .400/375 Belted Nitro Express. These first appeared in 1905.
The Mannlicher Schoenauer had originally found favour in Britain as a rimmed 6.5x53 and later as the famous 6.5x54 Mannlicher Schoenauer. This was a remarkably powerful and effective cartridge for time but the potential to build the beautifully engineered and smooth-acting MS bolt and rotary magazine into rifles chambered for more powerful cartridges was immediately attractive.

Westley Richards was certainly the first British manufacturer to promote the new, bigger version of the original 1903 Austrian classic. John Taylor was not fulsome in his praise for the round, saying 'it was popular with amateurs and occasional hunters. I cannot recommend it, and have nothing more to say about it".
We must, however, remember that Taylor's principal concern was elephant hunting and the '.375 Rimless Westley Richards' as he called it, suffered because 'penetration was none too good'.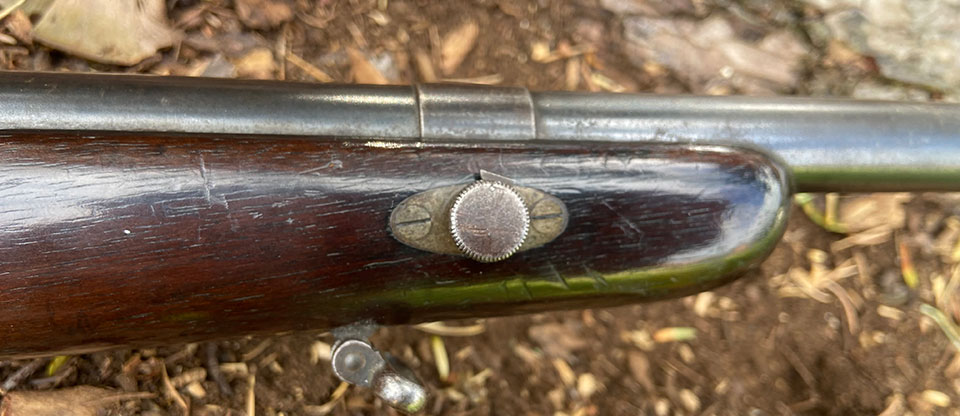 In its original guise, these bottle-neck cartridges were loaded with 45 grains of Cordite, a 270 grain bullet, a muzzle velocity of 2,250 fps and muzzle energy of 3,030 ft/lbs. The pressure generated in the chamber was 17 tons per square inch.
These figures are not always those quoted; different catalogues vary slightly in claimed performance but they are a good guide. One disparity is the tendency for Westley Richards loads to specify 43 grains of Cordite, while continental ones appear to favour 45 grains.
The Westley Richards nomenclature did not survive into modernity. Most people know the cartridge as as the 9.5mm Mannlicher Schoenauer or the 9.5x57. It is often encountered in rifles made and sold by Steyr, not just those sold by Westley Richards.

Notwithstanding John Taylor's dismissal of its prowess in the field, the 9.5x57 became quite popular for inclusion in a battery headed for Africa or India.
The light, fast-pointing, shotgun-like handling of these light MS rifles with German silver front sight and big 'V' back sight were effective for close quarter encounters and much cheaper than double rifles. It gained a fair reputation as an ideal lion hunting rifle.
The arrival of the more powerful .375 Holland & Holland Magnum in 1912 rather sidelined the 9.5x57 and it never gained the widespread popularity of that cartridge, nor indeed that of its own smaller cousin, the 6.5x54.
This is reflected in the appearance of the Model 1910 on the vintage market. It is far less frequently encountered than the Model 1903.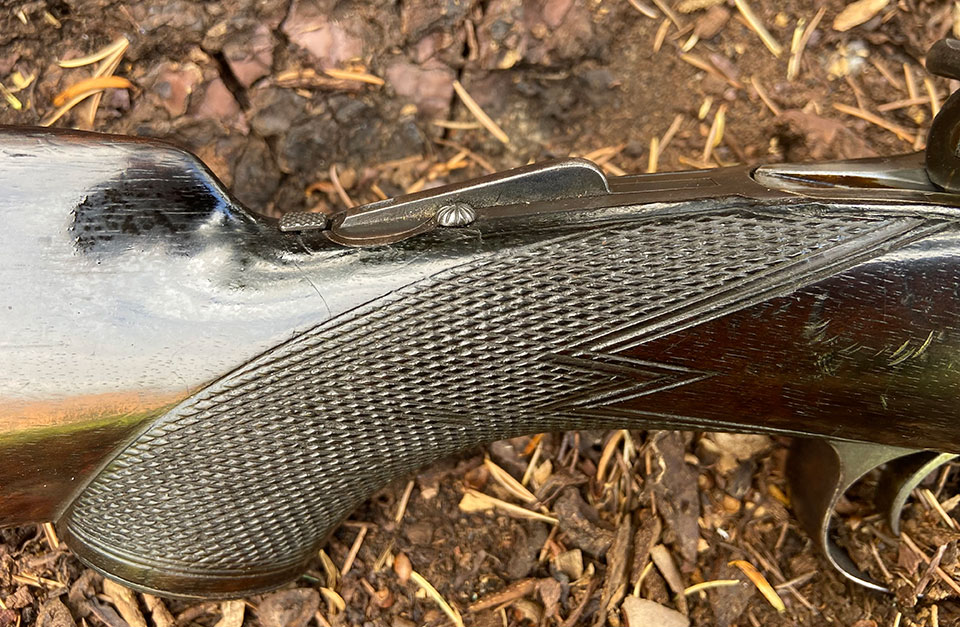 Although in use in Africa into the 1950s, commercially loaded ammunition was discontinued shortly after World War Two and it was considered obsolete thereafter.
Kynoch began loading this round in recent times and home-loading enthusiasts can still make up their own with commercially available .375 bullets of around 270 grains and re-formed brass from the 9.3x57.
In the 1930s cartridges cost £1.3s.0d for one hundred solids, a little more for softs.

The rifle pictured here is marked "Cogswell & Harrison Ltd, 168 Piccadilly & 225 Strand, London' on the barrel, denoting the seller, while the action is stamped 'Oesterr.Waffenfabr-Ge.Steyr.' On the bridge, 'Patent Mannlicher Schoenauer M1910' is engraved.
The serial number 5374 is stamped on the barrel and it has London proof marks for Cordite 43 grains and a 270 grain bullet.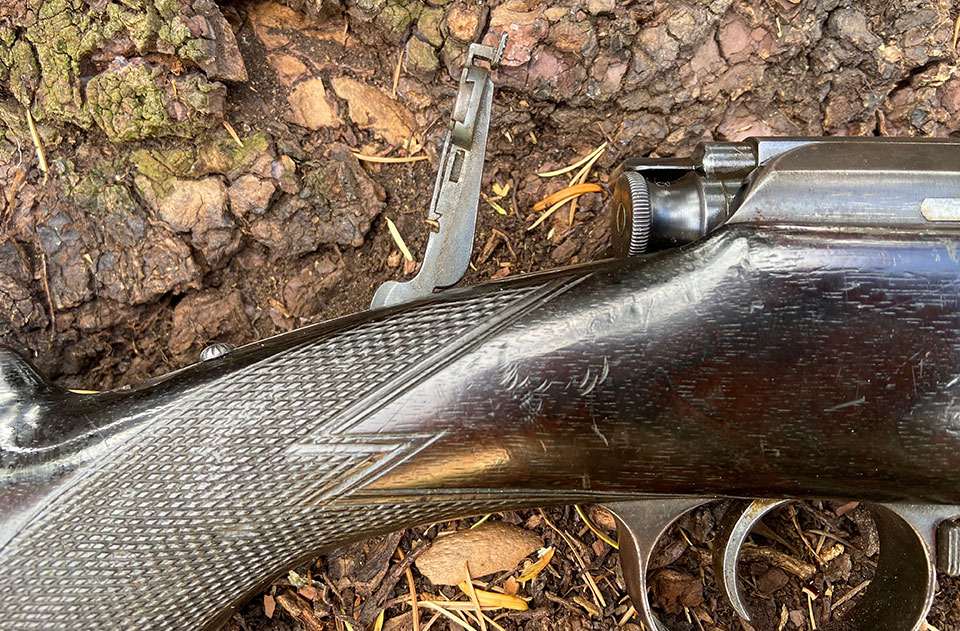 It came from a Herefordshire farmer who had used it for 'shooting cows' until he ran out of old ammunition. I assume this was for animal welfare reasons rather than sport!
This is a half-stocked version, not a stutzen, and it has a clever 'take-down' feature that enables the stock to be removed without the need for tools that the rifle can be carried in a case of only 34" in length, rather than a full-length, 47" rifle case fully assembled. This was very handy for foreign travel.
To remove the stock, first remove the bolt, then insert a pencil into the front hole in the magazine floor plate, turn the plate to the side and remove the magazine. Then, release the spring-clip holding the fore-end to the loop and pullout the side-nail. The entire barrel and action then lifts out.
Westley Richards versions of the MS rifle have a different take-down system, as they made the rifles in-house from bought-in actions, as per Holland & Holland. Other 'makers' appear to have merely bought-in rifles from Steyr and had their own name stamped or engraved on the barrel.
As for original cost, a 1939 American catalogue shows the Model 1910 at $140, while in Britain, Westley Richards charged £25 for standard or £30 for best quality versions in their 1937 catalogue.
The rifle has lots of clever little details, showing how well thought-out it was and what attention to detail the makers applied. The horn grip-cap is sprung loaded and when activated, swings open to reveal a spare sight blade.
The steel butt plate incorporates a trap, which opens to reveal a steel cleaning rod, in sections, which screw together, and two extra rounds for emergencies.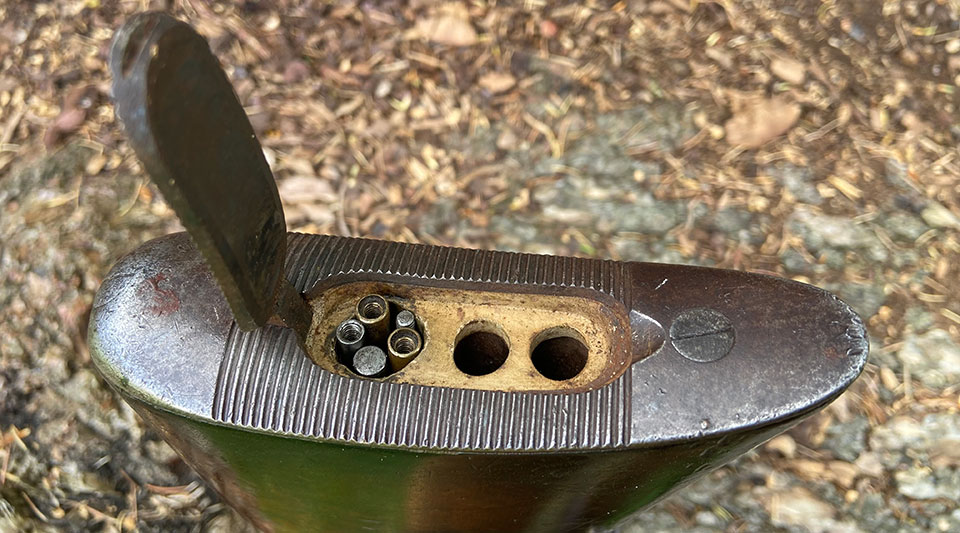 Sling swivels are securely attached to butt and fore-end. The 'V' rear sight is assumed sufficient for most ranges but a flip-up second leaf is marked '300' for longer shots, though the forte of this rifle and cartridge would be in sub-one-hundred-yard situations.
The Model 1910 weights 7lbs 4 3/4oz, which is rather light for a .375 calibre rifle but it was intended for ease of carriage and speed of mounting, with occasional shots, rather than for shooting a high number of cartridges over a short space of time.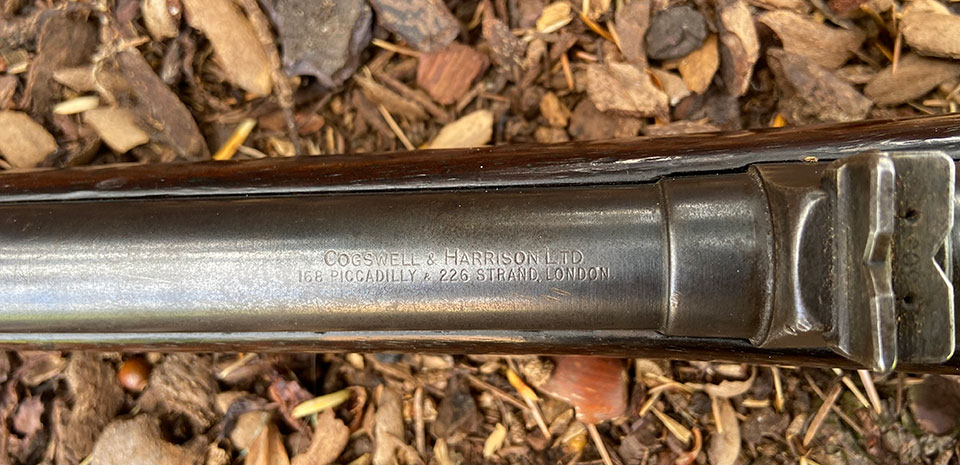 Searching for the necessary bits and pieces to develop effective loads for this rifle will prove hard work. It is not listed as an obsolete calibre for some reason. It probably should be.
These rifles do attract a dedicated following even though providing ammunition is a challenge today. Home-loading can be done if the time and effort necesary to compile the equipment and experiment with the most effective loads is invested.
What fans of the Mannlicher-Schoenauer rifles made before the second World War appreciate is the absolute quality of engineering that was applied in their manufacture.
They can be bought for modest sums and form the basis of an interesting and affordable collection, one that is usable and just difficult enough to own and use that most casual shooters and collectors will shy away from.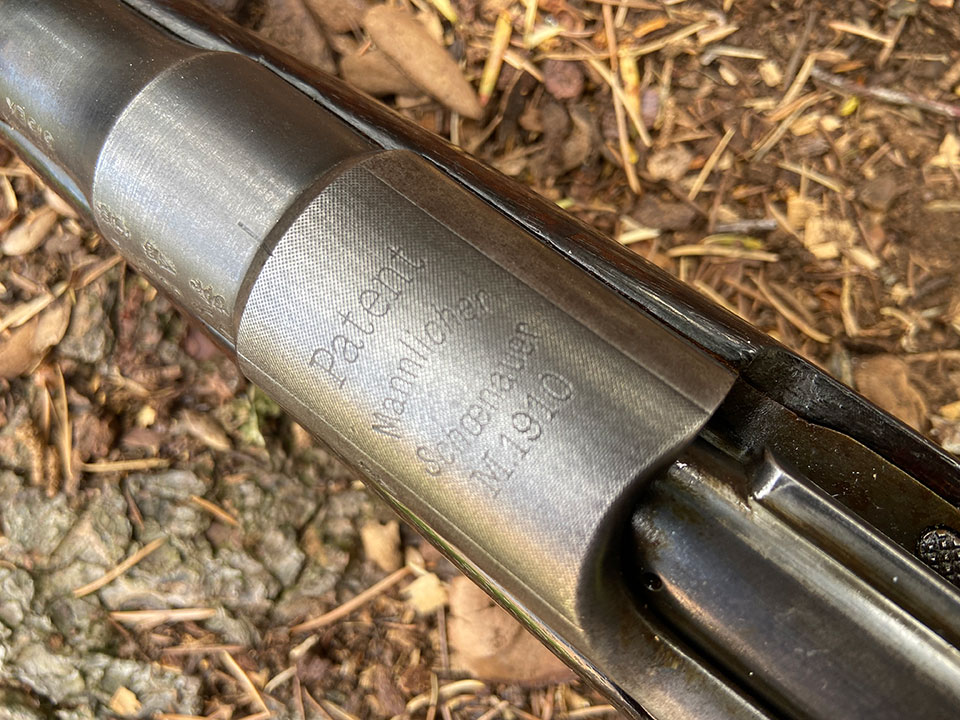 It is an interesting fact that Daniel Fraser (part of the Dickson & MacNaughton group of companies) has resumed building best quality rifles in Scotland using recycled vintage Mannlicher-Schoenauer actions. Long may they continue to be appreciated.
Published by Vintage Guns Ltd on (modified )