Gamebore announced today the release of two new cartridges. A lead game load and a steel game load, both using new wad technology.
The company, whose Regal game loads are a favourite with users of traditional 2 1/2" chambered game guns who want a premium game cartridge, announced:
'As the leading UK manufacturer of shotgun cartridges, Gamebore pride ourselves on being at the forefront of quality and innovation. This is demonstrated with our products such as Black Gold™, components like Diamond Shot™, cutting-edge ballistics and innovative powders as well as breakthroughs like the launch of the first biodegradable Fibre Shot Cup wad for use with steel back in 2003.
Our passion for developing technology and products for shooters remains front and centre in all that we do, not just for today, but to protect and improve the future of our sport. With this in mind, in 2018 we began investigating new materials and technology to meet the challenges facing the industry in the years ahead.
The Quad Seal is the future in game cartridges, environmentally-friendly but with increased killing power and with reduced recoil. . Dave Carrie
Extensive work began on developing a wad which would provide the best gas seal available in both a fibre load and a full cup design.
Alongside this program, Gamebore worked closely with leading specialists in environmentally friendly approved materials. The aim was to develop wads which offered not only much better performance but would also meet the high environmental standards we all face going forward.
After vast research and testing, we began working with a material which has the strength to be used in high-performance loads, is 100% environmentally safe and is entirely stable in normal storage conditions. The culmination of this work are two new and exclusive products which we are bringing to the market for the 2020 game season. Both utilise our unique technology and groundbreaking new material.
At the heart of these new products is the new Quad Seal™ system, a revolutionary and exclusive design which offers enormous advantages over previous wad designs. Extensively tested during development, including in the field by leading game shooters George Digweed MBE, Simon Ward and Dave Carrie, the results were simply outstanding.
The Quad Seal has finally made an environmentally friendly wad perform as well as a plastic wad, if not better. George Digweed MBE
12G Gamebore Dark Storm™ with Quad Seal™ (Diamond Shot™)
The Quad Seal™ is patented technology and is manufactured in-house at Gamebore. Quad Seal™ is pioneering in having four sealing rings which provide an outstanding gas seal. This far exceeds that of even a premium plastic wad and is also beneficial when used in overbored
barrels. The Quad Seal™ sits behind a fibre wad replacing the traditional over powder card. This gives extraordinary ballistic consistency far exceeding other wads available today. Quad Seal™ also gives significantly increased downrange energy and knockdown power due to minimal gas leakage down the barrel. Recoil is vastly reduced compared with standard fibre wadded cartridges coupled with improved ballistic consistency even over premium plastic wads.
Without doubt, Gamebore's New Quad Seal System are the Best Game Cartridges, I have ever used! Simon Ward
Quad Seal™ is 100% environmentally safe and will break down naturally in the environment within a shooting season. Using our exclusive F2 and M92S powder ranges for blistering but smooth performance and Gamebore's legendary Diamond Shot™, this is a considerable leap in cartridge technology and makes Dark Storm™ with Quad Seal™ simply the best game cartridge available.
The new cartridge is available in late July 2020. It comes in 28, 30, 32, 34 and 36g loads with a range of shot sizes to suit the loads including 4, 5 and 6.
12G Gamebore Dark Storm™ Precision Steel with Bio-Wad™
Building on the Quad Seal™ design, this is a new full cup wad utilising the same cutting-edge material which is 100% environmentally safe. It incorporates all the benefits of the Quad Seal™ with the addition of a new and unique cup section. The Bio-Wad™ has petals with newly designed unique 45 degree overlapping edges, giving complete barrel protection. Manufactured in-house by Gamebore, the new Bio-Wad™ is specifically designed for steel shot.
The high strength of the Bio-Wad™ means we can load not only standard steel loads but also high-performance steel cartridges for guns with the appropriate Fleur de Lys proof marks. The new cartridge is loaded using our exclusive Alliant US double-base powder which gives outstanding downrange energy and all-weather performance that cannot be duplicated using single-base propellants. Loaded with precision steel shot in 3,4 and 5 this new product will be available to order inlate August.
This significant advancement in cartridge design and technology demonstrates our commitment to providing shooters with the latest innovation incorporated within the highest quality ammunition available.'


Dark Storm in Vintage Guns. Our experience is that that the older Dark Storm cartridge, whilst clearly a premium product, was too 'punchy' for long-term use in standard British game guns, even when they have chambers lengthened to 2 3/4" (70mm). With average weights of 6 1/2lbs to 6 3/4 lbs, our guns are typically lighter than the modern 70mm chambered over & under and the weight reduction comes with a penalty in felt recoul. Vintage Guns Ltd has always recommended Regal as a better option for our clients, regardless of chamber length.
However, the new Dark Storm loads (which rerquire 70mm chambers) offer a useful option for shooters using heavier vintage guns, with original 2 3/4" chambers, such as those made for wildfowling and live pigeon shooting. In a 7 1/2 lb to 8 1/2 lb gun, the weight approximates modern over & under guns and should absorb some of the recoil. With chokes of HALF or less, the Precision Steel with Bio-wad load in No.4 shot will be an interesting and promising option for the vantage gun using wildfowler.
For high pheasants the same load will provide a more affordable alternative to bismuth, should lead become unavailable in the future. The removal of plastic from the load is timely and welcome, boosting shooting's credentials as an environmentally responsible sport.
It is heartening to see our British ammunition companies leading the response to demands for less polluting, more environmentally friendly products. The feedback already received from some of our leading shooters suggests that there is not even going to be a performance reduction price to pay for cleaning up our act. Well done Gamebore. We look forward to trying the new loads in the field.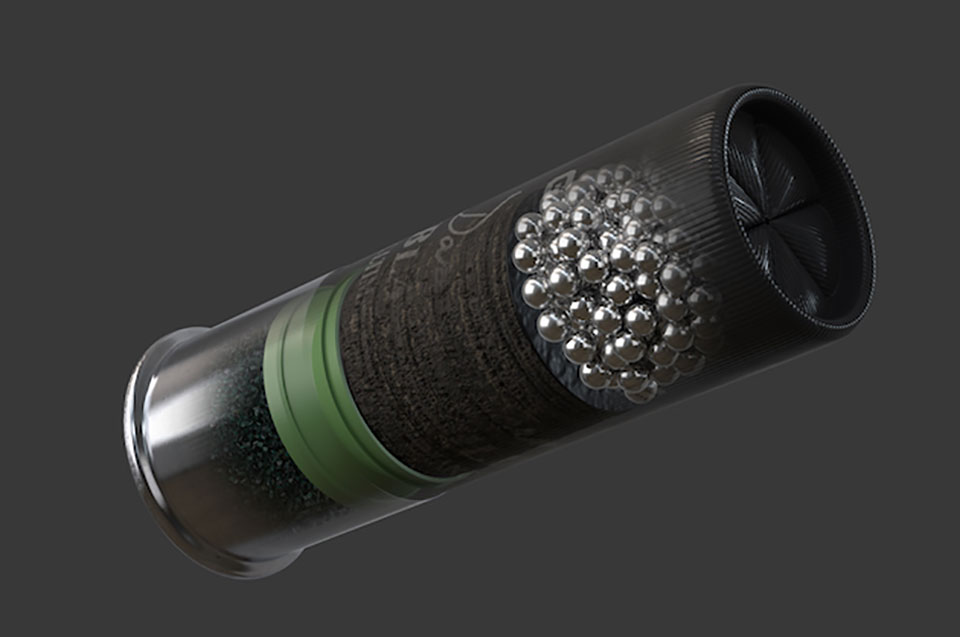 Published by Vintage Guns Ltd on (modified )