The pin-fire system, patented in 1833 by the Parisian gunmaker Casimir Lefaucheux, was revolutionary in that it comprised a self-contained cartridge combining powder, shot, and detonator, and was loaded from the breech into a hinge-action gun. This was altogether very different from the muzzle-loading guns of the period, loaded with loose powder and shot, and ignited with an external copper cap.
A single-barrelled Lefaucheux pin-fire gun was exhibited at the Great Exhibition of 1851 at London's Crystal Palace, and it was sufficiently noteworthy to have merited a prominent illustration in the July 1851 supplement of The London Illustrated News. Around 1853 the London gunmaker Joseph Lang offered a British-designed double-barrelled pin-fire sporting gun for sale to the shooting public, and other London gunmakers such as John Blanch and Edward Michael Reilly followed suit, presenting their own versions of Lang's forward-underlever breech-loading design. Possibly inspired by the work of the Parisian and St Etienne gunmaker Beatus Beringer (Blanch obtained one of his pin-fire guns for study in 1855), rear-facing levers eventually began to appear, in a configuration which became known as the lever-over-guard.

The barrels of the earliest British pin-fires were fixed to the action via an interrupted screw acting on a single bite on the barrel lump. The Birmingham inventor Henry Jones strengthened and refined the design by adding a second bite, and obtained a patent for his double screw grip underlever action in 1859. In 1862 the Jones patent lapsed, and gunmakers could build guns on his design without paying royalty fees. By the early 1860s more and more British gunmakers were building pin-fire breech-loading sporting guns, though total numbers for any maker were small, fewer than 100 guns per year.
The centre-fire shotgun cartridge had started to appear by this time and its popularity outgrew that of the pin-fire in the course of the decade, so that by 1870 few pin-fires were being built in favour of the centre-fire system. Many pin-fire guns were converted to the newer centre-fire system, and others were discarded through the decades, often after many seasons of hard use. To the modern collector, finding any British pin-fire in its original configuration is worthy of celebration.
The typical pin-fire game gun of the day was a double-barrelled 12-bore with back-action or bar locks, sporting 'hare's ears' hammers. Though quite ingenious snap-actions were developed over time, the double screw grip remained popular and is today the most frequently encountered action on surviving pin-fire game guns. While single-barrelled percussion-cap guns had been commonly made, and later single-barrelled centrefire guns filled the market for cheaper utility guns, very few single-barrelled pin-fire guns were built. The first double-barrelled pin-fire breech-loaders were fashioned in search of clients, as the shooting public were not yet familiar with them.
Demand would have been low at first, gradually increasing as the more adventurous shots were won over by the benefits of breech-loading. Singles, on the other hand, were very much a special-order item. How special? The London firm of Boss & Co. made 735 pin-fire guns between 1858 and 1871, of which only three were singles. The Edinburgh firm of John Dickson & Son made 460 pin-fire guns between 1859 and 1875, but of these, only 10 were singles. Let's have a closer look at two surviving examples.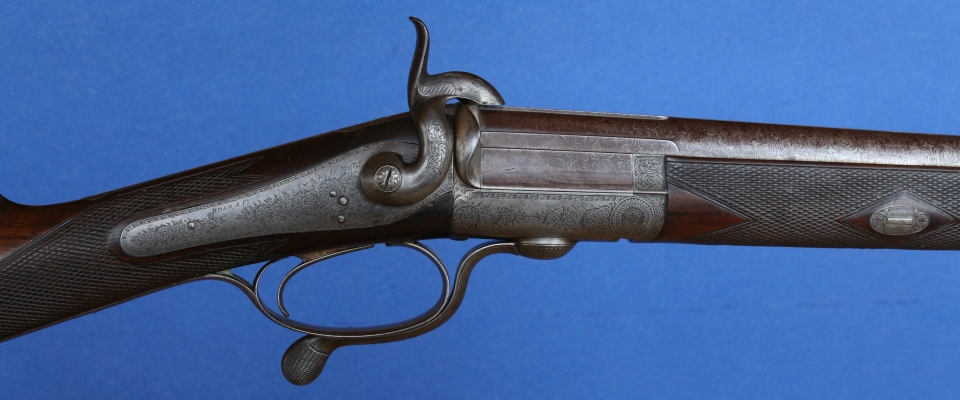 Boss & Co. number 2201 was ordered by Sir John Harpur-Crewe (1824–1886), 9th Baronet of Calke Abbey, on 1 July 1864 and completed on 5 October the same year. It is a 12-bore with a double screw grip action, and the short sighting rib is signed "Boss & Co. 73 St James Street London." It has a back-action lock, a dolphin-styled hammer with an offset/toed-in nose. The shape of the hammer nose is different to that found on the typical pin-fire double gun that has its cartridge pin holes centred to the top of the barrels and a sight plane in between the hammers/pins; with a single-barrelled gun, the pin hole lies right-of-centre, and the hammer nose is additionally angled inward, allowing for a clear sighting plane.
The gun has a 30 1/16" damascus barrel with London proofs, a fore-end with a horn cap, and altogether weighing a tidy 5 lb 4 oz. The foliate scroll engraving would have been the work of John Sumner, who decorated all of Boss's guns, and the gun's production would have been overseen by Stephen Grant, the managing director of the firm.
Though details are lacking in the records, it may have been actioned by Edwin Charles Hodges, who actioned other Boss pin-fires at the time. It is generally believed that single-barrelled guns were chosen for a young man learning to shoot, or for the collecting of bird specimens for taxidermy. This gun may have been both, as it was delivered to Sir John just prior to his son Vauncey's 18th birthday, and the gun would have made a fabulous gift. Sir Vauncey Harpur-Crewe (1846-1924) became the 10th (and last) baronet, and throughout his life he was a very avid shot and collector of natural history specimens, as the large collection of mounted specimens on display at Calke Abbey can attest. Gun number 2201 may have been well-used but it was well cared-for, and it still has a mirror-bright bore.
John Dickson & Son number 2820 is a 12-bore with a double-bite screw grip action. It was completed in 1875, and was one of the last five pin-fires made by the firm. It was made entirely in-house at a time when the firm employed 18 men and boys, though the barrel browning may have been completed by an Edinburgh outworker.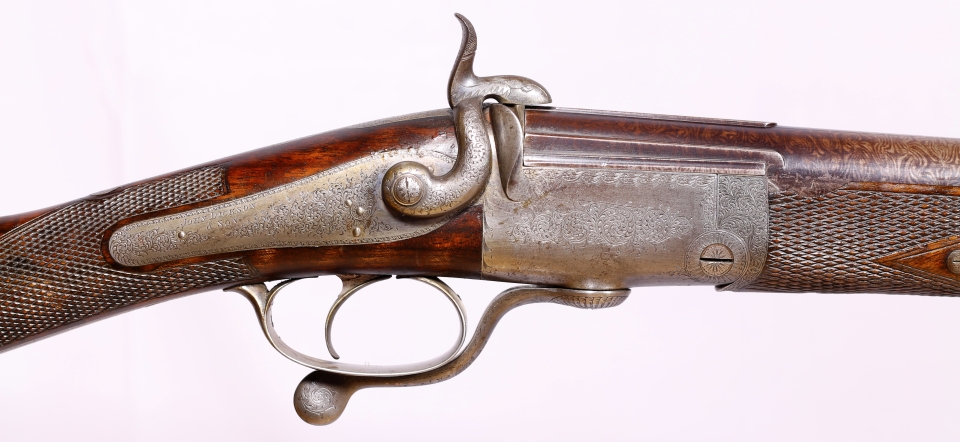 Unfortunately the sales ledger no longer exists so it is not possible to trace the original owner. The gun sports a back-action lock, a dolphin-styled hammer with an offset nose, London proofs, and the 31 1/16" fine damascus barrel still retains its spotless bore. The barrel is signed "John Dickson & Son, 63 Princes Street, Edinburgh." In pure gunmaking excess, it has two beautifully-shaped percussion fences, neither of which is in any ways functional. It also has a well-figured stock, and, as with the Boss, a horn fore-end cap. Unusual for a pin-fire but in keeping with its late manufacture date, it has a chequered horn butt plate. Built with a bit more heft, the gun weighs 6 lb 7 oz.
Quality pin-fire singles by top makers are unusual, and these examples are a far cry from the utilitarian, low-cost centre-fire singles of today!
NOTES: I would like to express my thanks to Mr. J-P Daeschler, Managing Director of John Dickson & Son, for information on gun number 2820 and Dickson pin-fire production numbers.
Stephen Nash
Published by Vintage Guns Ltd on