We all buy cars based on what we think we need them to do. Experience often teaches us how well we chose and makes us choose differently next time.
Looking for my next car, I saw the Velar as a modern grand tourer; long, sleeker than the upright 'proper' Range Rovers, plenty of room in the boot for guns and equipment, dogs when necessary and a quiet, comfortable ride to soak-up long distances, typically on a run to London and back in a day to work for one of the gunmakers I help out, or across to King's Lynn to view an auction, up to Cumbria to shoot grouse or even the once-a-week trek into Birmingham's Gun Quarter.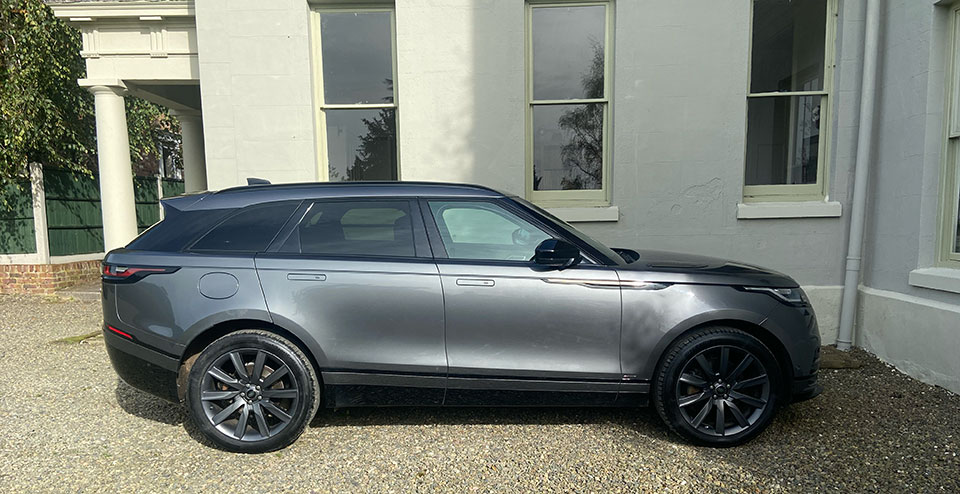 Sometimes, at the end of a long journey, I have to get a bit off-road; on forestry tracks, grouse moors or other mild off-road scenarios. Nothing too had-core but more than the average car would enjoy. Certainly not what the makers of my previous car (a Bentley Continental GT) had in mind when they designed it, even if it did have four-wheel-drive.
The Bentley was beginning to worry me, with 80,000 miles on the clock it was starting to cost money and the threat of a big ticket disaster prompted me to decide now was the time to change.
With the Bentley sold, I found myself driving home from Essex in a 2019 Velar 3.0 V6, diesel, HSE, R-Dynamic with 39,000 miles behind it and two previous owners. I was £41,000 the poorer but hopefully now teamed up with a vehicle that will deliver what I need for the next three or four years. I normally move my cars on when they hit 100,000 miles.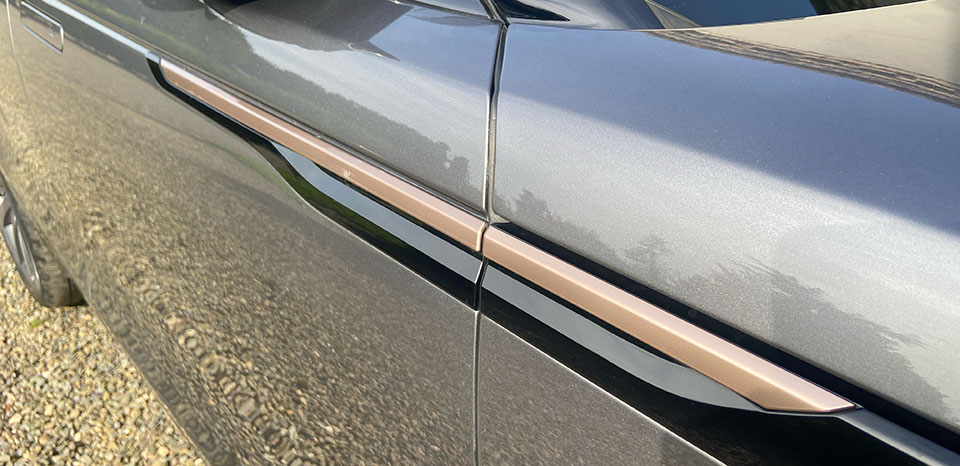 The Velar, launched in 2017, was a somewhat radical departure from traditional high-up Range Rover style but still sporting the off-road capabilities that set LR apart from everything else. A bit more purposeful and serious than the Evoque but more road-oriented than its bigger brothers, it featured some modern, sleek design cues that have since been adopted for other models.
One will always encounter some teasing from 'proper' Range Rover and Discovery drivers that this 'isn't a real Range Rover' but the fact is, I have a 1998 long-wheel-base Defender 300tdi that is my dedicated shooting vehicle and I do not need another daily drive that is too similar. The Velar is more suited to my needs for a long distance tourer, doubling as a comfortable daily drive, with occasional off-road capability.
The Velar is more suited to my needs for a long distance tourer...
The Achilles' heel in the Velar package was the V6 engine, which is great to drive but has a reputation for throwing a major fit at the 100,000 mile mark. To help me relax, I took out an RAC warranty to cover such eventualities. It cost almost £2,000 for three years but is pretty comprehensive.
When your daily driver for three years has been a Bentley, comparisons with other cars can be uncharitable and a tad unrealistic. I tried to put aside the detail and build quality of the old car and not compare the Velar too much with the GT.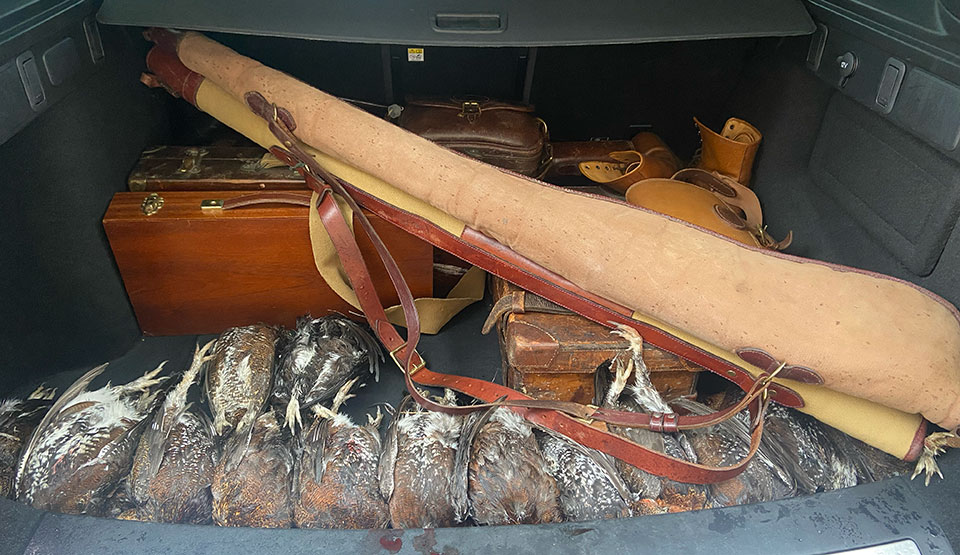 The interior is pleasant. Actually, very pleasant. Good seats with lots of adjustment and heating options. With seat and steering wheel set to how I like them, the driving position is comfortable and relaxing, even on 200 mile trips.
OK, so the gear change from zero to thirty, under acceleration, feels lumpy compared to the effortless squeeze of power the Bentley pushed out and the ride seemed more like steering a boat down a canal than the sure and solid but perfectly cushioned ride the Bentley delivered when I first swapped them over - but that is as far as I'm going to compare them directly.
In 'comfort' mode, the typically Range Rover' floaty' feel is definitely there, but poke the 'dynamic' button on the touch screen and it tightens up significantly. Power is plentiful, the engine responsive (it is supposed to be capable of 150 mph) and the fuel economy a dream! In the Bentley I got 21mpg on a run to London, in this I get 42!
The 300bhp V6 engine has a good deal more shove than 210bhp output of the more common 2-litre options that probably do very well where most Velar drivers live and work; which is to say the towns and suburbs rather than the more remote countryside with pot-holed roads and farm tracks that are my back yard.
The gear box is an eight-speed auto and 0-60 is a decent 7.8 seconds, not that screeching acceleration away from the lights is what anyone over twenty cares about these days. In normal driving conditions, it delivers all the power you need, when you want it.
I don't care for the rose gold details on the bonnet and side air intakes
I think the car looks smart. I don't care for the rose gold details on the bonnet and side air intakes, they re a bit too metrosexual for my tastes. However, all-together it is a good looking car. The grey paintwork is a shade lighter than I would have chosen but a little more interesting than the all-black ones that seem to dominate. With black detailing and privacy glass in all the rear windows, it has a sleek look and keeps prying eyes away from stuff I don't want them to see.
I opted for 21" alloys. The 22" options look very cool but are less practical unless all your driving is on city streets and high quality A roads.
Interior it is all black leather with good stitching and a quality feel to it. I like the modern cabin, with its touch-screens but I confess I have yet to work out exactly what they all do. The stereo is very good and the DAB radio a step-up, except where I actually live, where there is no reception! Still, nice on a run towards civilisation.
The steering wheel is an odd contour, with an inlet metal detail that sits in a recess, facing the driver. I would prefer a plain, round leather wheel; the unusual contour is an irritant rather than an improvement. However, the wheel-mounted controls are easy to work and straightforward, with the speed limiter helping traverse the obstacle course of variable 20mph and 30mph zones in major cities, especially London.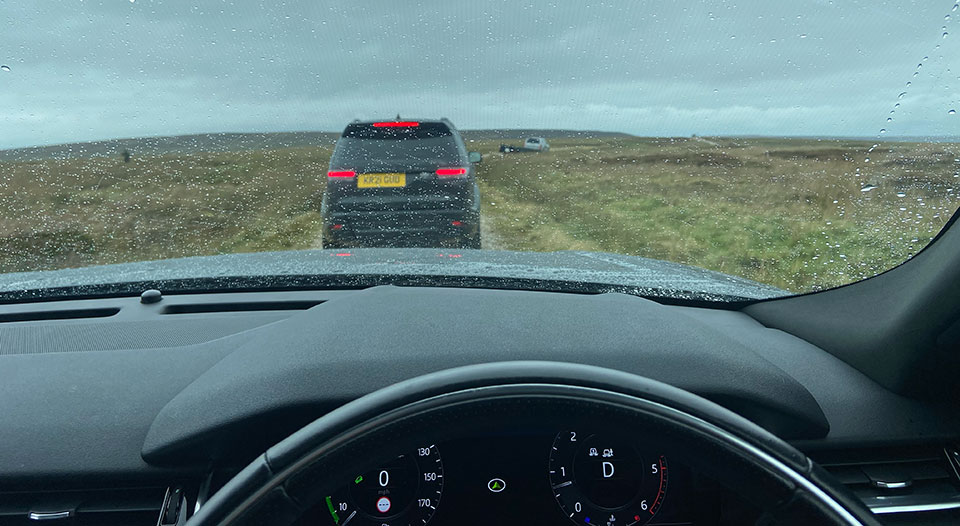 The ride on the motorway is faultless, the cabin quiet and road noise minimal, even in pouring rain and driving wind. Off road, on grass, moorland, limestone tracks and the like, it copes very well, with the off-road programmes elevating the air suspension (which is more sophisticated in the 3.0 model than the 2.0 ones). At its height you get 9.9" of ground clearance. In essence, it does what I need it to and seems to do it well.
I have fitted a boot liner, rubber mats and a dog guard to make it better suited to my country-life reality than I would have needed when I lived in London. What it does is offer the comfort of a luxury GT with the ability to pack a fair bit of varied kit and get off road when you need to; ideal for a gun dealer who has to go from dirty shire to an event in Knightsbridge or tool-up the M6 and then get onto some forestry roads after roe bucks, with a Vizsla sprawled in the boot.
Reliability has always been an issue with Land Rover products but I ran Freelander 2 models before this and had no major problems, despite putting over 100,000 miles on each one. With the warranty providing some peace of mind, I hope to enjoy the Velar as much.
I did have a shock when I came to insure the Velar. I thought that dropping from a Bentley super-car to a 4x4 might save me some money on the premium, but it doubled!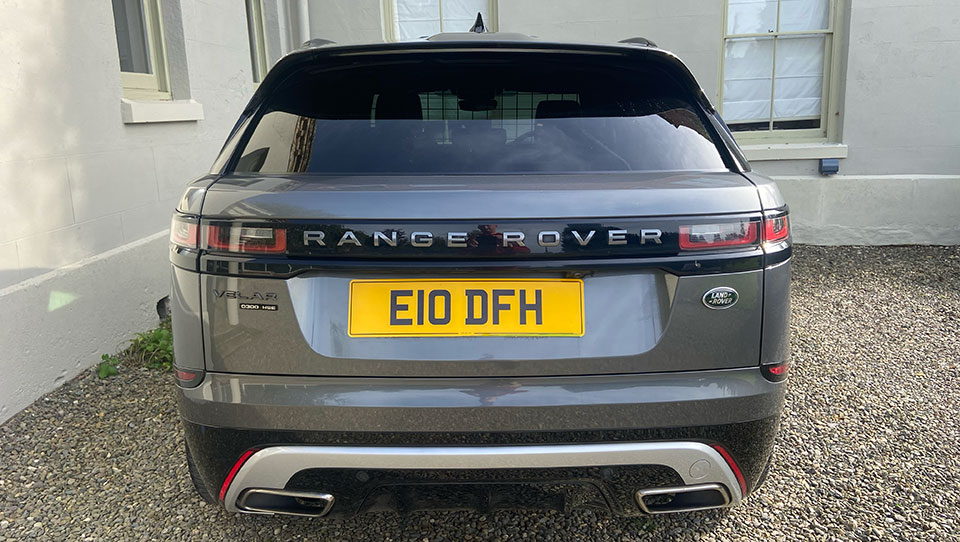 Apparently, Velars are the most stolen vehicle in London and the security problems JLR have allowed to remain with these cars has become something of an embarrassment, as any low-life with a lap-top, some cheap software and bit of know-how can open it remotely and drive it away.
So, like many a London-bound owner of a modern Range Rover, my Velar sports a big yellow steel steering lock when parked in the street. Low-tech still trumps high-tech it seems!
Published by Vintage Guns Ltd on (modified )