A gun proof tested between 1868 and 1875 is examined here to illustrate the marks then used. It is a W. Thorn 12-bore with Damascus barrels.
This 12-bore is proofed under the Rules of Proof in force at the London Proof House from 1868 until 1875.
If you have a British breech-loading, centre-fire shotgun, it was made after 1861 (when Daw introduced centre-fire guns to the country).
'Smokeless' powders were yet to be introduced to the British market when these stamps were in use. So, guns marked with these stamps have been proof tested for black powder only.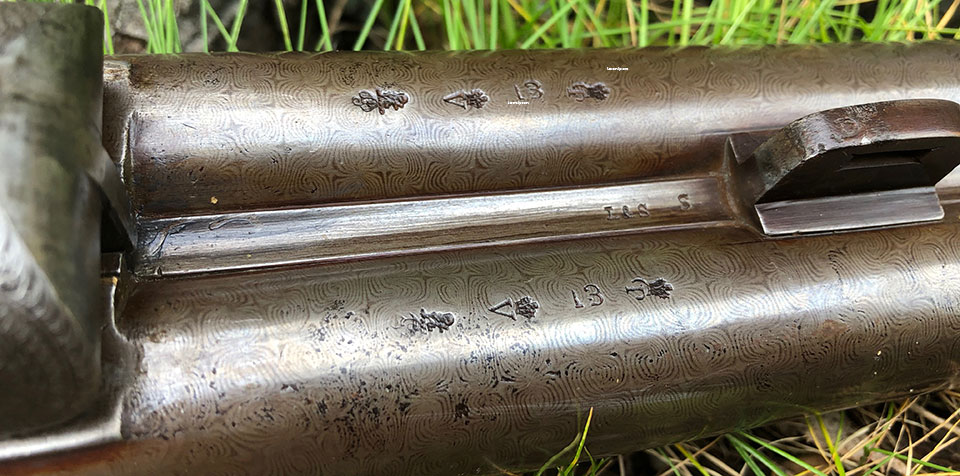 The stamps show:
'V' with crown over, which is the 'View' mark.
'GP' with crown over, which is the 'Definitive Proof' Mark
'G' in script with lion rampant over, which is the 'Provisional Proof' Mark
'13' indicates the bore size; a measurement taken nine inches from the breech. 13-bore is within the nominal 12-bore range. It is .710".
When checking proof status on guns bearing these proof marks, it should be noted that they become 'out of proof' the next full proof size up, not at ten thou' over size. So, the gun illustrated will be in proof until enlarged to .729" (12-bore).
Published by Vintage Guns Ltd on (modified )