The 1930s is often quoted as the best period for English guns. Why?
The logic goes that quality was still Edwardian, with the top gunmakers in each firm of the 'old school', having apprenticed as boys and done their particular job to perfection for three, four or five decades.
The war was yet to interfere with costs, labour or materials and guns made then were perfect examples of the best of everything. Single triggers, ejectors and side-locks were all fully developed, mechanically and stylistically. This was the Golden Age.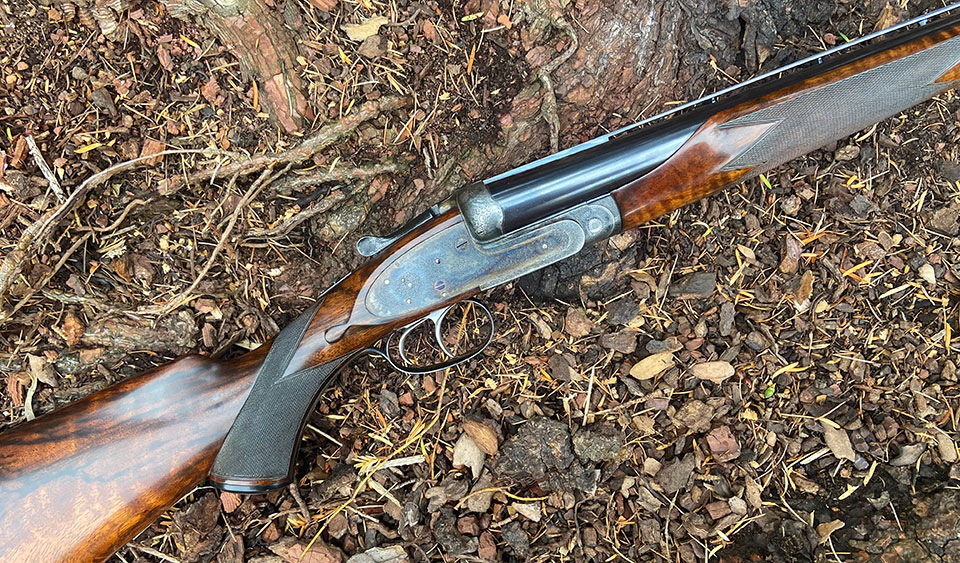 I'm not sure it is true and could argue robustly against this dogma but that is a job for another day. The reason I mention the 1930s is because, it was in 1933 that the manufacture of a remarkable Purdey that landed in my lap was started. I say started, because it wasn't finished until 1958!
The fashion in the 'thirties was for lightweight guns. Shorter barrelled than the old thirty-inchers, with 12-bores as light as six pounds. It was also the brief era of the two-inch chambered 12-bore, made to be even lighter, sometimes as little as five and a half pounds.
This Purdey then, is something unusual. Many would call it a live pigeon gun, but it is really a trap gun. It is also a trap gun in the American style, as it was, indeed, made for an American.
two things unusual about this gun; its configuration and its condition.
When it was collected in 1958, live pigeon trap shooting, though banned in Britain, was still practiced in some countries, including the United States but clay trap shooting was very much a mainstream shooting sport.
So what is this gun in the photographs, started in the thirties and delivered in the fifties? It weighs eight pounds three ounces, has thirty-two inch chopper-lump barrels with a raised, ventilated rib and a beaver-tail forend to protect the hand from hot barrels. Chambers are 2 3/4". The stock has a pistol grip and it has (thankfully and surprisingly) two triggers.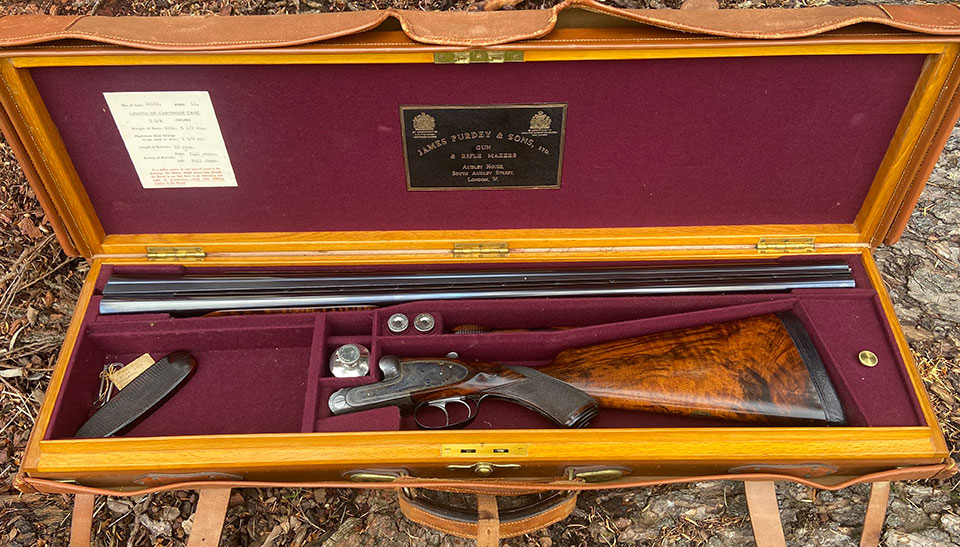 It is presented in its Purdey oak and leather case with a canvas outer, and accessories inside. Remarkably it retains most of its original laquer and 100% of the original case-hardening colours.
The choice of wood is very much 'fifties and American. 1930s Purdeys often have very plain wood, while this is very nicely figured.
Engraving is best pre-war quality and Purdey's traditional rose and scroll pattern. There are two things especially unusual about this gun. One, its configuration and two, its condition.
I have seen very few heavy Purdey trap guns of this quality with these features. It is the best of both worlds: 1930s quality, 1950s wood, the ventilated rib sets it apart from the more usual 1930s Purdey pigeon guns. It is, however, the condition that really stands out. The gun not only has 100% of its original case colours, it has almost all the original laquer that protects them. It really has had very little use.
I was able to dig into the gun's past. It was started in 1933 and then stopped. Whey, we can only speculate but the 1930s was the period of the Great Depression and perhaps the man who ordered it fell on hard times during production. Being a less commonly ordered type, it appears it took a long time before a similar order came in and the work done to date could be completed to the specifications of a new customer.
It was sold to an American and then disappeared until it was found for sale at Holland & Holland at a time when live pigeon guns were really unfashionable. I'm told it was bought for £6,000. Some ten years later, in 2008, it was for sale again; at Gavin Gardiner's auction, when pigeon guns were at the height of a rocketing boom in popularity. This time it sold for £29,000 plus about £6,600 of commission.
the original 1/4" of wood removed is still retained in the case
The new owner cheekily asked Purdey to quote him to make another to match it (thereby getting a free detailed appraisal and valuation in modern terms) and was told it would cost £76,668.75 including VAT. Today, that figure would be around £180,000.
Since then, it has been sold again and has been slightly altered from its original specifications. The stock has had a leather covered Silver's pad added, though the original 1/4" of wood removed is still retained in the case and could be re-fitted.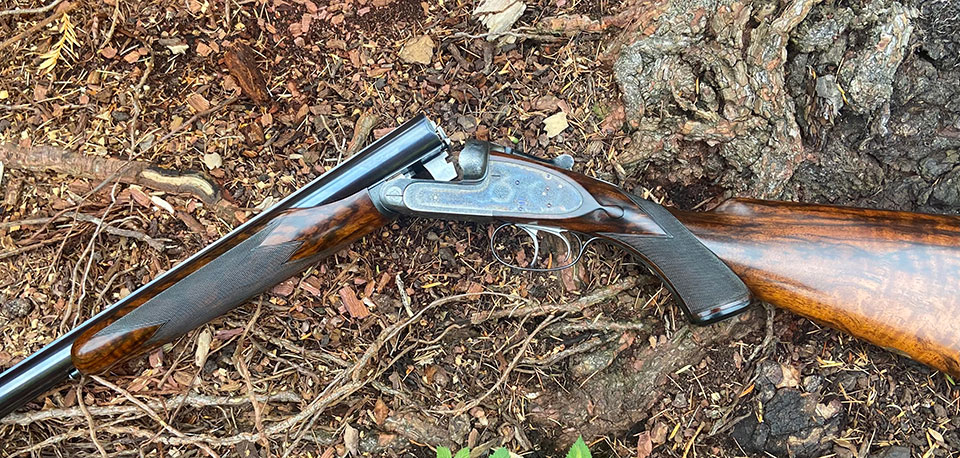 It has also been fitted with invisible Teague chokes in place of the original 'Full & Full' specification. Many observers wonder 'what that does to the value'. The answer, of course is that you have to be a genuinely interested buyer to decide that. Either you are upset that it is no longer totally original, or you are pleased that it is now more practical. You will pay your money accordingly, or not.
So, what has the market done in the decade-and-a-half since it sold at Gavin Gardiner's? The chap who bought it for £6,000 and sold it for £36,000 did very well (he only got £29,000 but still good).Today it is available for £40,000, so only £4,000 rise in fourteen years, which is not quite so impressive.
Whoever buys it and whatever it makes, it remains one of the most unusual and pristine examples of best Purdey gun-making I have yet encountered.
Published by Vintage Guns Ltd on (modified )