An American friend recently asked if I'd sell him my lovely old Mannlicher Schoenaur 6.5×54. It is a really good, unrestored, original 1930s example with a good Swaro 'scope on it. I love the rifle but I let it go. The reason was simple. I haven't used it for ages. The reason I haven't used it is also simple. Every time I have to go and kill a deer, I pick up something else.
The story started back in the early 2000s when a friend asked me to sell a rifle for him. It was a custom job, made for a highland stalker who shot hundreds of deer a year and knew exactly what he needed from a rifle. The calibre was 6.5×57 and the maker was T.T. Proctor of Wilmslow, Cheshire. I took it to Africa that year and shot some plains game, very much enjoying the build quality and shooting well with the rifle. I was told it had cost £6,800 to build.
A couple of years later, I was at an auction in London, at Holt's. I noticed a T.T. Proctor in 7×57 in the rack and when the sale got started I found myself waving my paddle and buying it for a bid of £800. Having written out a cheque to Holt's for £1,000 to take care of commission etc, I took stock of my purchase.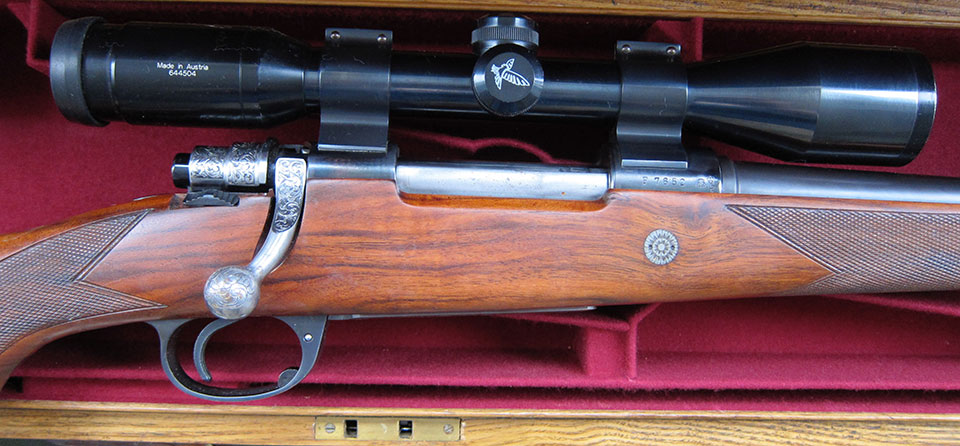 I got a call a few days later. Apparently, another gentleman had intended to buy the Proctor but had got his sale dates mixed up and missed it. He wanted to know if I would sell it to him. I declined and set about re-finishing the stock on my new rifle.
It is Proctor's 'Imperial' with a three digit serial number, some nice scroll engraving and a bit of gold-inlaid numbering and lettering. The stock is a lovely piece of amber walnut with black lines and a Silver's pad. The 'scope is a four-power Swarovski Nova and the mounts permanently fixed to 'scope and action.
The donor action is a 1909 Argentine contract Mauser. 7×57 may have been an unfashionable chambering for a while but that all looks to change with the introduction of Rigby's new Highland Stalker in this 'gentleman's calibre', albeit under the British nomenclature of '.275 Rigby'.
If you look carefully in the appropriate section of auction catalogues, you will still see the occasional T.T. Proctor rifle listed amongst the more famous and established names. To many perusing the pages, the name means nothing. To those who recognise it, 'T.T. Proctor' means quality, practicality and attention to detail. Trevor Proctor was an avid hunter. He was experienced as a UK deer stalker and as a hunter of dangerous game in Africa. His experience went into his rifle building.
Proctor was a tool maker who took his precision engineering talents and applied them to rifle building in a small, well-equipped workshop in Cheshire. His company ceased trading in 2014, having been established in Wilmslow in 1976. His legacy of work is due a retrospective.
Trevor Proctor bought in barrels and trigger units of the finest quality, from the likes of Shilleen and Timney. He sometimes used Sako and Ruger No.1 actions but his signature work was based on the best classic Obendorff Mauser actions. I have seen those of Argentine and Mexican contract origin. Proctor built riles in every calibre from the diminutive .22 up to the tooth-rattling .500 Jeffery.
The build process started with the barrel, which Proctor would profile, thread and fit to the action. Then he would cut the chamber to the desired size and fit the trigger mechanism. After proof testing in London, the rifle was stocked, chequered and oil finished.
Proctor did all this in-house, as well as polishing and blacking the barrels and furniture in his hot-black tub. He shot and regulated the rifles to ensure optimal performance. In fact, he claimed to perform every task except engraving.
Scanning the records of sales of Proctor rifles over the last decade, one cannot help but notice they are extremely good value for money. The new Rigby Highland Stalker is currently gathering huge interest with a price tag of £6,500, and rightly so, for it is a cracking rifle for the money and offers something to the traditionalist that no other maker can really rival.
By comparison, Bonham's sold a Proctor in the mighty .458 Lott calibre in 2014 for just £1,920. Holt's sold a 30-06 in 2010 for £800 and a 25-06 in 2014 for £1,000. Consider that the rifles listed here were well cared for, lightly used and complete with expensive optics and mounts, and the rifles look very inexpensive.
Currently in the listings of British dealers, I found a 7×57 Proctor for £2,995 and a .300 Holland & Holland Magnum version for £1,995. The prices of classic Rigby stalking rifles have been climbing since the company returned to London, launched their new models and boosted the brand with a clever and classy advertising campaign, which has raised the company profile in Europe, the UK and the USA.
So much is this the case, that it is not uncommon to see a decent vintage Rigby .275 from the 1930s selling for £3,500 or more at auction. I would, therefore, suggest to readers that, if finances won't stretch to £6,500 for a new Rigby, nor £2,500 for a tatty used one, they might be better placed seeking a traditional, Mauser-actioned English custom rifle in a medium game calibre bearing the legend 'T.T. Proctor, Wilmslow, England' on the barrel instead.
Mine has been a faithful servant these past years, it has accounted for numerous fallow, roe and muntjac, a fair few foxes and it has never let me down. For the price of a tatty boxlock ejector, I have a rifle of real quality that kills what I shoot at, digests factory ammunition with great results and is a pleasure to carry and behold. Go and buy one before the world realises there won't be any more and someone else beats you to it.
Published by Vintage Guns Ltd on (modified )