When I first looked at it, it didn't make much sense; it had obviously been altered, it wasn't of very high quality and my initial reaction was that it was not genuine.
I was looking at an Alexander Henry single barrel drop block rifle dating from the 1880s, but it wasn't up to the usual Henry standard. Alexander Henry patented his drop block rifle in 1865 and of its type, it was by far the most successful and commonly encountered rifle of the era. Henry offered the rifle in three qualities, best, second and third with best quality pre-dominating. These Henry rifles are quite magnificent in terms of their quality, engraving and construction and along with the very high numbers of double rifles built, Alexander Henry of Edinburgh was the pre-eminent rifle maker in the second half of the 19th century.
This rifle was nothing like that; it was well made, but just plain and completely functional hence my misgivings. It was numbered 5772 and a perusal through the Henry records immediately revealed its origins and how exciting this turned out to be. This drop block Henry rifle was none other than a sealing rifle completed in 1884.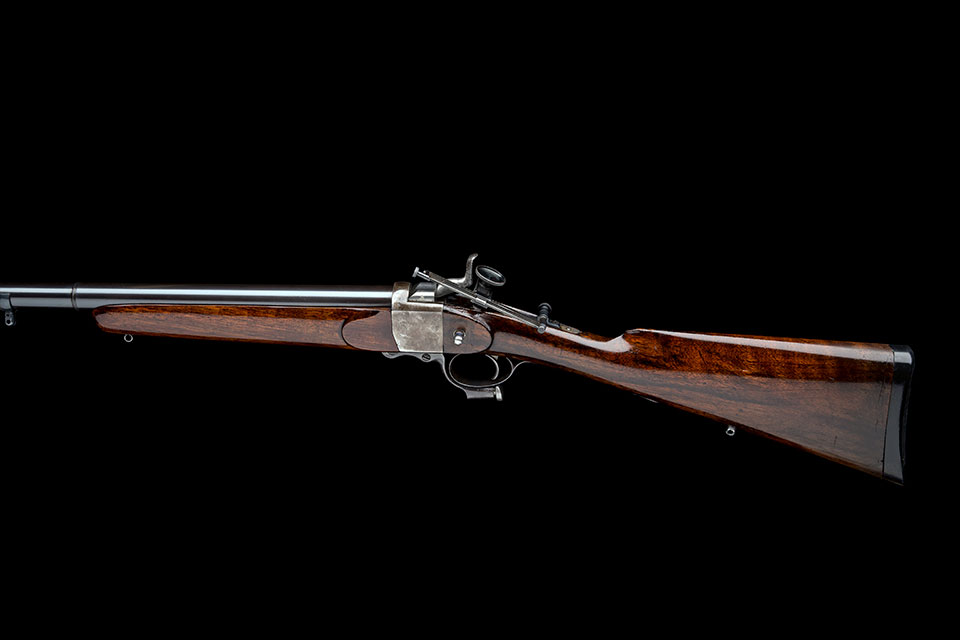 Between the drop block patent of 1865 and the last completed such rifle in 1910, Alexander Henry built in total 2522 drop block rifles and out of this total, 478 were sealing rifles, around one fifth of the entire output. Sealing rifles should be pretty common then, but in the research for my new book on Alexander Henry, I could not find a single sealing rifle in existence.
Sealing rifles were third quality .450 3 ¼" Black Powder Express single shot rifles designed for one purpose; killing seals.
Sealing rifles were third quality .450 3 ¼" Black Powder Express single shot rifles designed for one purpose, killing seals. Euphemistically termed "seal fishing", whalers in the off season set off from Dundee and Peterhead to the sealing grounds of Greenland where the seals were slaughtered in their thousands for their oil and blubber. In "seal fishing" they were all shot with Henry .450 sealing rifles and due to the harsh environment of the whaling ship and the inhospitable area, they were just simply regarded as tools. Each rifle would fire thousands of rounds, be covered in salt water, most likely never cleaned and were probably scrap after a couple of seasons. Time and time again in the Henry records, the same Captains appear buying scores of new sealing rifles to replace the old ones for a new voyage.
This explains why this vast quantity of sealing rifles appears to have disappeared; they were worn out due to the enormous number of cartridges fired, they suffered from the effects of the salt environment and the majority were simply discarded after a very short life.
For some reason, sealing rifle no. 5771 appears to have survived and it is the only sealing rifle I have ever seen out of the 478 built. It originally had a 29 ½" barrel in .450 Black Powder Express calibre and was a third quality rifle weighing 7lbs. 10oz. sold as part of a batch of sealing rifles nos. 5769-5774 in 1884. Usually the Captain of the whaler or the company involved is recorded but in this case the destination of the rifle is just written as "LB". LB denotes "London Branch" as Alexander Henry had premises in London where he sold a great many of his rifles from. This single sale of a sealing rifle is unusual as they were usually bought in multiples by the whaling companies and Captains hence this might explain why it has survived as opposed to all the others. Unfortunately the rifle has been much altered and a replacement .45-90 barrel has been fitted with vernier sights.
Sealing was a gruesome business and can only be understood in the context of the era. The whalers left Dundee and Peterhead in February and returned around April, the Dundee fleet comprising around ten boats and the Peterhead fleet around five boats. All these ships were stocked with .450 drop block sealing rifles by Alexander Henry due to their reliability. The boats set sail for the sealing grounds of Greenland, the slaughter was immense and the devastation was such that virtually the entire seal population of Greenland was wiped out.
Seal fishing was a perilous occupation and there was a regular loss of life through accidents and drownings. To show the extent of the slaughter, the Dundee boat Aurora returned to Dundee after one voyage in 1877 with 15,000 seals on board and in 1882, the Thetis returned with 10,100 seals. Such numbers were the norm, they were not exceptional. In 1882 the Dundee fleet alone killed 62,900 seals yielding 650 tons of oil and every single one of these unfortunate seals was killed with a Henry .450 drop block rifle - no wonder that so few survive today.
As predicted the Greenland seal population was wiped out and in conjunction with a growing hesitation over the practice and the discovery of alternatives to seal oil, Alexander Henry sold his last sealing rifle in 1910.

The Voyage Of The SS Artic 1874
The Dundee Courier regularly wrote graphic accounts of the sealing expeditions and in an 1874 report gave a detailed account of the voyage of the SS Artic that departed Dundee on the 28th February 1874 bound for Greenland. When she returned two months later she had 9,500 seals on board yielding 100 tons of oil.
The poor seals had been killed on the ice with Henry rifles, an exceptionally hazardous occupation. The men frequently fell through the ice and in an era when health and safety was non-existent, it was reported that 20-30 men EACH day fell through the ice from all the whalers. "Many of the men were found to be almost stiff with cold and their clothes frozen and in order to recover them from exhaustion, it was found necessary to put them down in the engine room and give them stimulants".
A sailor kept himself above the water with the aid of his gun and he was latterly rescued by catching with his teeth a rope which was thrown to him...
Another report told of a miraculous escape on the Artic when, "A sailor kept himself above the water with the aid of his gun and he was latterly rescued by catching with his teeth a rope which was thrown to him by some of his companions". His "gun" of course would be a Henry rifle.
To us today the whole business is hard, upsetting and completely wrong, but it was of the time and is part of a history that has now thankfully disappeared
"Exciting Incidents At The Fishing"
If we think the tabloid press are lurid today, then nothing much has changed in the last hundred years or so. The Dundee Courier regularly published gruesome accounts of the travails of the whaling fleet and one such report published in 1881 was given the extraordinary title of "Exciting Incidents At The Fishing". What was exciting about it I do not know as it involved the deaths of various sailors.
As was almost an everyday occurrence, a sailor fell through the ice in sub zero conditions with no real clothing protection or life jacket and The Courier reported that after he was pulled out he died after catching a "severe cold". Other exciting incidents reported were men just disappearing through the ice never to be seen again, weighed down by sodden clothing, ammunition and rifle with no life jacket.
On the Ravenscraig boat, the Captain, Captain Barnam was making ready to fire at a pack of seals when his Henry rifle went off inadvertently. The bullet struck a seaman, Sinclair Thomson who was flinching seals and he only lived for a short time afterwards.
It must have been an incredibly hard life for the seamen aboard the whaling boats. No sooner had they returned from the "seal fishing" than the whale hunting season began and they would be off again on yet more hazardous journeys.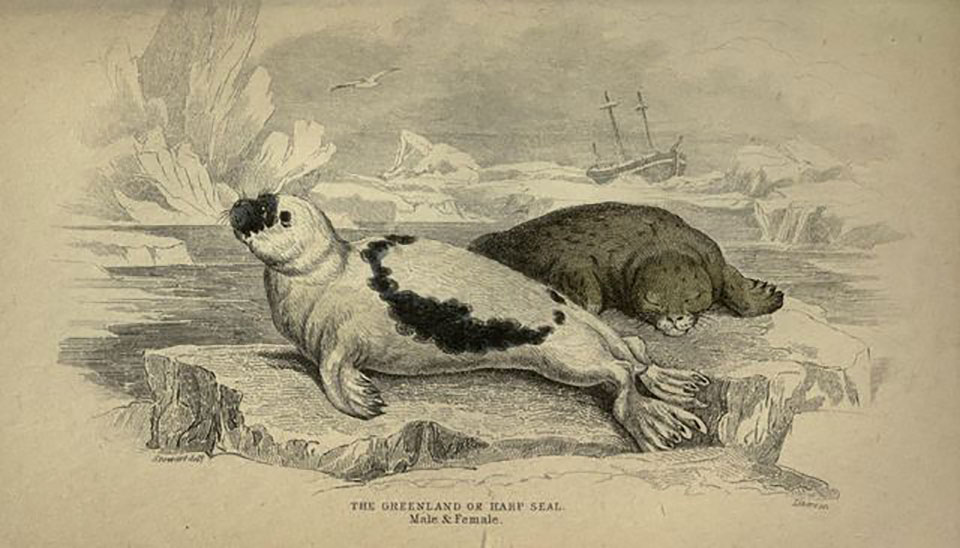 The Henry .450 3 ¼" Black Powder Express Cartridge
Alexander Henry offered his drop block rifles in a variety of calibres from the massive .577 big game calibre to the diminutive .360 rook calibre. However out of all the calibres, the .450 3 ¼" Black Powder Express round was by far the most common suitable for deer stalking at home and sport abroad.
At the time of his drop block patent in 1865, the technology did not exist to create solid drawn brass cartridges and the cardboard rifle cartridge was the norm.

The Superintendent of The Royal Arsenal at Woolwich, Edward Boxer (1819-1898) solved the problem in an 1866 patent he created a coiled brass case that could expand upon detonation, yet return to its original dimensions to permit extraction.
Alexander Henry worked closely with Boxer and designed a new .450 cartridge that was straight, 3 ¼" long and filled with 4 drams of black powder propelling a 320 grain bullet. Various other loads could be used and this Henry cartridge remained the standard for most of his rifles both single and double until the advent of cordite and smaller calibres at the close of the 19th century.
By the 1870s the solid drawn brass cartridge that we are all familiar with became available and the .450 round was now available in either coiled brass or solid brass.
The Henry rifle illustrated here in photos by Andrew Orr and written about by Donald Dallas sold at Holts' auctioneers in March 2017.
Published by Vintage Guns Ltd on