The early spring has been gloriously sunny, though my young trees need a good drenching to keep them happy sometime sooner rather than later. I have taken to riding my Harley Davidson for local errands, thumping along the country B-roads at a leisurely grumble and enjoying the warm air as I push through it.
I have even managed to haul three feisty little brownies out of the brook; tempted by a black gnat one balmy evening. What I haven't been doing much of is going to auctions. That shouldn't come as much of a surprise to readers.
Covering auctions is a trifle tricky when you are, quite literally, prevented from attending or viewing any auctions. Whatever gloss one tries to put on it, the current situation is a difficult one for the Gun Trade. One prominent and successful gun shop reported no sales for a month and is essentially closed until further notice. Another one reported good on-line business for a range of accessories; and air gun and air pistol sales are very strong. "People are bored and want to plink in the back yard" according to one dealer.
Outside of the usual gun retail sites, sporting guns are appearing in the odd provincial auction. Adam Partridge Auctions in Cheshire listed a number of air rifles and sporting guns, modern and vintage as well as some de-activated Winchester lever-action rifles. Wallis & Wallis listed a small range of accessories, books and modern and antique firearms in their 27th May sale.
Using The Sale Room search facility makes it easy to find any particular item you might be looking for without having to trawl through a whole generalist auction catalogue to find a gun case or a pair of snap caps that may be lurking within.
I do urge caution, it is easy to get drawn into bidding from your laptop and find when you win a modest lot for a modest sum, you are slapped with £25 or more postage, which can easily represent 50% of the hammer price, making it not such a bargain after all!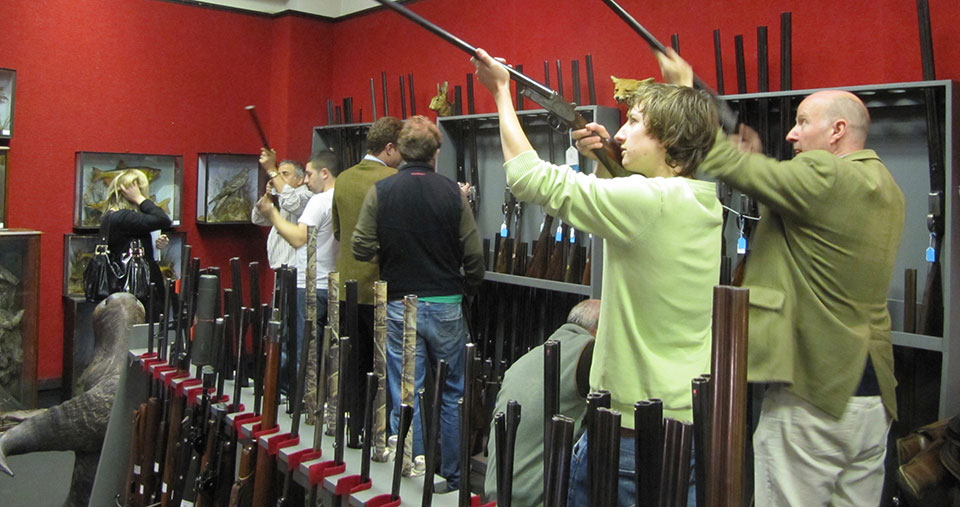 How are auctioneers selling?
'Remotely' is the key word in these troubled times for auctioneers. Holt's reported that 80% of their bids are now taken on-line, so upping that to 100% during lockdown shouldn't be a huge ask. With more people at home with the time to browse on-line, the trend towards this method of viewing and bidding will naturally accelerate.
Theo Paphitis, the 'dragon' of TV fame and owner of multiple retail businesses was talking this week about a five-year leap in the rise of on-line shopping taking place almost overnight during the lockdown period. He believes retail will 'never be the same again' after this is all over. Gun auctioneers appear to be experiencing something similar.
"The longer the lock down lasts, the longer people have a chance to change their habits. It has accelerated the retail transition from shop to on-line by five years." According to Paphitis.
Holt's are allowing visitors to view lots by a strict appointment-only system, so the necessary distancing rules can be adhered to. They are confident they have sufficient lots to run a decent sale in September, though import procedures have become more difficult due to the disruption caused by the virus. given that most of our auctioneers now import significant numbers of guns from overseas for each sale, this is a further disruption to business that adds to the daily stress levels of staff.
Some concern has been expressed about the increased cost of exports now and how that will impact on future sales. At present there is still much upon which we can but speculate.

How are auctioneers getting consignments?
Southam's are not taking consignments at present. Neither are Scotarms.
Holt's are offering a consignment collection service. They have vans driving around the country and collecting items for the sales, which can be appraised in more detail once they are delivered to HQ in Norfolk. Anyone interested in consigning can still contact holts about this at logistics@holtsauctioneers.com
They are also offering gun valuations by e-mail, with a form on the website for vendors to complete and upload photographs. Clearly, this makes it impossible to assess condition of bores and wall thickness and a proper inspection will be necessary, but if the supplied photos are of good detail and clarity (in my experience they usually are not) it does enable a broad valuation to be given, with the usual caveats.
How are buyers getting their hands on their purchases?
Gavin Gardiner is storing purchased lots free of charge until any restrictions are lifted. He is sending items to RFDs via Parcelforce where that is possible, though Parcelforce are operating a limited service and many RFDs have closed their shops.
What auctions are off?
Scotarms - Postponed until further notice.
Southams - Closed until further notice
Holt's - June auction cancelled.
What auctions are still on?
Gavin Gardiner - August 31st Gleneagles.
Bonhams - November 26th Knightsbridge.
Holt's Sealed Bids Sale - extended until June 11th.
Holt's - September 21st, Sandringham
Holt's - December 7th, Sandringham

Who can you talk to during the disruption period? Holt's maintain a small operational staff and can be contacted through the usual channels at Church Farm Barns. Gavin Gardiner and Bonhams will answer e-mail enquiries and Gavin's answer machine is taking messages, to which he will respond. Scotarms and Southams are not operating at present.
The auction view this spring is as foggy as that from every other retail standpoint. We have no horizon on which to focus our attention. The challenges posed by the Corona virus are still somewhat unknown and no convincing time scale has been outlined for a return to normal life. That makes business difficult for all of us but I maintain that we are a resilient trade and will come through this.
Published by Vintage Guns Ltd on (modified )