I met with Beesley's new CEO, Guy Rathbone, and director, Tom Ward, in February, at their neat premises in London's Kings Road, nestled within the wealthy residential haunts and posh shops of Kensington & Chelsea. They told me how the success of London Gun Services, now part of the London Gun Company, led them seek out Beesley as a trading name to extend the venture into gun sales of their own design.
Many LGS customers want their guns stored, serviced, collected and delivered on demand. They are busy and expect durability, reliability and efficiency from their guns. They typically shoot high pheasants and spend significant sums on their sport. Talking to these customers, founders Tom and Gary learned about the guns they wanted.
Often, when shown a top of the range Beretta EELL, they would ask if there was anything better. There wasn't; so the need to find a gun that was a step-up in both class and price was identified, and the search for the right gun-making partner began.
Beesley's management, like Purdey, discovered that Perugini & Visini can offer modern manufacturing expertise, along with traditional gun-making skills. Making use of these enables both firms to offer different models than would be possible or cost-effective using British facilities and tradesmen. Interestingly, just as Beesley begin their relationship with Perugini & Visini, Purdey are moving production of their collaborative, over & under model, the 'Sporter', entirely in-house.

Today, the company offers two models, both made in Brescia, by Perugini & Visini. The Fenice is the 'entry level' coil-spring powered game gun, retailing for around £16,000, with a wide range of custom options available, each gun being built to order. Gauges from twelve to twenty-eight are available.
The Eleganza is described as 'completely bespoke', with leaf-spring or coil-spring locks and is engraved profusely with scrolls intended to evoke those of Beesley's 'Shotover' models, which sold in the 1920s. Prices start at £41,000. Stock models of both guns are available in the shop, for to customers to try, and factory visits are encouraged, making the customer an integral part of the gun-building process.
Both these models were developed with Tom Ward's extensive competition-shooting experience from which to draw, as well as from a prolonged period of consultation with game shooters, gun makers and machinists.
there will always be the charge of 'badge engineering' levelled at this kind of venture
Notable re-boots of British gun-making firms include Atkin, Grant & Lang, Watson Bros, John Rigby & Co., and, very recently, John Dickson. These companies have retained production facilities in the UK. In Rigby's case, having a senior partner in the L&O group, they gained financial muscle and business expertise. Dickson and Watson Bros are headed by trained gun-makers, leading their own teams and producing bespoke guns in-house.
Other firms that have used Italian or Spanish gun-making partners to produce a range of shotguns reliably, and at a price point unachievable in the UK, include William Evans (Guerini) and William Powell (Arrieta). Each model differs but all these firms are still in business and selling guns. There appears to be a place in the market for them all.
To the cynic, there will always be the charge of 'badge engineering' levelled at this kind of venture. Another foreign gun carrying a great English name. Beesley's new guns, however, are transparently Italian.
The lock plates are styled 'Frederick Beesley' and the house engraving inspired by examples of Beesley's pre-war guns, but the underside also carries the 'Perugini & Visini' name alongside it, neatly inlaid in gold.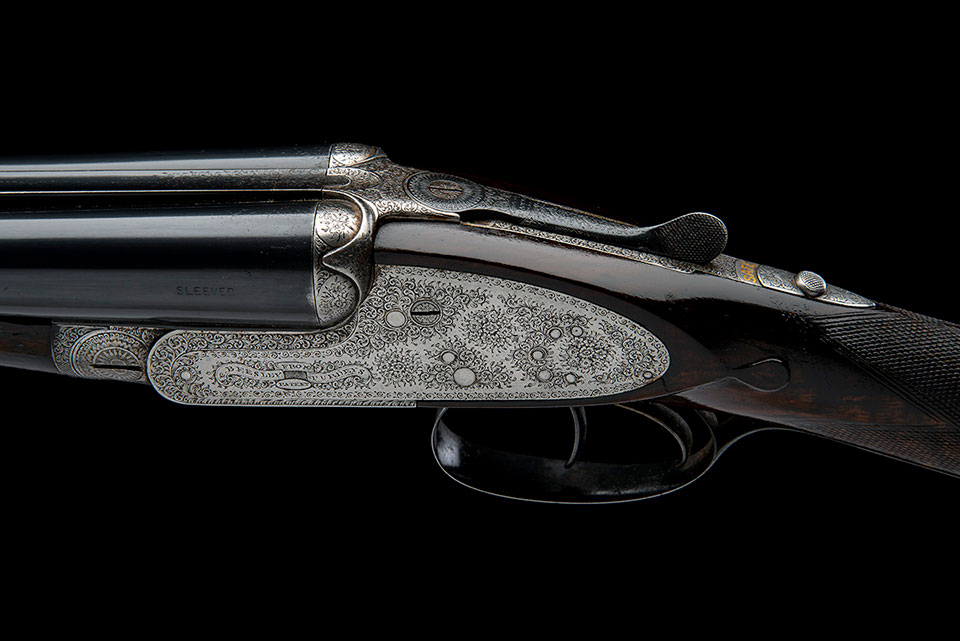 The directors were keen to point out that they wanted to be totally transparent. There was no temptation to assemble guns in Italy, finish them in England and try to pass them off as 'English' or 'quite English', nor even to muddy the waters and give the impression that they were selling anything other than a good Italian product.
So far, sales have been mostly pairs and the typical order is for a high pheasant gun in 12-bore, capable of firing high numbers of heavy cartridges, as often as required. However, unsurprisingly, given the modern fashion for smaller bores, a fair number of 20-bore guns have sold and there have been orders for a 28-bore and even a 410. Beesley is selling guns, which is, after all, the main business of a gun shop.
How will Beesley's new venture progress? I think the foundation provided by London Gun Services provides a stable platform and the Beesley name provides an opportunity to add gun and accessory sales to their storage, service and transport activities, so it looks to be a shrewd move. In P&V, they have a partner that can deliver however many guns they need, with a wide range of custom options, proven reliability and high quality craftsmanship.

Right now, Frederick Beesley is not a household name. The founder's legacy of invention and his interesting guns of the past are known to only a relatively small band of fine gun enthusiasts.
London Gun Services have established a reputation for what they do well, Frederick Beesley will need to be re-established as a brand and promoted, so that it becomes recognised in its own right. The challenge is for the current partners to revive the firm and make it relevant in the twenty-first century.
Beesley emerges on the London list of gun stores, just as we lose another long-established firm; R. Ward of Cadogan Square, which is leaving the capital entirely. Will Kings Road become a must-visit London venue for gun enthusiasts in the future; just as Audley House, Pensbury Place and Bruton Street are today?
Whatever the next decade brings, the LGS team have proven themselves capable of building a business in a short time and they have established a solid customer base. Frederick Beesley looks to be in good hands.
Published by Vintage Guns Ltd on