This month I have selected for attention, a sporting rifle offered for sale at Holts in March 2022. It is a familiar action, but one more usually found in military applications.
It is a single shot, take down sporting rifle in what is now an obsolete calibre, under the 1968 Firearms Act (Section 58). That is .45-75 Winchester.
The maker is C.G. Bonehill, addressed 'London' and the rifle is styled 'Martini Henry Type'. It has a 18" steel barrel, with one standing rear sight (100 yards) and two folding leaf sights (200 and 300 yards) and a ladder sight graduated from 500 yds to 1,000 yds. The stock is of pistol grip form with plainly figured wood. This has historic bolster repairs.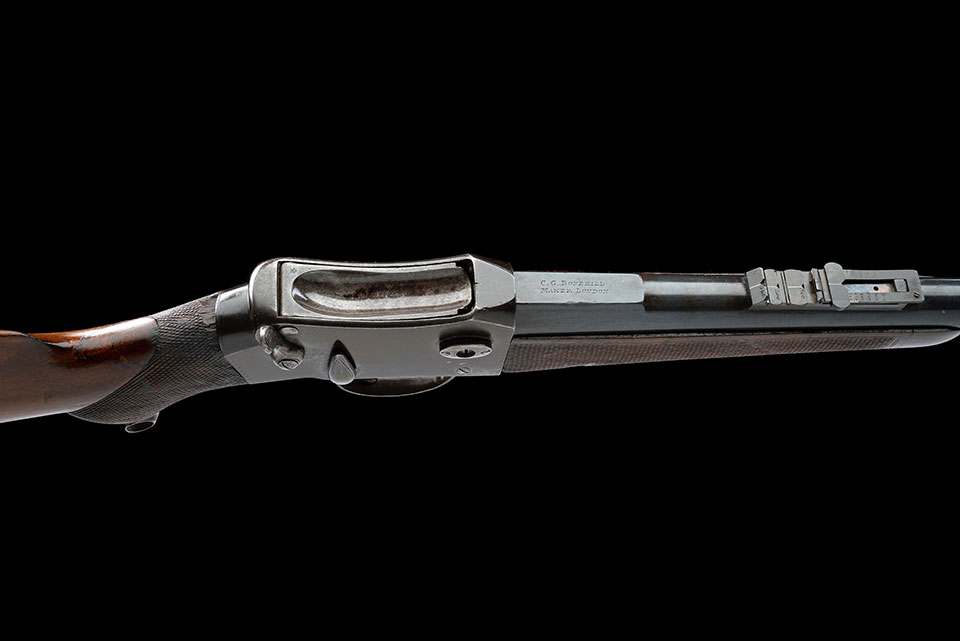 The rifle is interesting for a number of reasons. It dates from 1880, which is just over a decade after the Martini-Henry service rifle was adopted by the British Army. The most common chambering for the rifle at that time was for the .577/450 Boxer Henry cartridge of coiled brass, later modified to solid-drawn brass cases.
As these rifles entered the 'smokeless' age, better results were achieved with regard to extraction of spent cases and accuracy, as well as reduced recoil. However, in 1880, when Bonehill sold this rifle, the Martini-Henry had just seen service in the Zulu War of 1879, being instrumental in repelling the Impis at Rourke's Drift but held partly responsible for the massacre of British troops at Isandlwana, though that was largely down to Lord Chelmsford's hubris, a haze of black powder smoke enveloping the battle-field and the speed with which the Zulus descended on the camp in huge numbers.
.577/450 calibre, civilian 'sporting' versions of the military rifle were commonly made and having a sporting rifle capable of accepting widely available military ammunition made a lot of sense to sportsmen in British colonies while it was the British standard service rifle, which it was from 1871 until 1889.
Henry Morton Stanley and Theodore Roosevelt both used Winchesters for sporting purposes
The .45-75 Winchester was an American cartridge developed in 1876 for the Winchester lever-action rifle Model 1876. Henry Morton Stanley and Theodore Roosevelt both used them for sporting purposes, though Stanley did not stick strictly to animal quarry when traversing the Congo with his 'fighting rifle'.
Typically loaded with 350 grain lead bullets, which were pushed at 1,383 f/s the rimmed, bottle-necked brass cartridge was shorter and fatter than the more popular .45-70 and not especially suited to the Winchester mechanism, due to its high pressures.
The Martini action is an altogether stronger beast and should have held up to the .45-75 comfortably. It dates back to 1870 and the designer Freidrich von Martini. The rifling mated with the Martini action was designed by Alex Henry in 1861and immediately made an impact in target shooting circles.
The rifling consists of seven lands and seven grooves, profiled so as to provide fourteen bearing surfaces to grip the bullet, providing for a steady and smooth passage through the bore and delivering it on its passage with even spin and well stabilised. Accuracy was class leading.
Henry actually never intended his rifling to be grafted on to Martini's rifle, he designed his own rifle to complement it and always maintained his was the better option, though the Army disagreed.
The owner of the Bonehill .45-70 would have fed his rifle the standard load of the period, which was 75-grains of black powder and a 350 grain bullet. This was deemed useful on American bison and grizzly bears, so would have been equally effective on similar sized African animals.
The take-down feature on this Bonehill rifle is a means of making it shorter for packing and travel, which would be very useful if boarding a steamer bound for the colonies and then having to negotiate rail, wagon and porter transport methods once in country. There were several types in service, with screw, bayonet and lug fittings of varied design. This one has a half-screw locking system.
His most famous model was the 'Belmont Interchangeable'
Bonehill has put 'London' on the rifle as his place of business but he was a Birmingham gunmaker with a large factory. His most famous model was the 'Belmont Interchangeable', a boxlock made almost entirely by machine with the idea of replacement parts being fitted from stock without the need for major gun-smithing. He also patented the 'clip-lump' means of barrel construction.

Bonehill was founded in 1831 by Cristopher George Bonehill and the firm lasted until 1962, when it closed its doors and all records are believed to have been destroyed at the time.
The 1870s, '80s and '90s were Bonehill's best years. He acquired large factory premises in Belmont Row and produced large numbers of machine-made guns at tolerances few at the time could match.
The resultant guns were far from crude and were often finished to a very high standard. I can find no reference to a London premises but, like Westley Richards and several other Birmingham firms, Bonehill may well have had a shop or agency selling his guns in the city.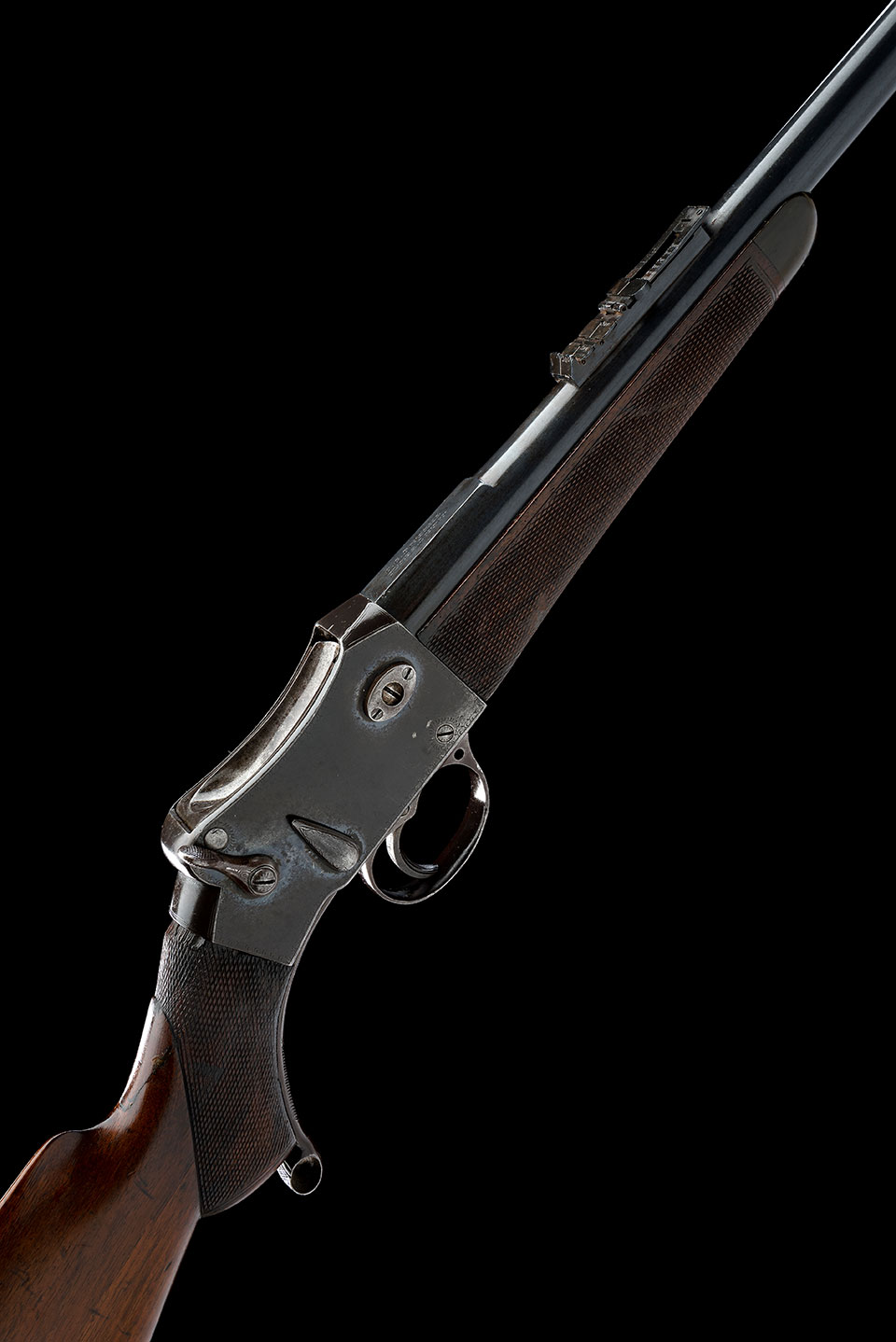 The rifle illustrated here (No.29925) is estimated at £300-£500 and, as a section 58 antique, it can be owned as a curio without a licence. It would make a handsome display piece in any sporting man's study. I can only imagine where it has been.
Published by Vintage Guns Ltd on (modified )