Even if one can burrow into makers' archives, the competent researcher of vintage firearms and propellants has a tough time completing accurate work especially if one doesn't factor in British Patent Legislation and Patent Office practice.
To be nomenclature-accurate, one 'leaves' a Provisional Specification (not a Provisional Patent) at the Patent Office. One then has a period of time to finish a Complete Specification including drawings and pay the fee at which point the invention is 'sealed.' For example, during the 1880s, if one left a Provisional Specification it was kept secret and unpublished. One could then complete the Complete Specification in six to nine months knowing to some extent his work would not be filched.
However, if one failed to complete the 'sealing' process the Provisional Specification was not published, ever. The Patent Office subsequently destroyed their original. Thus, these 'Patents' were 'disappeared.' This practice of leaving Provisional Specifications was abused and used by practical gun makers and 'gentlemen' perhaps eager to license their invention. Guns of the era had 'Patent' all over them. Unless it had a Patent Use Number, and many guns had multiple, which Patent and whose?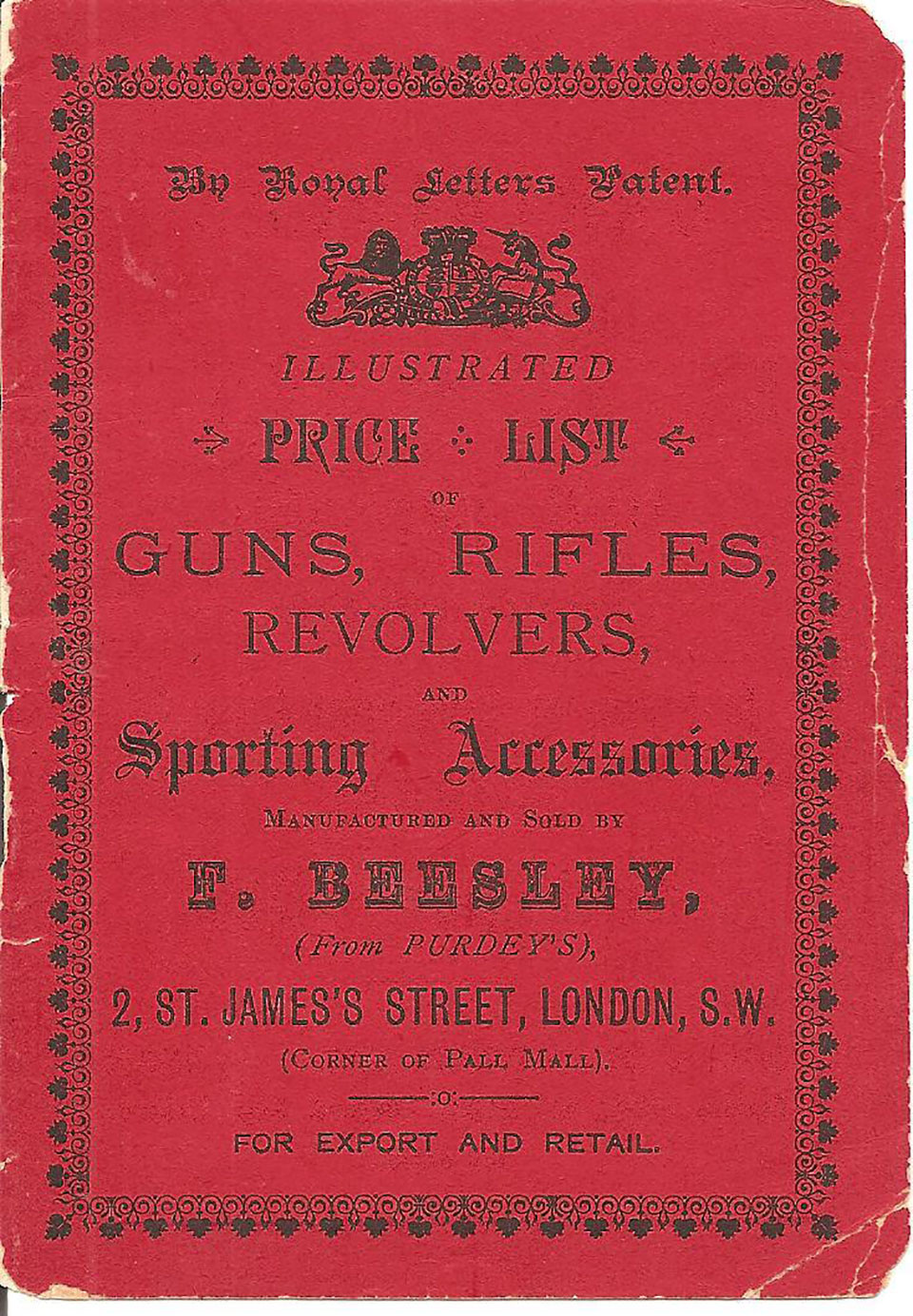 If one is interested in ammunition, explosives, and such, one need refer to Section 9 Abbreviations. Small Arms Specifications were classified as Section 119 by the Patent Office. Many have the seven-volume reprint of the Abbreviations on which to refer that spans 1855-1930. Thankfully we have the monumental 3 volume set spanning 1871 The British Shotgun by Ian Crudgington and David Baker that complements it – or it is probably the other way around, practical gunmaker teamed with a learned enthusiast, practical scientist and photographer with real guns in their hands, growing in their powers versus anonymous clerks, some knowledgeable, some not, looking at Specifications and drawings, trying to summarize them.
At some point the British Patent Office destroyed all Specifications sealed before 1905 as having 'no cultural or scientific interest.' Thus, the researcher can't knock on that door; perhaps the local library or university decided to keep the Specification collection. Of course there are other sources for researchers before 1850 but we're straying off topic.
Investigating Specifications can be a conundrum, a number of rabbit holes, but sometimes leads to an 'aha!' moment. One wants the Complete Specification (that includes the Preliminary Patent, er Specification) or the précis one gets in the Abbreviations. With a practical lens, one should refer to Crudgington and Baker (C&B) volumes 1-3. Unfortunately, the Abbreviation 'summarizers' of the time run the spectrum in their practical knowledge.
At best, the two sources complement one another. To illustrate, on page 131 C&B Vol. 2 there is photo and their description of an actual 'sugar tongs' safety by Frederick Beesley's Patent 14,488 of 1 Nov. 1884 page. (The Purdey craftsmen at Irongate Wharf called this something else.) The description in the Abbreviations includes a drawing from the complete Specification and a summary of operation describing it rather well but from a different point view tied closer to the Specification drawing.
Since Tim Wilkes and I have been working on a book about Frederick Beesley (for almost a decade!) we have been intrigued by his 'disappeared' Patents. Below is a copy of the red cover of his 1892 catalogue followed by a well-known list of his 'Patents' up to that time. One 'disappeared' provisional is that of 31 May 1886. Then we had a 'eureka moment.' Here's the story.
When I first emailed my colleague Nick Harlow of Purdey our article 'Conventional Wisdom' and 'Spending Too Much Time in the Pub' in 2017 in return he kindly notified us of a: "Letter from Beesley to Purdey offering a plan for ejecting cartridges, dated 31st May 1886". In 2017 we sadly did not have time to follow it up.
But Nick has recently published the letter. In sum, Frederick Beesley informed James Purdey the Younger by letter that he had invented an ejector for their 1880 hammerless action. Beesley had left a Preliminary Specification (note the date above) as well as a wooden model (presumably like the 'disappeared' basswood model of the Beesley self-opening action that Tom Purdey kept on his desk) that he could show Purdey.
Purdey was using the Nobbs ejector at the time and perhaps already knew that William Wemm was working on an improved design, based on the Perkes/Beesley over-centre principal, still in use today, ironically referred to as 'Southgate' by popular gun writers such as Ivan Johnson.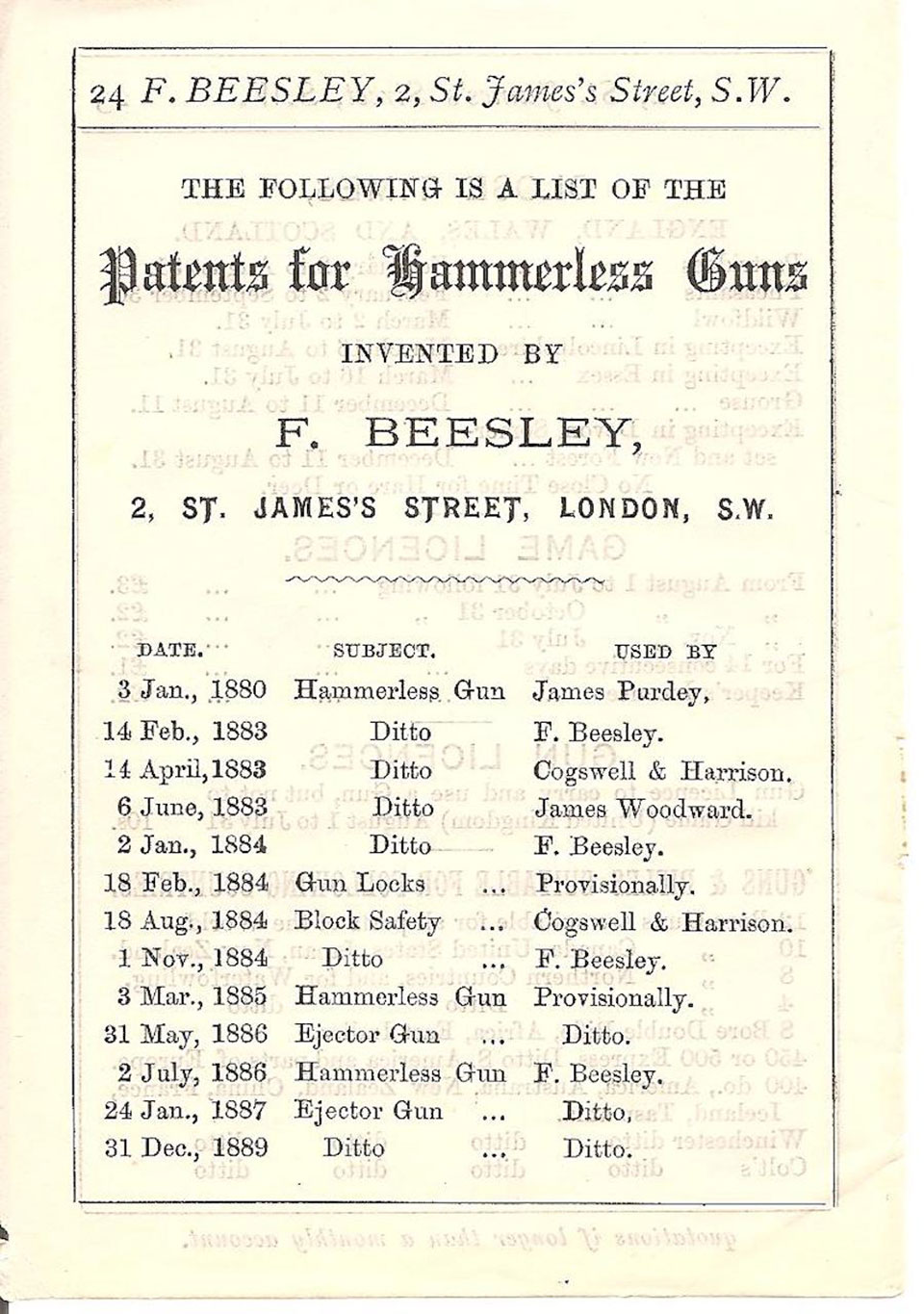 As far as we know Purdey never took Beesley up on his intermediary ejector offer…. But did they ever meet? Did Purdey ever see the model? On these points history is mute.
We all know of early Purdey/Beesley hammerless guns converted to ejector comprising Boss and Churchill ejectors. Combing the Beesley Ledger, Tim and I have discovered that Beesley made twenty or so guns to match their clients' hammerless Purdey/Beesley guns.
We wonder how many of these Beesley/Purdey guns as well as converted Purdey/Beesley guns, have Beesley's 'disappeared' ejector of 1886! We know of one. If anyone has pictures of a Purdey/Beesley hammerless, or a Beesley/Purdey sidelock ejector with an ejector system or conversion they can't identify, please contact us through this web site. A high resolution jpeg would be nice.
Published by Vintage Guns Ltd on