The big news of March was the huge success of Holt's, which broke all records to date and underscored the strength the Norfolk auctioneer has, in what has been a variable market in recent years.
Notwithstanding the generally low prices boxlocks appear to command, and a fairly gloomy outlook amongst many shooters about the future viability of their old British guns, when lead ammunition is no longer available, Holt's are selling everything.
On the second day of the sale, Holt's reported a stunning 91% of all lots offered as sold. This is quite outstanding. Historically, is has not been unusual for auctions to be left with up to a third of items unsold after bidding is over. The total sales figure over two days was 87% and the sealed bids added 60% of items listed there to that, which is also solid.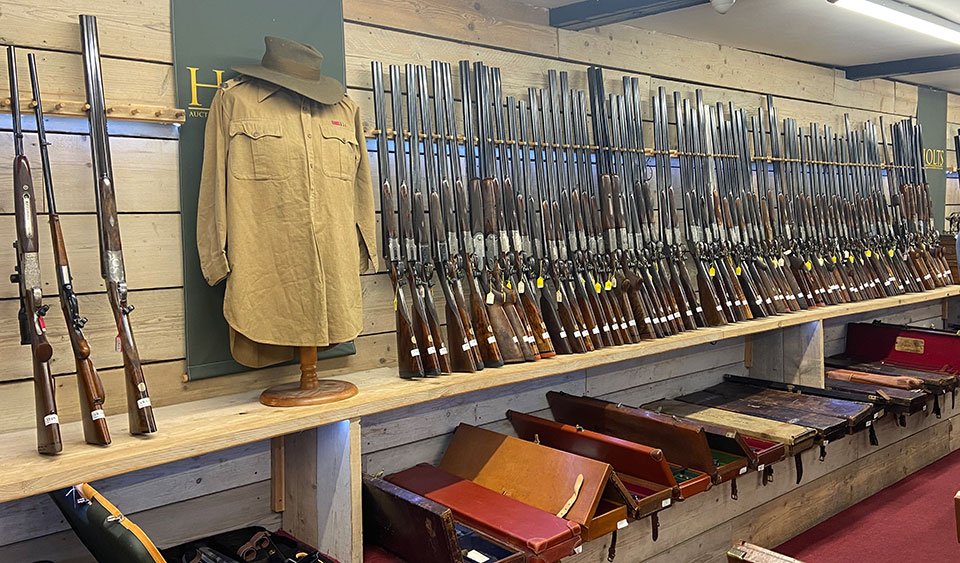 When I discussed the sale with a Holt's representative after the headline sales figure of £2 million was announced, he was quick to mention that percentage sales are a better indication of the state of a market than are headline figures in cash terms.
What is the secret of this success? Reputation, stability, effective marketing, a well-oiled in-and-out process. These are certainly key factors.
a high reserve can kill interest in a lot.
However, when it comes to selling on the day, a good bit of the magic is in placing the right estimates on each item.
Vendors naturally want to put on a high reserve because they want as much money as they can get. Auctioneers know that a high reserve can kill interest in a lot. Low estimates get people interested. A low estimate gets them to investigate a gun, it gets them invested personally in wanting it.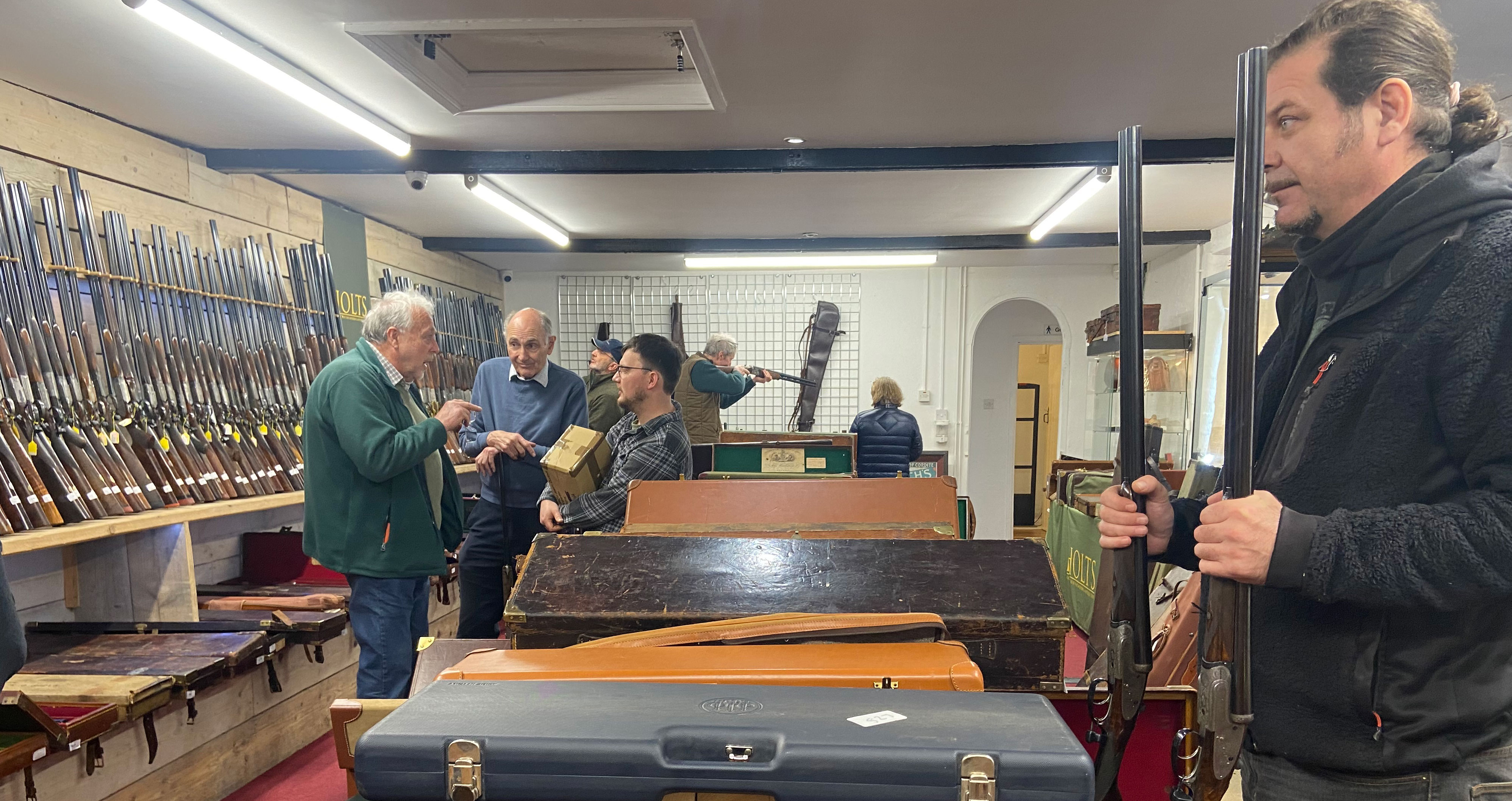 Once that process has started, it leads to bidding and it can lead to a lot of competition. Once involved it is hard to drop out, especially if it is a thing you have convinced yourself you want and not something you are likely to see again in a hurry.
So, bidding wars begin and they can take sales figures way beyond the ideal reserve, even if that is significantly higher than the one actually set.
It might be hard for vendors but auctioneers will ask that they be trusted. They know how to sell guns and their strategy might not make sense to the layman but it often works.
The evidence for this can be seen in the sale figures. Guns and rifles selling beyond their high estimates make notable conversation pieces, not to mention very happy vendors. Imagine you are prepared to accept £3,000 for a gun and hand it over with that in mind, only to be given a cheque a few months later for £5,000.
Well, that happened to quite a few vendors after the March sale. A nice Army & Navy Lee Speed .303 with a reserve of £700 made £2,600. A Daniel Fraser 6.5 Mannlicher, reserved at £1,000 made £4,300. Another Lee Speed by BSA, with a low estimate of £500 made £1,600.
sale was not dominated by a small number of high value items
Pre-war rifles on the obsolete (Section 58) calibre list, of which over twenty new ones were added just a couple of years ago, have risen steeply, with one Mannlicher 8x56 in this sale selling for £3,200 from a reserve of just £600. The vendor would actually have been happy with £500, when he consigned it.
The sale was not dominated by a small number of high value items but had a good spread of guns and rifles across a wide range of prices. This gave a good indication of where the market sits with 'normal' shooters and collectors.
Sales to UK buyers in Holt's November sale amounted to 50%, that rose in March to 60%. The remaining 40% was fairly evenly split between the USA and the rest of the world (mostly Europe). This brings Holt's sale back to the look of their traditional buyer's split; showing today's market is not dissimilar to what it has historically been. The major difference is that prices for certain items (like big bore shotguns and two-inch chambered 12-bores) are significantly lower than they were a decade ago.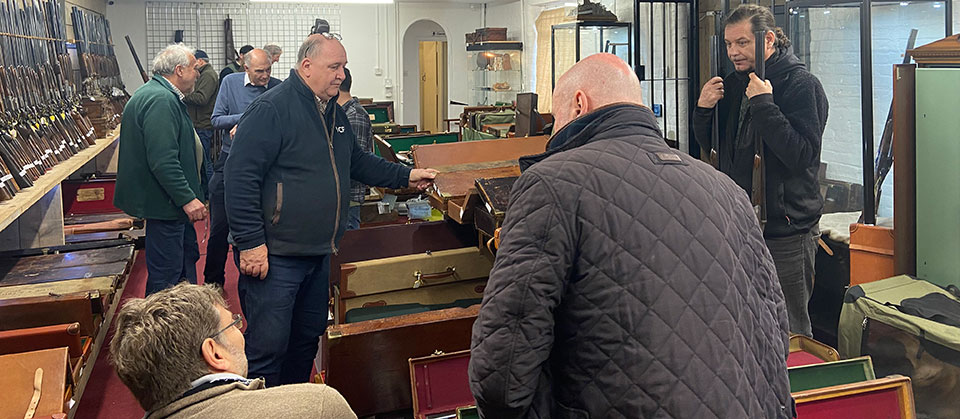 Bidding is still conducted mostly in the room, by in-person bid, commission bid or by telephone. On-line sales platform Invaluable handles some, especially American, bidders on-line and the UK bidder increasingly uses the UK based equivalent The Saleroom in the same way, especially for air guns and obsolete calibre guns and rifles.
All this suggests that despite the ongoing problems with income and inflation and a troubled economy, even here in the UK, the buying patterns of those who are involved with sporting guns have been steadily returning to pre-pandemic norms.
Published by Vintage Guns Ltd on