Charles Lancaster was Joseph Manton's barrel maker (also John Manton's and James Purdey's). In fact, he supplied the best barrels to much of the London trade during the first quarter of the 19th century, after setting-up his business in 1811.
After his death in 1847, Charles Lancaster was succeeded by his son, also Charles. By then the company was selling entire guns, not just making barrels. For a time, from 1855 until 1859, Charles and Alfred Lancaster, both sons of the founder, worked together at the family firm. Then, in 1859, Alfred left to start business on his own account.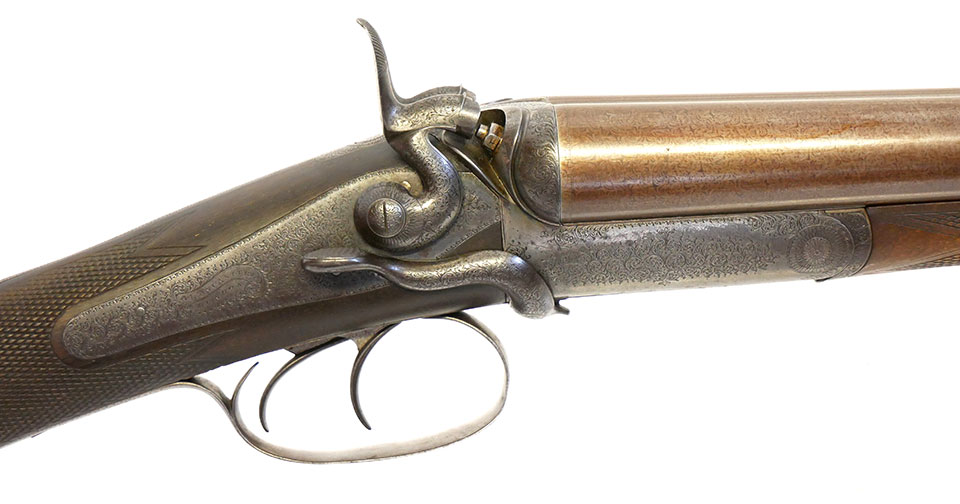 His first trading address was 27 South Audley Street, not far from where Purdey now stands and at the time a very popular area for the top tier of London gunmakers. He stayed there for the next twenty-five years and clearly had a successful business. His guns are not uncommonly found and they are always of best quality.
Like many of his fellow gunmakers in Mayfair, Alfred Lancaster was frequented by India's maharajahs. He also sold live pigeon trap shooting guns to the competitors of the day, with notable wins recorded during the early 1870s. However, something went wrong and Alfred was declared bankrupt in 1884.
His company moved to 50 Green Street, near Park Lane, in 1886 but Alfred died in 1890 and two years later his firm was taken over by Henry Thorn, who had already bought Charles Lancaster's business. Thorn continued to trade as Charles Lancaster & Co.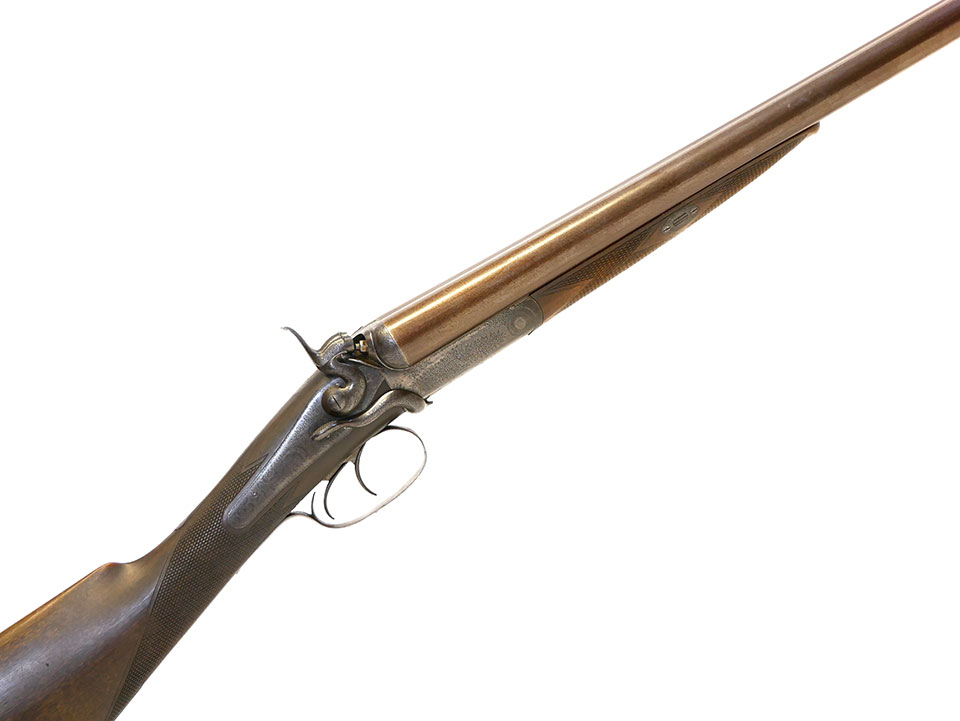 During his successful quarter of a century, Alfred Lancaster built some notable guns. He also seems to have specialised in stocking to order using rhino horn instead of walnut. I previously owned a .450 double rifle by Alfred Lancaster, stocked with rhino horn. That was made for the Maharajah of Bulrampore. A pair of Alfred Lancaster 20-bores resides in the Royal Gunroom at Sandringham, also stocked with this unusual material.
Here, we have another such gun. This time a 12-bore with side-lever operation and Purdey double under-bolt. It has rebounding back-locks and 30" damascus barrels. The No.2 engraved on the breech indicates this is one of a pair of guns, so there is another out there somewhere, perhaps.

Apart from the rhino horn stock, the gun looks remarkably standard in specification. At first glance it looks like a plainly stocked best hammer gun. Rhino horn does not have a great deal of character or figure but it must always have been a talking point and an object of pride, especially if the rhino horn came from a beast shot by the sportsman wielding it.
I suspect this gun has always been in the UK. Guns from India often have insect damage to the horn, as over there anything organic has something that will consume it, unless great care is taken. Taxidermists used to treat hide and horn materials with arsenic to ward off tropical insects. Quite how potent that would be after a hundred and thirty years is somthing I won't be testing!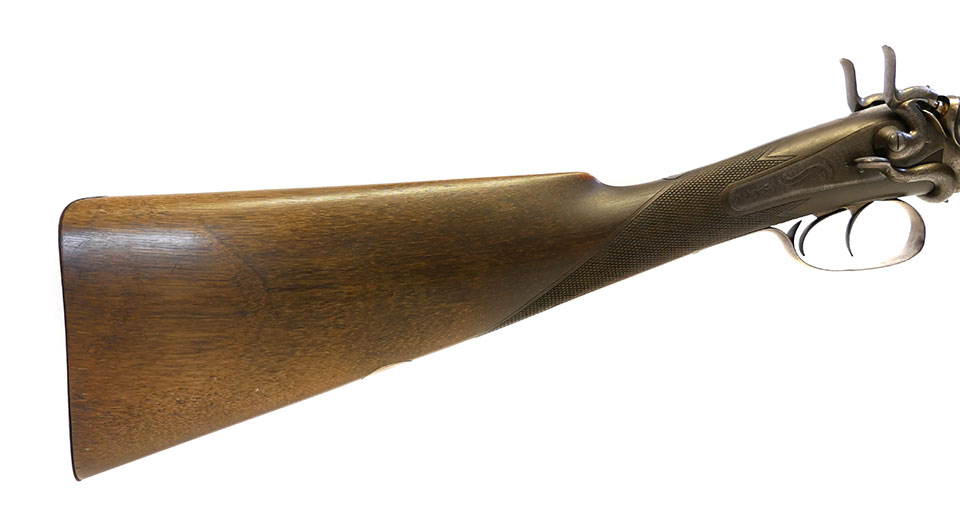 Alfred Lancaster serial numbers are not very reliable indicators of manufacturing date but this one, No.4002, likely dates from the mid 1870s or early 1880s. Proof marks are original, for black powder only and pre-date 1887. Proof marks do not indicate any choke, as they would were it made after 1875 with a muzzle constriction. Bores are marked '12' showing it was originally .729".
The gun looks eminently shootable. One must, of course, take account of the age of the horn and I will be careful to watch it for signs of deterioration but I intend to use it occasionally unless it begins to suffer as a result of recoil. Rhino horn is basically the same material as hair and nail so is probably not as hard wearing as walnut.
The last Alfred Lancaster rifle I had that was stocked with rhino horn eventually found its way into auction, a year or two after I sold it. That made over $130,000 in the US, almost certainly because someone bought it to powder the horn and sell it into the Asian market as 'medicine'.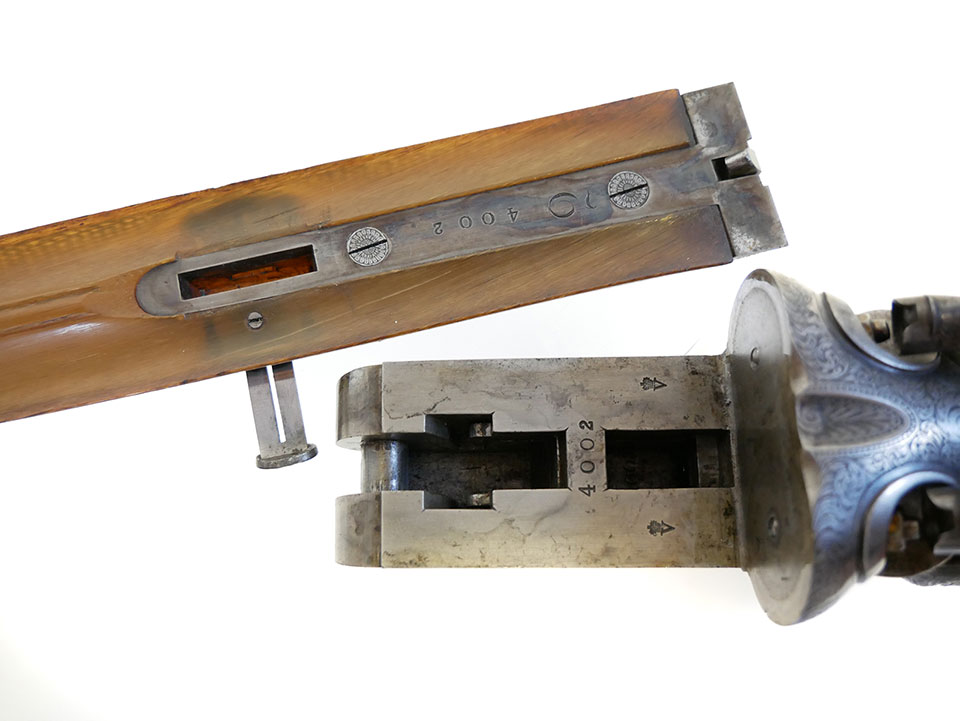 That is no longer possible, as to export rhino horn objects the sale price has to exceed $100 per gram. That would make this gun have to cost over £350,000. Otherwise, no export licence.
I will enjoy owning what is a shotgun that I will very probably never see the like of again. It is an historic and interesting thing in and of itself. I expect the previous owner wishes he had sold it a decade ago.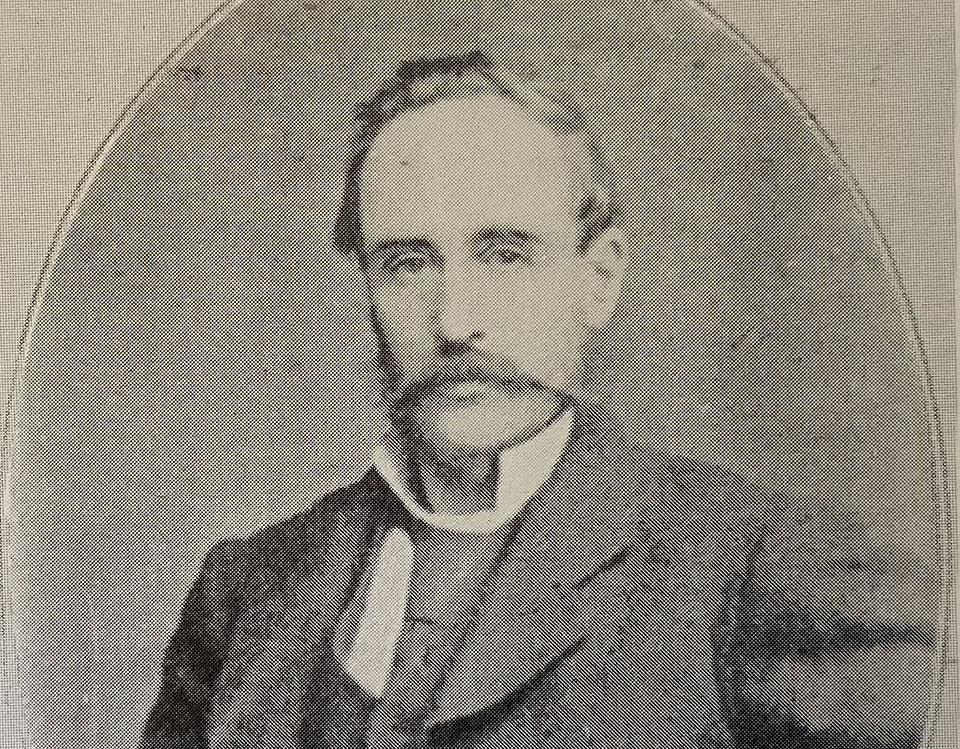 Published by Vintage Guns Ltd on (modified )